The shortest route to Malta
Imagine travelling straight to the heart of one of the most beautiful cities in Europe, on a direct Nice-Valletta flight. We're not exaggerating. The old headquarters the Knights of the Order of Malta is very different from any large western city. Nevertheless, the capital of Malta has assets that make it just as special. There is barely a stone in the city that is not loaded with history. In fact, there are over 300 different monuments there. That means a Nice-Valletta flight allows you to discover an extraordinarily rich city, and a World Heritage Site.
currency

Euro

language

Maltese
Ideal For
Couple

Alone

Culture

Beaches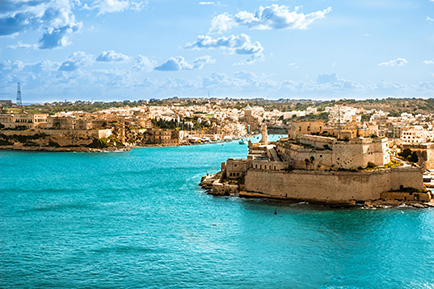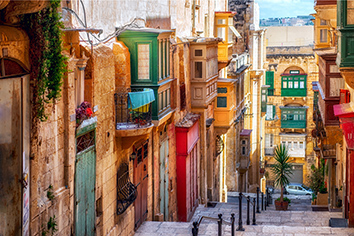 Useful information for your trip to Valletta

See more

See less

To find a direct Nice-Valletta flight, let Misterfly do the hard work for you! Our partner will tell you the dates and times of all the flights, and allow you to buy your tickets without additional costs. You can even pay in several instalments.

The formalities for travelling to Valletta

Entry requirements: Malta is part of the Schengen Area. To go to its capital, you just need a valid passport or identity card.
Currencies: in Valletta, you pay for your Kinnie (the national soda) in euros.

Your Nice-Valletta direct flight

With the Volotea Nice-Valletta flight, Malta is less than two hours from Nice. This trip across the Mediterranean starts at Terminal 2 of Nice Côte-d'Azur Airport.

If you've already got your boarding pass and your luggage is within the cabin bag limits, arrive at the airport one hour before your flight. However, if you need to go to a check-in desk, allow an extra quarter of an hour.

| | |
| --- | --- |
| Departure airport | Nice Côte d'Azur Airport |
| Departure terminal | Terminal 2 |
| Arrival airport | Malta International Airport |

Arriving at Valletta airport

Located in the town of Luqa, Malta International Airport (Valletta Airport) is Malta's only airport. It is eight kilometres away from the capital. To get to the city, you have the following options:

The bus: Three of the six regular routes leaving from the airport (X4, X5 and X6) go to Valletta. The journey takes less than half an hour.
The Maltatransfer shuttles will take you right to your hotel. For information, ask at the desk in the baggage claim area.
A taxi: Taxis are available 24 hours a day, and fares are regulated.
A hire car: There are around ten car hire companies in the Arrivals hall.
What to do in
Valletta ?
There two essentials for exploring the city: a strong pair of legs and an attentive pair of eyes. The city has one of the world's densest concentrations of historical monuments. Yet beyond its more obvious splendours, almost every street or building will delight you with its details, atmosphere and colours. Your walk will invariably lead you to a stunning blue sea, via some lovely places to stop for refreshments and treats, of course.

The island behind the city

See more

See less

Founded by the Knights of the Order of Malta to ensure their security and prosperity, Valletta is a serious city. It's not really recommended for young children, particularly because they will soon get tired walking around its steep streets, which are just calling to be explored. It's better to go either with teenagers, alone, with a partner or with friends. Just make sure your companions share your love of culture and your curiosity.
Another thing: with an area of barely 55 hectares, Valletta is the smallest capital in the European Union. This means that however exceptional its heritage, you're bound to venture beyond its walls, to discover the country beyond. The adventure starts with a visit to the Three Cities, on the other side of the Grand Harbour: a natural harbour that the Order of Malta made into an impregnable port. You can then explore the entire island, discovering beautiful beaches and turquoise waters, old fortresses and tranquil, picturesque fishing villages.
The top 10 things to do in Valletta

See more

See less

Just walk around the city, savouring every detail: colourful bow windows and big, bustling squares, red phone boxes (a legacy of British domination) and shady alleys.
Visit Saint John's Co-Cathedral, a baroque gem with its golden arches, its large vault covered with frescoes by Mattia Preti, and its painting by Caravaggio.
Stride down the long corridors of the Grandmaster's Palace, which currently houses the Office of the President of Malta. An unbelievable atmosphere and a rich, 6000-piece collection of arms and armour.
See where a Maltese aristocratic family live: the de Piro family are the lucky owners of Casa Rocca Piccola, a sublime palace. The majority of its 50 rooms are open to the public.
Take in the unbelievable view over the Grand Harbour from the Upper Barrakka Gardens, magnificent gardens on top of a bastion. Don't miss the cannons being fired, every day at midday and 16:00.
Enjoy the mouth-watering Maltese cuisine, which is simple but flavoursome. Try the seafood, rabbit in sauce, and delectable pastries so full of sunshine that you'll forget Malta was ever English.
Savour a coffee at Caffe Cordina, an institution with its arched ceiling, its frescoes, its crystal chandeliers, and of course its tasty treats.
Cross the Grand Harbour by boat, to get to the Three Cities: Senglea, Cospicua and Vittoriosa. They offer a lifestyle full of warmth and authenticity, sheltered by their high fortifications.
Set out to explore Malta: its gorgeous beaches such as Ghajn Tuffieha Bay, its colourful villages, the Neolithic vestiges of the Hagar Qim temples, and many other gems.
Take a trip to paradise, or rather to Comino, the smallest of the three islands of the Maltese archipelago. Hiking trails, a blue lagoon, craggy cliffs, and all the scents of nature: a real delight!
Regular flights Nice - Valletta MLA
FLIGHTS VOLOTEA
1
Flights per week, From April to October
Flights per day :
Mon

0

Tue

0

Wed

0

Thu

1

Fri

0

Sat

0

Sun

0
Frequently asked questions