Fly to St Petersburg and discover Russia
For a century and a half Nice and St Petersburg have fostered a special relationship. In the time of the Tsar, the aristocracy of Russia preferred the shores of the Mediterranean to those of the Baltic Sea for their winter getaways. Back then it took weeks to cross Europe. Today, you can fly between Nice and Saint Petersburg in under 4 hours, and Russians aren't the only ones making the trip. Locals of the French Riviera are enticed by the splendours of the ancient imperial city of St Petersburg, and by the State Hermitage, the second largest art museum in the world.
currency

Ruble

language

Russian
Ideal For
Couple

Culture

Town/City

Weekend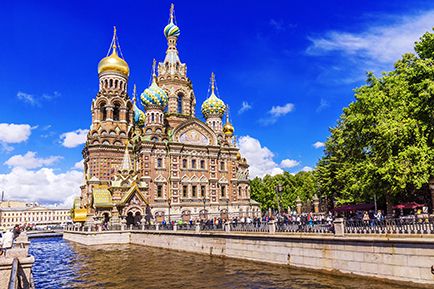 Useful information for your flight to St Petersburg

Voir plus

Voir moins

Memories of Peter and Catherine the Great, whispers of the October Revolution, grand palaces, and gold-domed churches not things you can pass up? Book your seats today on a Nice to St Petersburg direct flight with our partner: MisterFly. There are only advantages to letting them help plan your trip. Book your Nice-St Petersburg flight at the best guaranteed price, without surcharges. You can even pay for it over several instalments and receive a partial reimbursement in case of cancellation.

The formalities for travelling to St Petersburg

Entry requirements: French citizens, like those of many European countries, are required to have a visa to travel to Russia. Getting one requires putting together the necessary paperwork, or having it done by a specialised agency. Upon arrival, you'll also have to fill in an immigration form and register your visa with local authorities. Here again, help from a professional (starting with your hotel-keeper) can be immensely useful.
Currencies: You'll be paying for your caviar - or beef Stroganov - in rouble. There are around 75 roubles to 1 Euro, excluding any exchange fees. You can change money with our partner Interchange, which has kiosks in the departure areas of both terminals.

Your Nice Saint Petersburg direct flight

Careful! Two airlines fly from Nice to St Petersburg. And each has its own terminal. S7 departs from Terminal 1 of Nice Côte d'Azur Airport, whereas Aeroflot is based out of Terminal 2.

Not something you want to get wrong. And it's better to be early than late! Especially as a flight to Russia means you'll need to pass through both security screenings and customs. Give yourself at least an hour and a half to get to your gate.


Departure airport
Nice Côte d'Azur Airport
Departure terminal

Terminal 1 for S7 Airlines

Terminal 2 for Aeroflot

Arrival airport
Pulkovo International Airport

Arriving in Saint Petersburg

With only one terminal, Pulkovo International Airport is located around 20 kilometres from the centre of St Petersburg. To get there, you can:

take the bus and underground. Express City bus line 39Ex and City Bus 39 will take you to the Moskovkaya underground station. From there, take line 2 to get to the city centre. It runs every day from 5:30 am to 1 am.
take a taxi. Taxis can be booked in advanced or upon arrival at the counters of various companies, all found on the first floor of the airport in the Arrivals Hall. Be sure to avoid illegal taxis!
hire a car. There are several agencies in the Arrivals hall at the airport.
What to do in
Saint Petersburg ?
St Petersburg has long been an imperial capital, and it shows. With its prestigious palaces, flamboyant churches, private mansions, and underground stations that rival those in Moscow, the local patrimony is simply breath-taking. As is the atmosphere you'll find there. Stylish on the Perspective Nevski, the Champs-Elysées of Russia, where you'll find all the major designers, it turns romantic as you stroll along the countless canals spanned by over 300 bridges, giving the city a Venetian air.

St Petersburg, a city both past and present

Voir plus

Voir moins

St Petersburg is a history book you discover not by reading, but by walking. It will teach you about the omnipotence of Russian Tsars, the murder of the infamous Rasputin, and the first steps towards a revolution that would change the face of the world. These are pieces of society's shared memory that you can pass on to your children should you decide to go as a family. But the city imagined by Peter the Great is also a wonder to experience as a couple.
In addition to culture, you can root out more adult indulgences. Window shopping for example, in any of the countless shopping centres around the city: the Gostiny Dvor, a giant housed in a 200 year old building; the Passage and its lovely arched glass roof; the luxurious DLT, the immense Galeria, the Nevsky Center and its hundred boutiques...you've got many to choose from! And if relaxing sounds better than shopping, you can indulge in a boat ride down the Neva or a day in a banya, the local equivalent of a Finish sauna. Or how about a bowl of borscht and shashlik (meat skewers), or the more upscale indulgence of a caviar bar - sure to leave a delicate, salty taste on your palate, and a more bitter one on your credit card.
Visiting St Petersburg as a couple is a unique occasion to get a taste of festive spirit of the Russian people. One you can share with the young crowd of St Petersburg on one of the thousands of rooftop bars: Gastronomika, Makaronniki, Mansarda, the list is endless. And you can finish your night out in a jazz or fashionable night club.

The top 10 things to do in St Petersburg

Voir plus

Voir moins

Stroll down Nevsky Prospekt, the Nevski Perspective. Its 4.5 kilometres align palate and palace, church and temple (of fashion!). It's the most prestigious avenue in all of Russia.
Tour the many cathedrals: Saint Isaac's and its gold-plated dome; Peter and Paul, final resting place of the Romanov family; Kazan Cathedral with its 96 columns; Smolny in all its blue and white glory; and of course, the sublime and infamous Church of the Saviour on Spilled Blood.
Visit the State Hermitage, the oldest and largest museum in the world. Here you'll find 60,000 pieces on display, including paintings by Michelangelo, da Vinci, Raphaël, Gauguin, Picasso, Renoir, and Van Gogh, to name just a few.
Get a different view of the St Petersburg by floating down the rivers and canals of the Venice of the East. A beautiful way to discover the incredible architecture of the city.
Book tickets to an opera at the Mariinsky Theatre for a show you'll never forget. This baroque jewel counts three separate stages, with the main stage being one of the largest in the world.
Take the underground. It's said to be just about as beautiful as Moscow's! Marble columns, mosaics, bronzes, frescos: there's nothing subtle about these stations, but that's why we love them. The two not to be missed: Kirovski Zavod and Avtovo.
Salivate in the aisles of the Eliseyev Emporium, the most beautiful speciality food shop in the city, housed in a century-old, luxurious building. On the menu: caviar, smoked fish, pastries, and sweets. You'll also find a restaurant and tearoom there. Delicious.
Check out the Yusupov Palace to get a glimpse of aristocratic life. It was home to the eponymous family, one of the richest in tsarist Russia. It was also the setting for the murder of the infamous Rasputin.
Take time away from the city centre to see the Versailles of Russia: The Peterhof Palace. Its waterfall, fountains, and gardens are a pure marvel.
Relax in a banya, Russia's version of a sauna or hammam. Choose a historical banya for great scenery while you relax: the Degtyarnie or Yamskie bani were the favourites of Lenin.
Regular flights Nice - Saint Petersburg LED
FLIGHTS AEROFLOT
2
Flights per week, All year
Flights per day :
Mon

0

Tue

0

Wed

0

Thu

1

Fri

0

Sat

0

Sun

1
FLIGHTS SIBERIAN AIRLINES
2
Flights per week, From June to September
Flights per day :
Mon

0

Tue

0

Wed

1

Thu

0

Fri

0

Sat

1

Sun

0
Frequently asked questions