Fast food, Bars, Coffee
Peruvian gastronomy and flavours of the sea take centre stage at Mar y Cocina in Terminal 2. Open to all, with or without a plane ticket, on the city side. Accessible by tram from the city of Nice, offering gourmet delights for foodies.
Escape cuisine in Terminal 2
Nice Airport Terminal 2 welcomes a gourmet restaurant featuring one of the most trendy dishes in the world of food. With Latin America inspired recipes, Mar y Cocina celebrates ceviche, a Peruvian dish made from seafood and raw fish, cold cooked in a tangy marinade. Creative and healthy dishes prepared on the spot, complemented by carpaccio, tartar, and desserts, always punctuated with a bold and refined touch of escape. A light gourmet meal before taking the plane!
What can you enjoy at Mar y Cocina in Nice Airport Terminal 2?
This gourmet restaurant in Terminal 2 is both delicious and daring. Mar y Cocina is Spanish for the meeting between sea and cuisine. It's Latin American gastronomy that will be the focus of this new pop-up in Nice Airport Terminal 2. More specifically, widely reputed Peruvian gastronomy, and highly fashionable ceviche, a typical dish made from seafood and raw fish cooked in marinade.
On the menu, several creative and delicious suggestions such as lobster ceviche, sea bass ceviche, scallop ceviche or Argentine beef ceviche for meat lovers. Innovative dishes prepared on the spot using fresh ingredients. As well as incredible tartars, carpaccio, and homemade desserts. All this can be accompanied by giant maiz (sweetcorn) from Cuzco, arroz verde (a rice-based speciality with garlic purée and coriander), a quinoa salad...a real invitation to travel.
Fresh, light, and refined recipes that prove it is possible to eat healthy and gourmet. And to drink? French as well as South American wines, or even Latin-inspired cocktails such as the famous and inevitable Pisco. Give you taste buds a change of scenery before you even get on a plane!
Make the most of your CAP benefits
Are you a Club Airport Premier member? You can make the most of your benefits when eating at Mar y Cocina. Treat yourself, and you'll get 10% off. The perfect chance to enjoy your privileged passenger status!
*Alcohol abuse is dangerous for health, consume with moderation. Exercise regularly for your health. For information, visit www.mangerbouger.fr.
Location(s)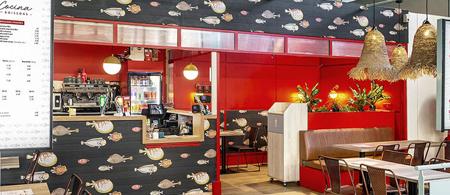 Before going through security
Niveau 2
Towards the gate

D2

7 am to 9 pm

+33 4 93 55 95 08