the Balearic Islands
You've only just booked your Nice-Palma de Mallorca plane ticket and you can already smell the sweet sea air mingled with the scent of sun cream. Don't worry. It happens to everyone! The capital of the Balearic Islands always brings to mind dreamlike holidays, sandy beaches stretching out to the horizon, constant sunshine and the refreshing waters of the Mediterranean. Of course, your flight from Nice to Mallorca promises relaxation and some striking tan lines, but it also offers you many other delights…
currency

Euros

language

Spanish
Ideal For
Couple

With friends

Alone

Beaches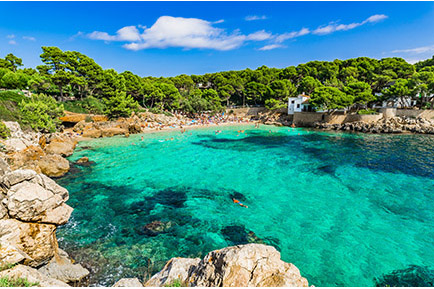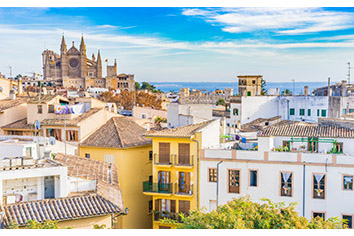 Useful information for your trip to Palma de Mallorca

Voir plus

Voir moins

Want a quick, easy way to find out the dates, times and prices of direct flights from Nice to Palma de Mallorca? No problem. Our partner, Misterfly, will take care of it. You can book your Nice-Palma direct flight with no processing fee and get exclusive benefits like a partial refund if you cancel.

The formalities for travelling to Palma de Mallorca

Entry requirements: as part of the European Union and the Schengen Area, Spain simply requires European visitors to present a valid passport or identity card.
Currencies: you will pay for your tapas and your glass of Binissalem wine in euros.

Your Nice-Palma de Mallorca direct flight

If you are flying with easyJet, Nice-Mallorca flights leave from Terminal 2. However, if you choose Iberia, your holiday in the Balearic Islands starts at Terminal 1.

In both cases, to avoid stress, allow plenty of time for security checks and arrive at Nice Côte d'Azur Airport at least an hour before your flight takes off. We strongly recommend that you allow an extra quarter of an hour if you need to go to your airline check-in desk to get your boarding pass or put bags in the hold.

| | |
| --- | --- |
| Departure airport | Nice Côte d'Azur Airport |
| Departure terminal | Terminal 1 for Iberia, Terminal 2 for easyJet |
| Arrival airport | Palma de Mallorca Airport (Son Sant Joan Airport) |

Arriving in Palma de Mallorca

Your Nice-Palma de Mallorca flight lands at Son Sant Joan Airport, which is barely 11 kilometres from the city. The biggest airport in the Balearic Islands and the third largest in Spain, it is connected to the centre of Palma by:

The bus: for a few euros, bus line 1 will take you to Plaza España in 20 minutes maximum. Buses run from 04:45 to 01:00 in the morning (02:00 in the high season). For the other towns and villages on the island, take the Aerotib buses (four different routes).
Taxis: these are better value than in France and can be found in the airport's Arrivals hall. Avoid the many "pirate" taxis that approach visitors in the terminal. They are cheaper but not insured!
Road: There are 7 car rental companies in the Arrivals hall of the terminal. A good solution if you want to explore the Balearic Islands more widely.
What to do in
Palma de Mallorca ?
Built by the sea, and with several centuries of history, Palma has a population of over 400,000 people. Clearly, it is more than just a coastal resort. It is a big, modern, vibrant city, a city of great age, serenity and tranquillity, which unlike certain parts of the surrounding coast, has remembered its roots and maintained its authenticity. This makes it the ideal starting point for a holiday combining Mallorca's sea and sand with walks and wild landscapes.

Get your fill of nature and culture

Voir plus

Voir moins

Most often, people come to Mallorca for its famous beaches. And they won't be disappointed. The island offers mile after mile of immaculate sand, splendid coves surrounded by pine woods, and clear waters worthy of the Caribbean. However, the Balearic Islands have much more to offer holidaymakers than just these coastal wonders. The beaches alone do not explain the appeal of this part of the world for the vast majority of its visitors.

A trip to Mallorca is about much more than lounging under a parasol. Discover the secular monuments of its capital, Palma: the guildhall, for example, or the Royal Palace of La Almudaina. Venture along the coast to the Cap de Formentor lighthouse, which defies the Mediterranean from atop its cliff. Take in the stunning landscape of the Serra de Tramuntana, which is well worth visiting for its little villages, such as Estellencs, and its untamed landscapes. Hike with your family in the Natural Park, to marvel at its old mills and birds of prey. Spend time as a couple making romantic memories as you learn about George Sand and Frédéric Chopin, who spent two passionate, tender, creative months in the village of Valldemossa. Indulge in the simple pleasure of toasted bread rubbed with garlic and tomato. These are just a few of the countless wonderful experiences on offer...
The top 10 things to do in Palma and Mallorca

Voir plus

Voir moins

Sunbathe and swim. It would be a shame to come to Mallorca without making the most of some of the Mediterranean's most beautiful beaches: Cala Major with its palm trees, Es Trenc, the coves of Cala Llombards, Cala Agulla and Caló des Moro.
Gaze in wonder at La Seu, Palma's cathedral, with its stained glass and immense rose window (the largest of its kind in a Gothic cathedral) capturing the sunlight magnificently.
Discover Joan Miró's studio. The great painter and sculptor spent part of his life on the island. The site is in its original state, with finished paintings and others that are barely sketches.
Conquer Bellver Castle. Perching on a hill, 100 metres above the sea, this 14th-century castle boasts fabulous architecture and an equally stunning panorama of the Bay of Palma. In fact, Bellver is Catalan for "beautiful view".
Head down into the Caves of Drach (Cuevas del Drach) in the town of Manacor. These four large, interconnected caves share one of the largest underground lakes in Europe. A fascinating place!
Visit Alcúdia, Mallorca's oldest town. It is incredibly charming, with its lovely medieval houses and defensive walls. While you're in the area, see the impressive ruins of the Roman city of Pollentia.
Drive then walk to the Mirador Es Colomer and gaze out from this fantastic viewpoint over the Cap de Formentor, one of the most beautiful places on the island.
Take the train! For over a century, the 27-kilometre Ferrocarril de Sóller has provided a connection between Palma and the village of Sóller. This little train resembles a San Francisco tram. It takes its passengers on a ride over viaducts, into tunnels, across plains filled with almond trees and through the Serra de Tramuntana.
Taste the nectars of Mallorca on its wine route. 70 bodegas share the island's vineyards, which boast two designations of origin: Binissalem and Pla i Llevant.
Taste some local dishes in one of Mallorca's famous "cellers": restaurants in converted wine cellars. Make sure you try sobrassada de Mallorca, a sausage with protected designation of origin (DO), spiced with paprika.
Frequently asked questions