Gothenburg, land of the Vikings
You don't book a Nice Gothenburg flight by accident! Because Sweden's 2nd largest city isn't generally found in the pages of travel magazines or agency catalogues. You have to be a savvy traveller capable of leaving the beaten path to head for this Scandinavian destination. But as your Nice Gothenburg direct flight lands, your curiosity will be rewarded in the best possible way. Because Gothenburg is beautiful, inventive, natural and festive. The Sweden of your dreams!
time difference

+0h

currency

Kroner

language

Swedish
Ideal For
Family

Alone

Nature

Weekend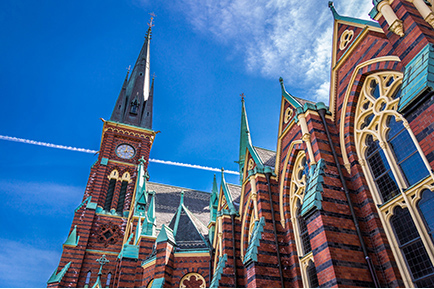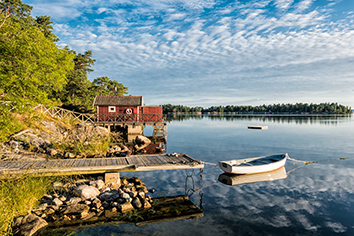 Useful information for your travel to Gothenburg

See more

See less

For a flight from Nice to Sweden and Gothenburg, it's best to fly through the database of MisterFly, our partner. MisterFly is a well-known expert in online flight booking and lets you easily compare airlines and flights for your Nice-Gothenburg trip. All that's left is for you to choose the date/price combination that best suits you for a Nice-Gothenburg direct flight. Budget a bit tight? No problem: MisterFly offers you the possibility of paying for your Nice-Gothenburg return over several monthly instalments. Next stop: saunas, kanelbullar (famous Swedish pastries), and trendy shops!

The formalities for travelling to Gothenburg

Entry requirements: as part of the European Union and the Schengen Area, Sweden requires European citizens to present just a valid passport or identity card.
Currency: Sweden is a kingdom where you pay in kroner! There are around 11 kroner to one Euro. Make sure you leave with enough local currency to cover your first purchases by visiting Interchange, present in both terminals at Nice Côte d'Azur Airport.

Your Nice-Gothenburg direct flight

When flying from Nice to Gothenburg, you'll fly out of Terminal 1, home to Norwegian.

Get your Swede on! By that we mean take it easy, relax, breathe. What's the secret to this serenity? It's easy: be on time! Have your Nice-Gothenburg boarding pass and cabin baggage in hand? Arrive at the terminal one hour before departure. Need to go to the airline counter? Add an additional 15 minutes.

| | |
| --- | --- |
| Departure airport | Nice Côte d'Azur Airport |
| Departure terminal | Terminal 1 |
| Arrival airports | Göteborg Landvetter Airport |

Arriving in Gothenburg

You'll be landing at Göteborg Landvetter Airport, located around 20 kilometres from the city. To get to the city centre, you can:

Take the bus: Flygbussarna will drop you in the centre in around 30 minutes maximum. There are several stops as you make your way to Nils Ericson terminal, Gothenburg's bus station.
Take a taxi: you can choose to pay a flat fee or pay per kilometre. So compare prices! How? Taxis are required to clearly display prices - in large numbers on a yellow background - for both a 10 kilometre and a 15 minute trip. And don't feel obliged to take the first car in the rank. You can choose!
Hire a car: with 7 agencies on site, you're bound to find the right car for your needs and budget.
What to do in
Gothenburg ?
As the largest port in Scandinavia and birthplace of Volvo, the famous car maker, Gothenburg is a prosperous and dynamic city. And you can feel it! With lively night life, great shopping, and the diverse and creative menus of its restaurants, this Swedish city is the very definition of Epicurean. Gothenburg brings together easy-living, nature, and heritage all in a city full of small pleasures.

Gothenburg
Göteborg-VilleGöteborg-Ville
Gothenburg, a natural city

See more

See less

Without a doubt Gothenburg is a large city with everything a tourist needs: large, vibrant avenues, picturesque neighbourhoods perfect for hanging out, museums, abundant shopping, and friendly cafés. There are even canals that give it a romantic feel for a weekend getaway, and a gigantic amusement park for a family holiday. Plus its immense port makes this Viking city all the more dynamic and opens it to the world.
But Gothenburg the Urban isn't far from Gothenburg the Rural. Gothenburg has a green thumb, as seen by its many parks and gardens, including the Botanical Garden - the largest in the country, with 175 hectares and 16,000 plant species. It's really a city in the countryside, an island of modernity in the middle of an ocean of forests, lakes, natural archipelagos, and the banks of the Göta älv and beaches of the North Sea. As the birthplace of Björn Ulvaeus, one of the four members of Abba, its philosophy of life is based around four pillars: Scenery, Heritage, Peace, and Pleasure!
The top 10 things to do in Gothenburg

See more

See less

Hang out in the Haga neighbourhood. It's the heart of bohemian Gothenburg with its famous Skansen Kronan fortress, wooden houses, cobblestone streets, artisanal shops, and quaint cafés where you can try a fika for a true Swedish coffee break.
By tramway or on foot, head up the Kungsportsavenyn, Kingsgate Avenue. Called Avenyn by locals, it's the Champs-Élysées of Gothenburg. On the menu: luxury, shopping, and relaxation.
Visit the Göteborgs konstmuseum, the Gothenburg Museum of Art. Its collection includes works by Rubens, Monet, Picasso, Rodin, Van Gogh, Delacroix, Munch, Chagall, and even Gauguin. You'll also discover a wealth of oft-overlooked Swedish painting.
Have a blast at Liseberg, one of the largest amusement parks in Europe. Here you'll find rides, roller coasters, a big wheel, and the highest free-fall tower on the continent (a 116 metre free fall in 3 seconds!).
Explore the world at Universeum. Perform scientific experiments, see rays and sharks in their aquariums, observe the most dangerous reptiles on the planet, and wander through a tropical forest full of monkeys, iguanas and caiman crocs.
Get out and get some air, play, or picnic in any of the numerous parks and gardens around the city. The largest and best-known is the Slottskogen. Endless lawns, forests, a zoo, shady café terraces and gorgeous views of the city...
Go canoeing or kayaking on the lake in Delsjön nature reserve. It's close to the city and accessible by tramway (plus a 20 minute walk). But it's worth the effort: buy a disposable barbecue before you come and have lunch on the grass.
Board one of the Paddan riverboats and navigate the canals and the port of the city to get up close and personal with cargo ships from the world over.
Hoist your anchor and take a ferry to one of the two archipelagos that border Gothenburg: the northern and southern. You'll discover dozens of islands and granite islets, more or less inhabited, that bring together charm, serenity, and nature.
Sample a delicious seafood platter. The coast surrounding Gothenburg is famous in Scandinavia for its lobster, oysters, and muscles. The place to find them is Feskekorka, the fish market that makes the whole city drool.
Regular flights Nice - Gothenburg GOT
FLIGHTS SAS
3
Flights per week, From July to August
Flights per day :
Mon

1

Tue

0

Wed

1

Thu

1

Fri

0

Sat

0

Sun

0
Frequently asked questions