Austria : a destination for nature-lovers
Fancy a restful holiday somewhere different? Then a flight from Nice to Austria is for you!
currency

Euros

language

Austria, Karlskirche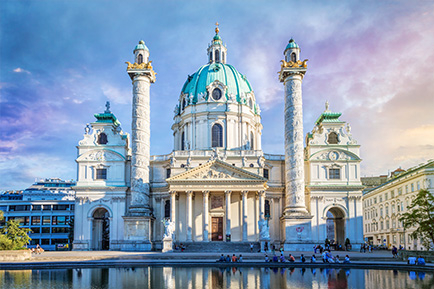 With a population of 8 million, this country offers vast and well-protected natural diversity, despite its small size. Walkers can hike amidst the many mountain ranges or enjoy the stunning green landscapes and numerous lakes that Austria has to offer. Austria is one of the most densely wooded countries in Europe, and almost 80% of it is covered by the Alps and Prealps. Nature plays an essential role in Austrian life. Thanks to its splendid history, Austria also boasts many important architectural monuments such as the Hofburg (Vienna's former imperial palace) or the historical centre of Salzburg.
Travel to Austria for a blend of tradition and modernity!
Nature is not Austria's only asset. Located next to Germany, the country also has well established cultural traditions. Life in Austria is punctuated by numerous folk festivals, when the population wear their traditional dress. The best way to experience one of these festivals is by flying from Nice to Austria! Although the country treasures its long-standing customs, it nevertheless has its sights set on the future. The dynamic youth of Austria gather in big cities such as Vienna, Innsbruck and Salzburg. That means holidaymakers in the country can also enjoy a buzzing nightlife and fantastic cultural events.
1 destination(s) Austria departing from Nice