Why booking online ?
Guaranteed availability of your parking space
Save time - no need to go to the pay station
Collect points with each booking you make
A meet & greet service to your standing!
Nice airport provide personalised hospitality to meet every need for, VIPs, business passengers, groups.
Whether you are arriving or departing, our multilingual "Personal Assistants" will take care of everything. During your time in the airport, you will enjoy a bespoke service. We will anticipate your needs at each step of your time here, and we will make sure you enjoy optimal conditions for comfort and well-being.
To book an individual VIP service (up to 6 passengers on the same booking), please choose arrival or departure and let you be guided. You will have to create an account (personal or partner) if you do not have one already, to finalize the reservation.
Cancellations:
The user has the possibility to cancel his order directly by accessing his personal account on the website (reservation section). All services that are cancelled:
before 48h, will be refunded totally
beetween 48h and 24h in advance, will be charged at 50 % of the applicable rate, which case the balance will be refunded
less than 24h in advance will be charged in full
Service cancelled without notice will be charged in full
Are you looking to organise a group welcome or conferences, or a special event?
Please send us your request via e-mail : vipservice@cote-azur.aeroport.fr
Meet & greet on arrival
From 160€ VAT excl. that is 192€ ATI
On arrival right out of the plane, personalized welcome by one of our greeter
The service includes:
Escort you through border controls
Baggage collection, while you wait in our private lounge
Introduction to the attendant, or accompaniment to the helicopter or car rental counter, etc.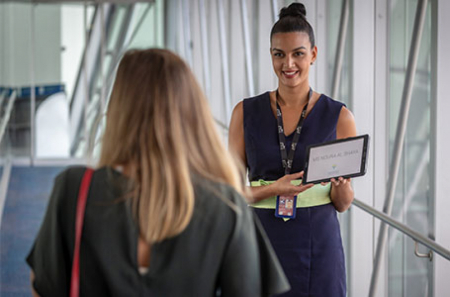 Meet & greet on departure
From 200€ VAT excl. that is 240€ ATI
Greet at the kerbside or the airport by one of our greeter, at the time arranged with your driver
Luggage assistance with our porter's service
Help with duty-free formalities
Assist you through check-in (in accordance with the airline conditions) according to your flying class
Fast track at security
VIP lounge access
Escort to the boarding gate (in accordance with the airline conditions)