Fly to Israel to discover its exceptional historical heritage !
Created in 1948, the State of Israel is a very popular tourist destination. Its friendly population offers visitors a warm welcome. Fly from Nice to Israel to make some unforgettable memories!
currency

Shekel

language

Hebrew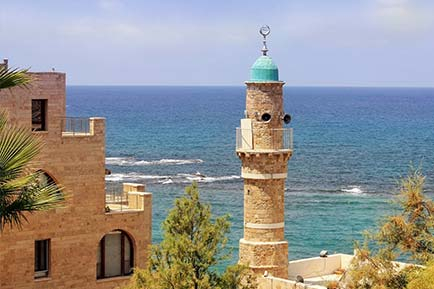 The country is an architectural and cultural treasure trove. With its rich history, Israel is a land of traditions. Jerusalem and Tel Aviv, its two main cities, are the keepers of this history, with their abundant monuments and archaeological sites. Must-sees when you get off your low-cost flight from Nice to Israel include the Wailing Wall, the Church of the Holy Sepulchre and the Al-Aqsa Mosque: holy sites of the Jewish, Christian and Muslim religions.
Fly from Nice to Israel: multiple destinations!
Although the State of Israel has an extremely rich historical heritage, it is also perfectly placed geographically, making it a dream destination. Nestled between the Mediterranean and the Red Sea, Israel has the ideal holiday climate. This sun-soaked country has adapted its tourist infrastructures to meet the needs of travellers. Eliat, for example, has become a very popular coastal resort for its beautiful beaches and diving spots. Tourism professionals also offer lots of itineraries. From trekking in the Negev desert to themed holidays, there are a thousand and one ways to discover Israel! Book your seats on a Nice - Israel flight now!
1 destination(s) Israel departing from Nice