Qatar, head for an overlooked pearl of the Gulf
Qatar, a small emirate in the Arabic Peninsula stretching out into the Persian Gulf, is filled with unknown treasures. Board one of the flights from Nice to Qatar to discover them.
currency

Qatari riyal

language

Arabic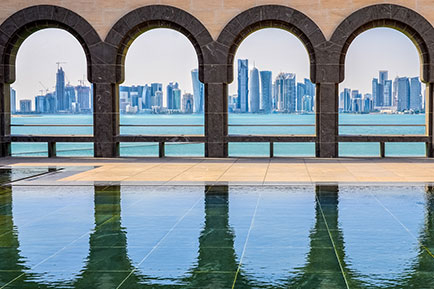 Located in the Persian Gulf, the capital Doha shows its modernity by the many towering skyscrapers. Arriving on a flight from Nice to Qatar, begin with a walk along the magnificent cliff and a visit to the Islamic Art museum. While you're waiting for the "Pearl"'s 13 artificial islands to grow… For the beaches, Dukhan to the west leaves nothing to be desired. During your holiday in Qatar, visit the Al-Zubarah fort, an example of traditional building techniques, or the spectacular Borj-Baran fort with its watchtower.
Flights from Nice to Qatar, tame the desert!
The desert occupies a large part of Qatar. During your holiday in Qatar, you'll see 4x4s driving over the dunes towards the remarkable beaches of the Persian Gulf. As well as dromedary rides in the desert, you can watch a race in the Al Shahaniya camelodrome, west of Doha. In the desert, you'll admire the exceptional natural sites, shaped over the centuries by the wind. Bir Zekit is an ideal place to discover splendid limestone formations. Don't wait, book your flight from Nice to Qatar today.
1 destination(s) Qatar departing from Nice