Fashion & Accessories
Italian elegance in the Terminal 2 store, in the departure lounge at Nice Airport. This stylish boutique contains a world of glamour and fashion. Find high-end, ready-to-wear items, and timeless clothes and accessories from the Italian fashion house in the Dolce & Gabbana store at Nice Airport.
You can earn Club Airport Premier points in this establishment.
More...
Italian elegance in the Terminal 2 boutique
The prestigious Italian fashion house is set to unveil its boutique in Nice Airport Terminal 2. What better place than the French Riviera to roll out the whole Dolce & Gabbana universe. The glamorous label from "the boot" offers its latest collections here of luxury ready-to-wear, men's and women's fashion clothing and accessories. Current must-haves along with timeless classics brought together in a boutique envisioned as a veritable showcase. Perfect for a shopping session before boarding!
What will you find in the Nice Airport Dolce & Gabbana boutique?*
For more than 40 years, the iconic Italian fashion house with its Sicilian accents and prestigious muses such as Monica Belluci has been charming the world with its madonna dresses, sensual silhouettes and men's pieces cut perfectly for a chic dandy style.
Envisioned as a jewel in the fashion house's image, the decor in the Terminal 2 Dolce & Gabbana boutique combines the refinement of leather with the nobility of marble. A perfect showcase for unveiling the latest collections. Chic and trendy pieces for women, always with the codes of the house, ultra-elegant and sexy cuts.
For men, a daring wardrobe with flamboyant colours and iconic motifs together with sober looks and suits, always with the Italian touch. Men and women alike will be able to complement their clothes here with stylish accessories, irresistible shoes, sneakers, sandals and pumps, bags and It bags, fashionable belts, sunglasses, and costume jewellery. Fashion down to the smallest detail.
An iconic fashion house
Dolce & Gabbana takes its name from Domenico Dolce and Stefano Gabbana, the two Italian designers whose first encounter at the very beginning of the 80s has proved highly prolific. They have also given us an anthology of scenes and defining moments in the history of fashion, such as a madonna ascending the steps of the Cannes Palais des Festivals in a signature corset. Finally, and most importantly, it's a DNA: leopard prints, lace in profusion and Sicilian "widows weeds" worn divinely by muses such as Emilia Clarke, Monica Belluci, and now her daughter, Deva Cassel.
*Non-contractual photos and videos – temporary collections subject to provisions
Location(s)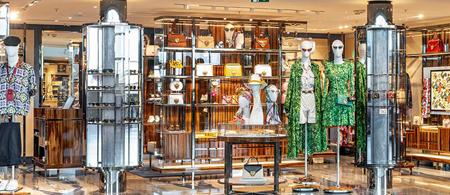 After going through security
Niveau 2
Salle A
Towards the gate

A16

From 6:00 am to 10:00 pm

+33 4 89 98 51 89