Press & Luggage
The Relay stores at the airport will make your journey a pleasure
You can earn Club Airport Premier points in this establishment.
More...
Your journey starts at Relay
In the 6 Relay shops at Nice Airport, you can find the key French or foreign newspapers and magazines, novels, books, travel essentials and snacks, in both the check-in areas and the departure lounges. The Relay shops at Nice Airport, at several locations in terminal 1 and terminal 2, have plenty to offer both adult passengers and children.
Make the most of your CAP benefits
Are you a Club Airport Premier member? You can make the most of your benefits when shopping at Relay. Treat yourself or someone else, and you'll get 5% to 10% off*. The perfect chance to enjoy your privileged passenger status!
What can you buy at the airport's Relay shops?
Magazines, newspapers, books and comics
Why not do a little shopping at Relay before you fly? With the latest novels, children's books, last-minute gifts and reading material for your journey, you're sure to find a reason to visit Relay in terminal 1 or terminal 2 of Nice Airport. There's something for everyone!
This is the place to find the latest issue of your favourite magazine. Celebrity magazines, lifestyle magazines, specialist magazines on sport, women's fashion, travel and leisure… not forgetting special issues that you'll only find in Relay stores at Nice Airport. Amongst the plethora of publications, everyone's looking for the new book by their favourite author, or something by the latest big writer to buy before their flight.
Relay at Nice Airport offers must-read newspapers and magazines to suit every taste, from keen readers to gossip magazine addicts.
Travel accessories
In the 6 Relay shops, you will find a range of digital accessories, a selection of headphones, phone cases and covers, and essential accessories for your smartphone: everything you need! If you like little luxuries, why not buy one of the many travel accessories blending comfort, technology and style? You can also find all those essentials you may have forgotten to pack: batteries, chargers, cables or memory cards. Love to lose yourself in a good book? No problem! Relay stocks e-readers, which are ideal for your flight or your holiday. No need to choose between bestsellers, favourites and new releases. You can have them all on your e-reader!
Keep the kids happy
We've not forgotten about your children. There's plenty for them at Relay: colouring books, magazines with free gifts, nursery rhyme books, and of course the famous holiday workbooks. The Relay shops at Nice Airport have lots to keep kids occupied during your journey from Nice. Younger children will love the soft toys based on characters from the latest films and cartoons.
Souvenirs from the Côte d'Azur
Caps, t-shirts, goodies, mugs, towels… men's clothing, women's clothing, children's clothing: Relay sells collections in the colours of the Côte d'Azur and even the Monaco Grand Prix..
Lovely luggage
Travel bags, laptop sleeves, suitcases and flight pillows. If there's something you've not brought with you from home, you can get it at Relay. If you need to buy an extra bag at Nice Airport, you can find suitcases in various sizes in store. (only in public area)
Feeling peckish?
The Relay shops have plenty of snacks to take away, including a wide range of confectionery, sweets, crisps, fruit juices, soft drinks, and mineral or spring water.
*excluding tobacco, discounts depend on the items purchased, conditions in store
Non-contractual photos and videos – temporary collections subject to provisions
Location(s)
After going through security
Niveau 1
Salle A
Towards the gate

A33

From 5:15 am to 10:00 pm

+33 4 93 71 47 79
After going through security
Niveau 1
Salle B
Towards the gate

B41

From 6:00 am to 10:00 pm

+33 4 93 21 44 56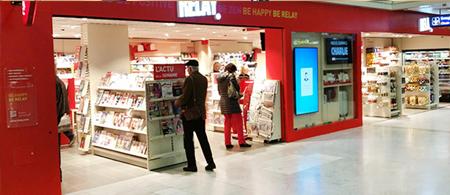 Before going through security
Niveau 0
Towards the gate

D3

From 5:00 am to 9:00 pm

+33 4 83 76 26 43
After going through security
Niveau 2
Salle A
Towards the gate

B22

From 5:00 a.m. to 09:00 p.m.

+33 4 89 98 51 22
Before going through security
Niveau Floor 1

from 7 a.m. to 8 p.m. - 9 p.m. on Friday and Sunday
After going through security
Niveau 2
Salle A
Towards the gate

Towards the gate A04

5.30 a.m to 9 p.m