A holiday in belgium to discover its exceptional heritage
You might not think that a holiday in Belgium would feel particularly different, but you'd be wrong! This flat country, which shares a border with France, will win you over with its amazing diversity and warm welcome. Fly there directly from Nice to experience Belgium's charms!
currency

Euros

language

Dutch, French, German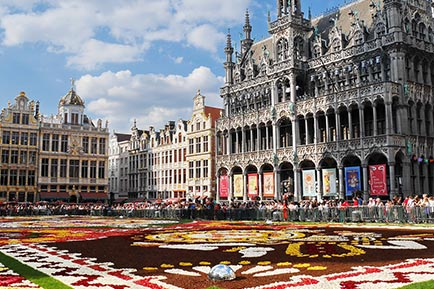 Despite being small, at 30,500 km², this country is bursting with architectural treasures that tell of its rich history. From northern Flanders to southern Wallonia, the kingdom is full of important monuments, spread right across the country. Mediaeval cities, Gothic cathedrals, castles… Discover this diverse Belgian heritage by flying from Nice to Belgium!
Belgium - The Grand Place in Brussels
Dive into the heart of Belgian culture with a flight from Nice to Belgium!
Open to other cultures and its neighbouring countries, Belgium is a land of sharing and exchange. As you wander around the country's main cities and towns, you will discover traces of the various civilisations that have influenced its architecture, culture and arts. Belgium has a dynamic culture, in which painting and comics are particularly important. And of course, no holiday in Belgium would be complete without tasting some world-famous Belgian chocolate! If you fly from Nice to Belgium, you can also look forward to gastronomy to rival that of the best French restaurants!
1 destination(s) Belgium departing from Nice