A holiday in Ireland: get back to nature
Located in Western Europe, Ireland is a Celtic country which combines modernity with deep historical roots. Irish history is firmly rooted in the green countryside which attracts ramblers and nature lovers, thanks to our flights from Nice to Ireland.
currency

Euros

language

Irish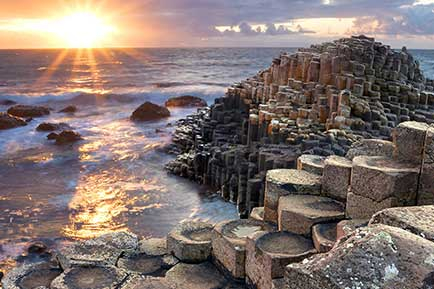 As you walk on the Emerald Isle, you be struck immediately by the beauty of the countryside and the friendliness of the inhabitants. For an unforgettable experience, board a flight from Nice to Ireland! Dive into Irish culture at a Bed and Breakfast, widely available throughout the country. It's the best way to appreciate Irish life, and discover the many different regions which make up this unusual country. Thanks to flights from France to Ireland, walk on the famous Giant's Causeway. Visit the historical site of Clonmacnoise. Admire the magnificent Connemara lakes. Stroll along the Dingle peninsula.
A low-cost flight from Nice to Ireland, for culture and tradition
By choosing a flight from France to Ireland, drink in the Celtic character. Ireland is a cultured land. The Irish enjoy getting together in pubs to enjoy a national institution: beer. During your holiday in Ireland, maybe you'll take the opportunity to visit the Guinness museum in Dublin or the Middleton and Cooley distilleries. Appreciated for St Patrick's Day, beer is a national tradition which unites the Irish people. Traditional music is the mortar. The Irish talk, sing and dance to the sound of violins.
1 destination(s) Ireland departing from Nice