Eire by air
A Nice-Dublin fight is more than just a connection between two cities: it is a bridge between two very different worlds. Leave a Latin land to discover the Celtic spirit, its traditions and its customs, which make the Dubliners much warmer than their climate. Rest assured, the arrival of the Silicon Valley Giants has changed nothing: the people still value simple pleasures, the joy of community, sharing a hurling match, or enjoying a beer in a cosy pub. The city is just as welcoming, charming and endearing as its people. So what are you waiting for? Book your Nice-Dublin flight ticket now and experience Eire.
currency

Euros

language

Irish
Ideal For
Couple

Nature

Weekend

Alone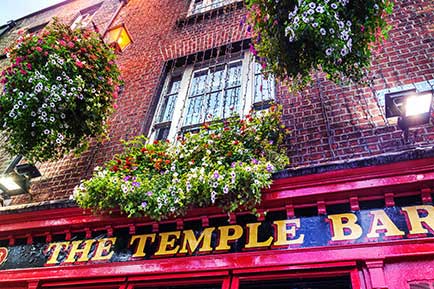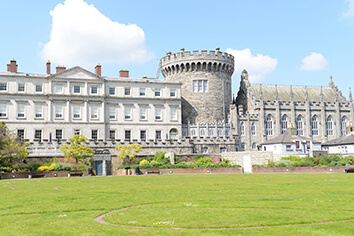 Useful information for your trip to Dublin

See more

See less

What's the easy way to find your Nice-Dublin direct flight with Ryanair or Aer Lingus? By consulting Misterfly, our partner. You can compare the two airlines' prices, conditions and timetables, then book your Nice-Dublin return flight at no additional cost, to suit your schedule and your budget.

The formalities for travelling to Dublin

Entry requirements: although the Irish are staunch Europeans, Ireland is not part of the Schengen Area. So don't forget your valid papers, passport or identity card. You will need to show them on departure and arrival.
Currencies: Dubliners pay for their Guinness in euros. Need cash? Before you board your flight, go to the cash machines at the airport. There is one in each terminal.

Your Nice-Dublin direct flight

Whether you are flying with Ryanair or Aer Lingus, your Nice-Dublin flight will leave from Terminal 1 of Nice Côte-d'Azur Airport.
Already have your boarding pass and travelling with hand luggage only? Arrive at the airport one hour in advance. However, if you need to use the check-in desks, allow an extra quarter of an hour.

| | |
| --- | --- |
| Departure airport | Nice Côte d'Azur Airport |
| Departure terminal | Terminal 1 |
| Arrival airport | Dublin Airport |
| Arrival terminal | Terminal 1 for Ryanair, Terminal 2 with Aer Lingus |

Arriving at Dublin airport

Remember, the two Irish airlines don't use the same terminal in Dublin. Passengers flying with the national airline Aer Lingus arrive at Terminal 2, but those flying with the low-cost airline Ryanair arrive at Terminal 1.

Located near to Swords, Dublin International Airport is situated 11 kilometres from the Irish capital. Whatever your chosen mode of transport, you will need about 30 minutes on average to get to your final destination.

Getting to the city centre

By bus: using the city buses, you can choose between three routes that go to destinations all over Dublin: buses 16, 41 and 102. There are also two express connections: Airlink 747 goes directly to O'Connell Street, Dublin's main thoroughfare, while Aircoach makes three stops: Drumcondra, O'Connell Street and Grafton Street. Both are inexpensive options.
By taxi: prices are reasonable.
By hiring a car from one of the seven major chains present on site. Remember that all of them, except Sixt, have a desk at Terminal 1 and at the Multi-Storey Car Park for Terminal 2.
What to do in
Dublin ?
Despite growth rates envied by all major European capitals, Dublin remains a very human city. Due to its prosperity, its streets have become more animated, but the Dubliners have not really changed their lifestyle, remaining faithful to their Holy Trinity: the church, the stadium and the pub. This is not the place to come for glitz or design. It is a city of authenticity, conviviality and history: the history of the ordinary people, embodied in the bar of a century-old pub, or in Croke Park, the stadium of Gaelic sports and massive U2 concerts.

A week-end of partying and friendship

See more

See less

Don't hesitate to come to Dublin alone, because you'll never be alone for long. The Dubliners are incredibly hospitable and open. As the locals would say: "There are no strangers here; only friends you haven't yet met."
That said, the city is also a great place to visit with friends. Careful with the local blondes, though. They're sure to intoxicate you, and that is an experience best avoided. What do we mean? We're talking about the ales, of course! What else? Blonde, brown or red, these beers are to be enjoyed in moderation.
Although a pint of Guinness is an essential part of the Irish experience, Dublin has much more to offer than the tempting pubs of Temple Bar. The city was recently named Europe's most pleasant capital, so it is worth spending some time there, whether you are visiting its churches and other monuments, familiarising yourself with its history through the numerous statues in its streets, or simply strolling along the pavements lined with Georgian houses, a style inherited from the time when all of Ireland was part of the UK.
The top 10 things to do in Dublin

See more

See less

Go back to school with a walk around the campus of Trinity College, the oldest university in the country. Its library is splendid, with 4.5 million works, including the Book of Kells, a 1200 year old religious work.
Step into Saint Patrick's Cathedral, which is the largest in the country, built on the very site where the patron saint of Ireland baptised his followers. It's like stepping back in time to the Middle Ages.
Take a moment to admire the doors of the Georgian houses. Unlike those in London, these houses in Dublin are full of originality. Hence Dublin's nickname: the city of a thousand colourful doors.
Cross Dublin's most famous bridge, the Ha' Penny Bridge, to the other side of the Liffey. It owes its name to the halfpenny toll once required to cross it.
Acquire a new skill, by learning to serve the perfect pint at the Guinness Storehouse, the famous museum of the Irish brewery.
Take a guided tour to discover the little secrets and the history of Dublin Castle, once the residence of the Viceroys of Ireland.
Breathe the fresh air of St Stephen's Green, known as "The Green" to locals, who like to relax in this romantic park whenever the sun is shining.
Raise your glass with some new Irish friends in one of the pubs of Temple Bar, or at the Brazen Head, Dublin's oldest pub, which opened at the end of the 12th century.
Watch a hurling match, to see a typical Irish sport. A ball, special sticks (hurls), 15 players on each side on the grass of Croke Park, and 80,000 passionate supporters.
Go to Kilmainham Gaol. Closed in 1924, this former prison is now a museum and a memorial to all the "martyrs" of Irish independence who were imprisoned or executed there.
Regular flights Nice - Dublin DUB
FLIGHTS RYANAIR
4
Flights per week, From November to March
Flights per day :
Mon

1

Tue

0

Wed

1

Thu

0

Fri

1

Sat

0

Sun

1
Frequently asked questions