Fly from Nice to Latvia to see wild beauty !
Situated next to the Baltic Sea, Latvia is a small country with a population of 2.2 million, mainly known for its capital, Riga. Discover this country's numerous other attractions by hopping aboard a flight from Nice to Latvia.
currency

Euros

language

Latvian, aslo know as lettish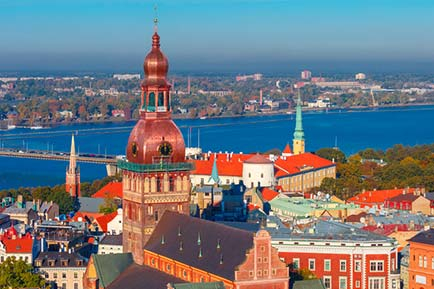 Few visitors know that Latvia has so much to offer outside of its capital, starting with its stunning landscapes. A Nice - Latvia flight opens the door to discovering the Estonian coast, which is undoubtedly worth the trip. The wonderful natural spaces and vast forests are also dream destinations for nature-lovers. Discover the hidden face of Latvia by flying from Nice! With its continental climate, Latvia is the ideal place for some downhill skiing or cross-country skiing in winter!
A holiday in Latvia to visit remarkable Riga
Riga is the gateway to Latvia. When their flight from Nice to Latvia lands, most visitors spend some time in this popular city, which boasts a historical centre on the UNESCO World Heritage List. While you're in Latvia, don't forget to visit the 13th-century cathedral, the Latvian National Opera and the Art Nouveau district, for a taste of the country's rich and diverse attractions. If you want to dig deeper into Latvian culture, you can also admire the baroque Rundāle Palace in the Bauska area, stroll around the charming towns of Cēsis and Sigulda, or see Karosta, a former naval base in Liepāja. Thanks to our Nice - Latvia flights, you can look forward to a warm welcome and some wonderful discoveries in Latvia!
1 destination(s) Latvia departing from Nice