Fly from Nice to Lebanon : cradle of civilisations !
Lebanon is a country dominated by mountains, including the Mount Lebanon range, with its highest peak at 3,089 metres. With a cedar tree as its national emblem, Lebanon boasts exceptional natural diversity. Sea, mountains, lush green plains, arid landscapes, lakes and rivers… its stunning scenery will steal the hearts of visitors. Discover this country by boarding a flight from Nice to Lebanon!
currency

Lebanese pound

language

Arabic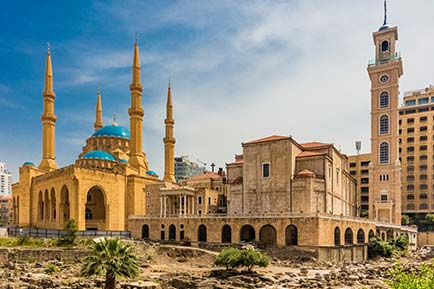 After years of war, Lebanon has recovered admirably and takes great pride in opening its doors to holidaymakers. It is well worth booking a low-cost flight from Nice to Lebanon, to discover its rich history, reflected in its architectural and cultural heritage. The cradle of many civilisations, Lebanon displays its past in its legendary towns and cities: Tripoli, Byblos, Anjar, Deir al-Qamar, Zahlé… Most of these gems feature on the UNESCO World Heritage List. Thanks to our Nice to Lebanon flights, all you need to do is choose your destination!
Fly from Nice to Lebanon to discover buzzing Beirut!
You can't have a holiday in Lebanon without stopping off in Beirut. The country's capital is modern and dynamic. Midway between East and West, it is the largest city in Lebanon. It is also the country's economic, commercial and cultural heart. But Beirut is above all a cosmopolitan city that has earned its place among the world's greatest capitals. Like New York and Ibiza, Beirut is a top party and clubbing destination. Its people also take a great interest in art, which means that after your low-cost flight from Nice to Lebanon, you can visit numerous art galleries. It's also worth making time for the National Museum of Beirut and the Museum of Lebanese Prehistory.
1 destination(s) Lebanon departing from Nice