Take off for Beirut in Lebanon, the country of eternal cedars
A flight from Nice to Beirut takes you to one of the Middle East's most fascinating cities. A place unequalled by its larger neighbours. The Lebanese capital has an utterly unique ambiance, created by bringing together diverse religious communities and respecting the rituals and lifestyles of each. It is truly like nowhere else. But your Nice Beirut flight will let you visit not just Beirut but the entirety of Lebanon - a small but unforgettable country.
time difference

+1h

currency

Lebanese Pound

language

Arabic
Ideal For
With friends

Culture

Party

Town/City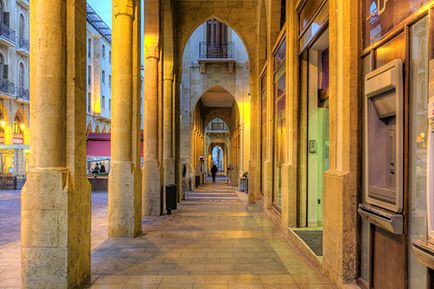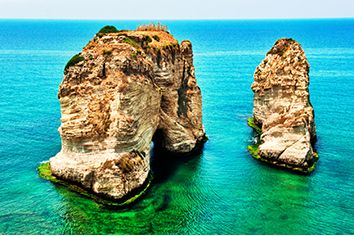 Useful information for your trip to Beirut

See more

See less

In the past ten years Beirut has reclaimed its spot among the world's top tourist destinations. See it for yourself by booking your Nice Beirut return ticket with our partner MisterFly. It's a gold mine of information to get you ready for your trip from Nice to Beirut! You'll see all available prices for a Nice Beirut flight with MEA (Middle East Airlines) as well as Air France's timetable for Nice Beirut. All that's left is to reserve your Nice Beirut flight at the best price - and without hidden fees - and to start preparing for your holiday.

The formalities for travelling to Beirut

Entry requirements: For European citizens, entrance into Lebanon requires a passport valid for at least six months past your entrance date, and a visa that can be requested at the Lebanese Embassy in France, or, if your stay will not exceed one month, directly upon arrival at the airport.Please note: in all cases, your passport must not contain evidence of a visit to Israel.
Currency: you'll be using Lebanese Lira (pounds). 1700 Lira are equal to about 1 Euro. While the banking industry is well-developed in Lebanon, it's a good idea to bring some local currency with you. You can change money at Interchange kiosks, which you'll find in both terminals of the Nice Côte d'Azur Airport.

Your Nice-Beirut direct flight

It doesn't matter which company you choose. The MEA Nice Beirut flight, like the Air France Nice Beirut direct, takes off from Terminal 2 at Nice Côte d'Azur Airport.

Be sure to arrive at the airport at least an hour and a half before departure to ensure you have enough time to go through security screenings and border control. It is even recommended that you arrive two hours before departure if you need to go to the airline counter to drop off bags or collect your ti

| | |
| --- | --- |
| Departure airport | Nice Côte d'Azur Airport |
| Departure terminal | Terminal 2 |
| Arrival airport | Rafic Hariri International Airport Beirut |

Arriving in Beirut

Beirut Rafic Hariri Airport is the only airport in service in the country and does not offer good public transport connecting it to the city centre of the Lebanese capital. As such, you must:

Take a taxi. There are many of them. Some are certified by the airport and line up in front of the arrival area. Others are not and can be found waiting in the parking areas. Be sure to negotiate the price before you get in. A taxi from the airport to Beirut city centre should not normally cost more than 15 Euro. It can even be less expensive.
Hire a car. There are 7 agencies with counters inside the airport
What to do in
Beyrouth ?
Beirut itself has enough on offer to fill up your entire holiday. But it would be a shame to not take the time to get away and visit other parts of the Country of Cedars. After all, it's not very big! Just 400 kilometres long and 80 wide. But what it lacks in size it makes up for with a wealth of culture and natural wonders. The vestiges of Baalbek, picturesque Byblos, rolling valleys and age-old cedar forests, in addition to all the charms of Beirut, will make your trip unforgettable.

Destination Beirut, a city that celebrates life

See more

See less

Beirut, and Lebanon in general, let you discover the Orient like nowhere else. At the centre of this unparalleled city is the peaceful cohabitation of many diverse cultures. The recent and tormented history of the Lebanese can also be felt in the unique and joyful atmosphere of this ancient Phoenician port. After years of war, the people of Beirut have rediscovered an insatiable appetite for life and its simple pleasures.
The result is a city with a unique 'art de vivre' that's at once compelling and relaxed. It's a city full of diverse influences, and one that will surprise you year-round. Whether you go as a couple, with friends, or as a family, there's never a dull moment in this Levantine city and its surroundings. Just make a wish - a lazy day at the beach, a walk in nature, museums or monuments, souks or modern art galleries, a gourmet restaurant or a night on the town - and you'll see it granted!
The top 10 things to do in Beirut

See more

See less

The Corniche walking tour is the most popular in Beirut. This 4 kilometre sea-side walk will take you to Pigeon's Rock, two massive 50 metre blocks just a stone's throw from the shore.
Stroll through the heart of the city starting from Martyrs' Square to gain an understanding of Beirut's secret. Walking just a few hundred metres will take you past ten churches and six mosques, including the Mohammed al-Amine mosque, as well as the two Saint-George cathedrals, the Maronite and the Orthodox.
Check out Beit Beirut, the "House of Beirut", with its nearly one hundred year old magnificent yellow façade, still riddled with bullet holes. A sniper stronghold during the Civil War (1975-1990), today it is a place of remembrance. It is sometimes open to the public during events. A true eye opener!
Visit the National Museum of Beirut, which is mainly dedicated to archaeology. Here you'll find thousands of artefacts such as mummies, sarcophagi, an obelisk, funeral steles, as well as statues, figurines, and more.
From there head to the Achrafieh district, one of the city's trendiest areas. Stay in one of the unique hotels you'll find there, head to the enormous ABC shopping centre, and end your day by taking in the modern art collection at the Sursock Museum. It's not to be missed!
Lebanese cuisine is some of the world's most flavourful, so take the time to sample falafel, shawarmas, and other kefta, paired with one of Lebanon's exceptional wines.
Spend a lazy day on the shores of the Mediterranean. Where? At Rivera, which has the most vibrant ambiance, or at the Saint George Yacht Club, which is what's left of what was, until the war, the Middle East's most illustrious palace.
Get back on your feet after a night out in Beirut's night clubs by getting lost in the cedar forest near the beautiful village of Bsharri. The oldest tree there is over 3000 years old!
Take a trip to Byblos, just 40 kilometres from Beirut and one of the oldest cities in the world. And it shows. Phoenicians, Egyptians, Romans - their ruins are hard to miss. A phenomenal legacy!
Reserve an excursion to the ancient city of Baalbek, renown for, among other things, the Bacchus temple which is an extraordinarily well-conserved Roman edifice.
Regular flights Nice - Beyrouth BEY
FLIGHTS MIDDLE EAST AIRLINES
4
Flights per week, From July to August
Flights per day :
Mon

1

Tue

0

Wed

1

Thu

0

Fri

1

Sat

1

Sun

0
Frequently asked questions