Discover exceptional sites and buildings
There are lots of reasons to travel to Romania, starting with its rich historical, architectural and cultural heritage. Our flights from Nice to Romania are a departure point for many essential discoveries. Brașov is popular for many reasons. Its location makes it an ideal gateway to the sublime region of Transylvania. Brașov is a city with something for everyone, including skiing in winter and hiking in summer. If you prefer culture to sports, there are unforgettable sites to discover, such as the famous Bran Castle, linked to the Dracula legend.
currency

Romanian leu

language

Romanian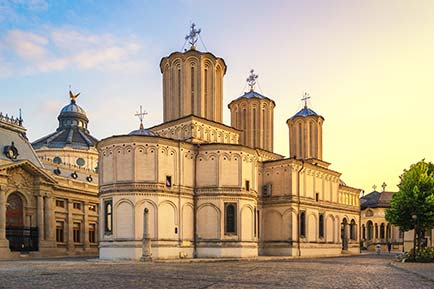 Choose a low-cost flight to Romania from Nice, to be spoiled for choice on your holiday. Among the many sites you'll want to visit, the Danube Delta is a must. This UNESCO World Heritage Site and nature reserve boasts exceptional fauna and flora. Bicaz Gorge is also a fantastic destination for nature lovers. Of course, Nice to Romania flights offer a great chance to visit the capital, Bucharest, and Ceausescu's majestic palace. The architecture of the Orthodox churches in Romania's towns and cities is also worth seeing. The many monasteries and their frescoes are sure to take your breath away.
Get good value for your trip by flying low-cost from Nice to Romania
For a memorable yet inexpensive holiday, make the most of our Nice to Romania flights. As well as having a wealth of things to see and do, Romania is more affordable than other European destinations. Hotels, restaurants, visits, shopping… your holiday in Romania will cost you much less than other trips, especially with our flights from Nice to Romania.