Head East
By plane, it takes just under 2 hours 30 minutes to fly from Nice to Bucharest. That's not much when you think about everything that awaits when you arrive: more than a century of history materialising before your eyes. Because the most Latin of Eastern cities tells a story through its streets and façades from long ago: a story of the happy times, when it was known and the "Paris of the Balkans", but also the story of hard times, when communism and authoritarian leaders reigned. But fear not: a non-stop Nice to Bucharest flight won't be just a long history lesson. Overflowing with life and pleasures, the Romanian capital offers a getaway that's as exotic as it is enticing.
currency

Leu

language

Romanian
Ideal For
Couple

With friends

Party

Town/City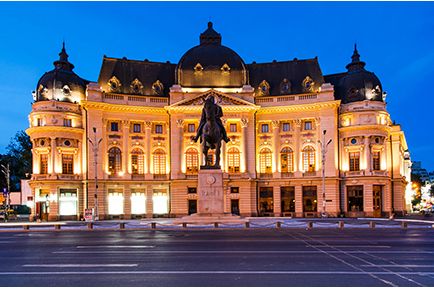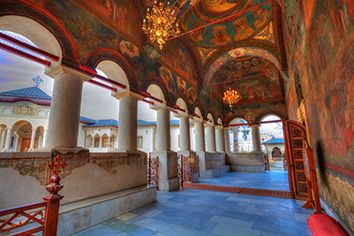 Useful information for your trip to Bucharest

See more

See less

Tarom, Wizz Air and Blue Air: Nice-Bucharest flights are operated by three different airlines. So be sure you get the best price on your non-stop Nice-Bucharest flight by comparing their offers with MisterFly, our partner. You'll find all flights from Nice to Bucharest, even low-cost flights, available for immediate reservation without hidden fees. Even better: if you like you can pay for your Nice-Bucharest flight over several monthly instalments.

The formalities for travelling to Bucharest

Tell me which airline you're flying with and I'll tell you where to go! The Blue Air Nice-Bucharest flight departs from Terminal 1. With Tarom, Nice-Bucharest leaves from Terminal 2. Ditto for a Wizz Air Nice-Bucharest flight.

Need to put luggage in the hold? Not checked in yet? Get to the airport at least an hour and a quarter before your departure time. Otherwise, you should still allow an hour.


| | |
| --- | --- |
| Departure airport | Nice Côte d'Azur Airport |
| Departure terminal | Terminal 1 for Blue Air, Terminal 2 for Tarom and Wizz Air |
| Arrival airport | Bucharest- Henri-Coandă Airport |

Arriving at Bucharest Airport


You'll be landing at Bucharest-Henri-Coandă Airport. Located in the city of Otopeni, the airport is less than 20 kilometres from the city centre. To get there, you can:

take the bus. The RATP 783 line will drop you in the very centre of Bucharest. It runs 24/7 with a bus every 15 minutes during the day and every 40 minutes at night. The journey takes between 30 and 90 minutes depending on the day and time. A second line, 780, will take you to the Gare du Nord.
take the train. A mini-bus that will take you to Otopeni Station can be found outside the International Arrivals Hall. From there, the Henri Coandă Express will take you to Gare du Nord in under an hour. To get to the city centre, you'll need to take the underground or the bus.
take a taxi. Official airport taxis can be found outside the Arrivals Hall. They charge between €5 and €12 for a trip to the city centre, depending on time and day. The trip takes about half an hour when traffic is light.
hire a car. Seven agencies provide a wide range of offers and competitive prices. They can be found in the large shopping area that links the Arrivals and Departures Halls.
What to do in
Bucharest ?
Bucharest doesn't claim the same sort of renown as other Eastern European capitals. Which is odd because it has two major perks the others don't: it's less expensive there, and when you take the time to get to know it, it's just as alluring. There's no hiding that the Ceausescu era of communism and dictatorship tarnished it a bit, erasing parts of its rich past. But the former city of Vlad the Impaler has been able to hold onto that special something that made it the Petite Paris of the Balkans. And it's so dynamic! No doubt about it, Petite Paris by night is just as festive as its big sister!

A city worth knowing

See more

See less

Bucharest may not be paved in gold like Berlin or Copenhagen, but Romania is lovely and just as vibrant! It has a rich culture all its own which you'll see in museums, centuries-old palaces, and in its avant-garde galleries full of ambition and creativity.
That's what's likely to surprise you most if you come, whether as a couple or with friends: the intensity of this city. Are you imagining it modest, resigned, chasing after lost time? It's completely the opposite! It's racing towards the future in leaps and bounds, plus it's imaginative and knows how to party. Designers, creators, and artists are everywhere in Lipscani, the heart of local bohemian life, original bars and trendy night clubs abound and you'll see that a weekend isn't enough to get your fill of the intense energy here.
But there's another Bucharest vying for your attention: that of charming, picturesque streets, relaxing terraces, and games of chess under shady trees, or else meeting the elderly farmers at the markets and getting a taste of recipes that have survived the ages. An art of living that reminds us that Bucharest is Latin at heart.

The top 10 things to do in Bucharest

See more

See less

Go check out the Palace of the Parliament, a giant that reigns over Bucharest. Symbol of the megalomania of Ceauşescu, the tyrant who reigned over the country in the 70s and 80s, this 1100-room building is literally an act of folly!
Move from the ostentatiousness of Parliament to the simplicity and authenticity of the National Village Museum, an open-air museum which has kept the countryside in the heart of the city since 1936 with its farms, cottages, and windmills.
Treat yourself to the exceptional in one of the world's best concert halls: The Athenaeum. Designed more than a century ago by Albert Galleron, a French architect, this neo-classical temple enthrals music lovers with its perfect acoustics.
Walk up Calea Victoriei, "Victory Avenue", the most beautiful in Bucharest, built during the early 20th century and the country's independence. You'll find age-old palaces, museums, tiny churches, and Casa Capșa, one of the oldest and best restaurants in the city.
Linger in the Cișmigiu Gardens, near Calea Victoriei. With 200 acres and a lake you can see by boat, it's one of the best outings in Bucharest, for lovers and chess players alike.
Wander the streets of the Lipscani district. It holds the history of the city with its 18th century buildings, ancient cobblestone streets, and antique shops. But it also holds the city's future, with art galleries, excellent restaurants, and trendy bars.
Say hi to one of Romania's most (unfortunately) famous celebrities: Vlad III, the Impaler. It was he who inspired the legendary tale of Dracula, and his statue is in Curtea Veche, Old Princely Court, in the old town, not far from the magnificent and tiny Stavropoleos Monastery.
Pick your poison: Piata Universitatii, University Square, is the domain of students of the Arts. Piata Revoluției, Revolution Square, is full of history, and here you'll find the Memorial of Rebirth.
Get a taste of Romanian cuisine and its specialities, such as ciorba de burta (tripe soup) or papanaşi, pastries with soft cheese and cherry preserves. A great place to try them: Caru' cu bere, the oldest restaurant in the city. Kitsch and indulgent!
Stay up past your bedtime and see Bucharest by night. Off-the-map bars and electrifying clubs (like Control Club, an institution!) make Bucharest a true night owl.
Regular flights Nice - Bucharest OTP
FLIGHTS TAROM
2
Flights per week, From June to September
Flights per day :
Mon

0

Tue

0

Wed

0

Thu

1

Fri

0

Sat

0

Sun

1
FLIGHTS WIZZ AIR
5
Flights per week, From April to October
Flights per day :
Mon

0

Tue

1

Wed

1

Thu

1

Fri

0

Sat

1

Sun

1
Frequently asked questions