Interchange offers you currency exchange, VAT refund, tax refund, and Western Union money transfer services in both terminals, in the check-in, and arrivals areas.
Currency exchange

INTERCHANGE offers a wide range of currencies, to buy and sell. With the "Buy Back Guarantee" option, INTERCHANGE also offers you the chance to buy back the currencies that you haven't used, at the same rate as at the time of purchase. You can also order your currency online before coming to the airport. More information can be found at https://interchangefx.com/france/
VAT refunds
If you are not a national of a European Union country and you have purchased goods in France before your departure, you can benefit from a VAT refund under certain conditions. After validating your purchase statements on the Pablo terminal or at the airport customs office, go to the nearest INTERCHANGE office to claim your VAT refund.
To qualify for a tax refund with INTERCHANGE at Nice Côte d'Azur Airport, and before entering the reserved area and passing through the security checkpoints, you must follow these steps:
Declare your goods and get a stamp from the customs office (or on the Pablo terminal) in the Arrivals Hall
Claim your refund from the INTERCHANGE office.
Make the most of your CAP benefits
Are you a Club Airport Premier member? You can make the most of your benefits when you visit the Interchange offices at Nice airport. Gold & Platinium members benefit from a reduction of -3% on the exchange rate offered to other passengers. The perfect chance to enjoy your privileged passenger status!
Location(s)
After going through security
Niveau 0

Closed
After going through security
Niveau 1
Salle A
Towards the gate

A36

Closed

+33 4 83 76 26 20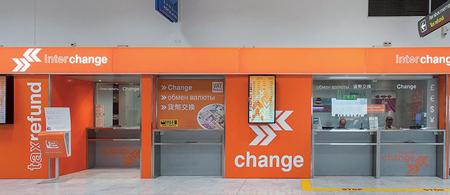 Before going through security
Niveau 0
Towards the gate

A2

From 7:45 am to 8:00 pm exceptional opening at 6:30 a.m. on Saturday May 27 and closing at 9:30 p.m. on Sunday May 28, 2023

+ 33 4 93 21 74 18
After going through security
Niveau 2
Salle A
Towards the gate

B22

9:45 am - 5:30 pm

+33 04 89 98 50 93
Before going through security
Niveau 0
Towards the gate

A03

From 7:45 am to 8:00 pm - Exceptional closing at 9:30 p.m. on May 26, 2023

+33 04 89 98 50 81