Service Centre deals with a wide range of services, big and small, all in one place: it's practical, easy, and fast
The Service Centre is here to facilitate your trip from Nice
Available at Terminal 2, the Nice Côte d'Azur Airport Service Centre deals with a wide range of services, big and small, all in one place: it's practical, easy, and fast. At the Nice Airport Service Centre, open 7 days a week, from 7.30am to 10pm, you can drop off your bags at baggage deposit, consult the lost and found service, deposit a letter, print documents, rent childcare items, etc.

Services for your baggage
The Service Centre offers you:
Baggage storage
Storage for objects not allowed on board
Baggage weighing
Shipping of excess baggage, lost properties or prohibited objects
Storage of your cumbersome personal belongings (from 5€): motocycle helmet (from a few hours to several days), coats, suits, laptop suitcase…
If you want to protect your luggage from damage and theft, you can find Safe Bag's luggage packing service at entrance D3 in Terminal 2 and Terminal 1.
Concierge services
Sale of baggage and flight accessories (cushions, locks, labels, chargers, portable smart phone battery, etc.)
Sale of specific packaging (security bags, cardboard boxes for transporting bottles, boxes for transporting bikes, etc.)
Sale of items for transporting animals (cages and bags)
Deposit retrieval (agencies or private individuals), for leaving keys or documents marked for a passenger, letters can only be picked up between 7.30am and 10pm.
Document printing
Prepaid SIMS cards My European SIM
Sale of tickets Zou! for regional lines 80/81/82
Lost and found
If you have lost an item at the airport, it may be that someone has found it and taken it to the Service Centre Safe Bag. You should report a lost item by filling in the lost item form .
Our service provider Safe Bag and their partner Troov will contact you within 48 hours to confirm whether or not your item has been found, and will inform you of how to retrieve it. You can also head directly to the Service Centre check-in desk to find out if your item has been found.
The storage and return of items found by the Service Centre is subject to conditions, which we invite you to consult below. Attention, we keep objects found for a limited amount of time: every 15 days, we will transfer them to the Ville de Nice lost and found service.
The service Centre dos not deal with Baggage claims. So we cannot inform you about this subject.
Childcare items
The custom childcare equipment rental service, offering all the necessary equipment for your trip to the Côte d'Azur, whether it's for a few days or for several weeks: rentals are available for a minimum of 3 days and a maximum of 6 months. Service available from 7.30am to 10pm.
Pushchairs; baby carriers; car seats, high chairs; folding beds; baby baths; etc. It's now possible to travel light with children.
Service offered in partnership with Kidelio, reserve now here .
Location(s)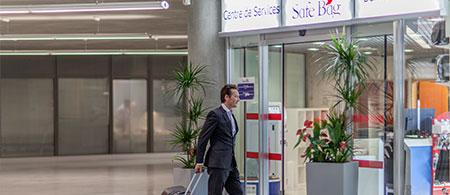 Before going through security
Towards the gate

A3/A4

From 7:30 am to 10:00 pm

0 820 423 333 (0,12€/min)