Memories & Gastronomy
The terminal 1 boarding lounge offers tasty Parisian pleasures, with treats worthy of the finest French tearoom.
You can earn Club Airport Premier points in this establishment.
More...
Ladurée: a delicious experience in departures
Treat yourself to some delicacies from the famous Parisian bakery and sweet-maker, by visiting the Ladurée boutique at Nice Airport, in the departure lounge of terminal 1. Here, the macaron is king. This emblem of French gastronomy is a true treat for the taste buds. Ladurée also has plenty of gift ideas that passengers will love. There are chocolates, ice-creams and tea, but also candles and home scents, and of course surprising limited-edition sweet treats.
Make the most of your CAP benefits
Are you a Club Airport Premier member? You can make the most of your benefits when shopping at Ladurée. Treat yourself or someone else, and you'll get 10% off. The perfect chance to enjoy your privileged passenger status!
What can you buy at the airport's Ladurée boutique?*
You don't even need to leave the terminal to find the perfect macarons. If you want to buy macarons at the airport, this is the shop for you. Just the sight of the Ladurée boutique at Nice Airport will make your mouth water. It's like a rainbow of macarons! It all starts with whole blanched almonds. Then, an Italian meringue is made. When the macaron shells come out of the oven, they are shiny and perfectly shaped. They are then filled and assembled. At Ladurée, attention to detail guarantees exceptional macarons. In total, there are more than 14 different flavours available in the Ladurée boutique at Nice Airport. When you leave Nice, take some of these sweets treats away with you in pretty, pastel-coloured boxes.
The Ladurée boutique in terminal 1 also offers a selection of scents. To give passengers unique fragrances, Ladurée has selected the finest ingredients. Light a candle and let the scent carry you away on a sensory journey into your childhood memories. Ladurée also makes sure all of its products look wonderful, to guarantee you an attractive gift or souvenir from France. Just like the brand's iconic macarons, the candles are both sophisticated and delectable.
Ladurée: a celebration of macarons
They sell like hotcakes! Ladurée has been cooking up these delicacies since 1862, and their reputation extends far beyond France. What's more, the famous patisserie's colourful sweet treats come in a dazzling variety of flavours. Chocolate, orange blossom, lemon, melon… The Ladurée boutique at the airport has a wide range of sweet and fruity flavours. This is your chance to try the famous rose macaron: the Ispahan is filled with fresh raspberries and a delicious rose petal and lychee flavoured cream. The pretty, refined store full of delicious little creations offers passengers an exclusive epicurean experience in the departure lounge of terminal 1.
*Non-contractual photos and videos – temporary collections subject to provisions
Location(s)
After going through security
Niveau 1
Salle A
Towards the gate

A33

from 8:00 am to 8:30 pm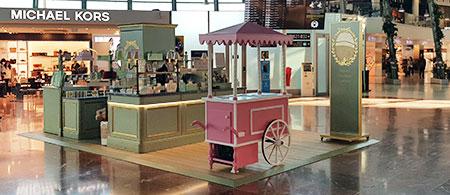 After going through security
Niveau 2
Salle A

From 8:00 a.m. to 8:30 p.m.