Alcohols & Perfumes, Memories & Gastronomy
The perfect place for all your shopping needs, with clear sections to help you choose.
You can earn Club Airport Premier points in this establishment.
More...
Visit Aelia Duty Free for a unique shopping experience
Welcome to the temple of duty-free shopping. Your journey starts here, with a varied shopping experience that is both global and local. Grab some airport exclusives at Aelia Duty Free in terminal 1 or terminal 2 of Nice Airport.
Make the most of your Club Airport Premier benefits
Are you a Club Airport Premier member? You can make the most of your benefits by shopping at the Aelia Duty Free shop. Get 10% off your purchases and earn points on your CAP card. The perfect chance to enjoy your special passenger status! For frequent flyers, Aelia Duty Free shops are the ideal place to buy your perfume, your beauty products or your favourite Champagne or spirits.
What does Aelia Duty Free sell?*
Aelia Duty Free is the perfect place for your shopping in the airport. Go on a shopping spree with a difference in the kingdom of perfumes, cosmetics, gastronomy and alcohol, including fine wines, Champagne or a range of whiskies, rums and gins at duty-free prices. At Aelia Duty Free, discover a whole host of brands you've never seen at Nice Côte d'Azur Airport. Just explore the store for some exciting finds. In the perfumes and cosmetics section, we've got Annick Goutal, Roger & Gallet, Leonor Greyl, By Kilian, Bourjois, Benefit and many more. There's something for everyone, young and old. At Aelia Duty Free, fine food is also in the spotlight. Those in search of a treat can browse delicious sweet and savoury ranges, including a selection of regional flavours and products exclusively for passengers. At, Aelia Duty Free, passengers can find travel retail exclusives and special prices, plus some great offers.
A unique shopping experience*
The Riviera bar (Terminal 1): Drink in the atmosphere of the French Riviera with the latest cocktails from your favourite brands.
The whisky club: Find the best whiskies in the world, in a fun and interactive space where you can discover their history, how they are made and of course their flavours.
Champagne heaven: Come and see the unique sound and light show. Specially created for Nice Airport, it changes over time.
The "oenomatic" machine: Awaken your senses by sampling a selection of our best wines from all over France. Just ask one of our experts for a tasting.
The Fragonard garden: Discover the Riviera's most prestigious perfumery, and create your own scent in their amazing fragrance laboratory.
The art of perfume: Discover our rare and sought-after perfumes via a fragrance experience in a restful atmosphere.
The temple of treats: Give in to temptation as you explore our areas devoted to Fauchon (Terminal 1), M&M'S, and French macaroons from Pascal Lac at Terminal 2 (voted one of France's twenty best chocolatiers, by the famous chocolate experts at the "Club des Croqueurs de Chocolat")
Fill your basket with the best and trendiest brands*
The list of brands available to buy duty free at Nice Airport is long: Chanel, Christian Dior, Hermès, Fragonard, Armani, Guerlain, Yves Saint Laurent, Givenchy, Hugo Boss, Lancôme... Veuve Clicquot, Ruinart, Drapier, Armand de Brignac, Dom Perignon, Moët & Chandon, Laurent Perrier, Piper Heidsieck, Nicolas Feuillate, Roederer, Lanson... Hennessy cognac, Johnnie Walker, calvados, Armagnac Castarede, Chivas Regal whisky, Ricard, Remy Martin cognac, Bombay Sapphire gin, Jameson whiskey... Château d'Esclans, Miraval, Château Figuieres, Château les Valentines, La Font du Broc, Domaine d'Ott, Pascal Lac, M&M'S, Chocolat des Français, Lindt, Kinder…
Do you have a weakness for trendy brands? You'll be spoilt for choice with Kylie Cosmetics, Dior Backstage, Benefit, Caudalie and more. At Nice Côte d'Azur Airport, passengers from all over the world can find a wide range of cosmetics and skincare products. New brands are also appearing on the shelves, for example Crème de la mer, Jo Malone and Filorga. Fragrance lovers will adore the bottles from Maison Martin Margiela, Dyptique, Annick Goutal or Serge Lutens. There are even private collections by Tom Ford, Armani and Van Cleef. Duty-free shopping at Nice Airport is So chic, so Nice.
Frequent flyers can get their hands on exclusive products that are out of stock at shops in cities. A dream destination to treat yourself or someone else, while enjoying a hassle-free journey.
*non-exhaustive list subject to modifications
Click & Collect and Shop & Collect at Aelia Duty Free
The Aelia Duty Free shops at Nice Airport allow you to reserve your shopping online with Click & Collect before you travel. Then you simply need to collect it in an Aelia Duty Free shop at Nice Airport on the day of your journey.
You can even buy a product in the duty-free shops before you fly and collect it when you get back to Nice Airport, at Terminal 1 or Terminal 2 with Shop & Collect. Do your shopping at the airport and collect your purchases when you return. It's easy and free!
Alcohol abuse is dangerous for your health, drink with moderation.
*Non-contractual photos and videos – temporary collections subject to provisions
Location(s)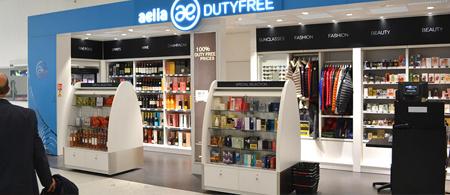 After going through security
Niveau 0
Towards the gate

A1

From 6:00 am to 9:00 pm

+33 04 89 88 98 93
After going through security
Niveau 1
Salle B
Towards the gate

B42

From 6:00 am to 10:00 pm

+33 04 89 76 29 20
After going through security
Niveau 1
Salle A
Towards the gate

A36

From 4:15 am to the last flight

+33 04 89 88 98 24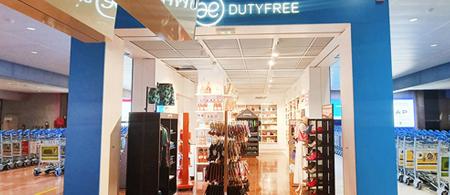 After going through security
Niveau 0
Towards the gate

A3

From 8 a.m. to 8:45 p.m. - 9:15 p.m. on weekends
After going through security
Niveau 2
Salle B
Towards the gate

B25

Depending on the flights

+33 04 83 76 29 20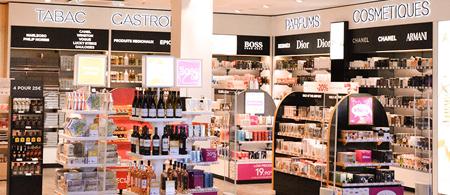 After going through security
Niveau 1
Salle A
Towards the gate

A02

From 6:00 am to the last flight

+33 04 83 76 29 22
After going through security
Niveau 2
Salle A
Towards the gate

A19

From 6:00 am to the last flight

+33 4 83 76 29 23
Good deal
Good deal
Aelia - The good deals
The best sellers at the best prices
Dans la limite des stocks disponibles