Take a trip to Sweden to enjoy the great outdoors
Located between Finland and Norway, Sweden is the third-largest country in the European Union. Step aboard a Nice to Sweden flight for a voyage of discovery through the vast natural spaces of this Scandinavian country, and to discover the appealing lifestyle that attracts so many visitors each year.
currency

Swedish krona

language

Swedish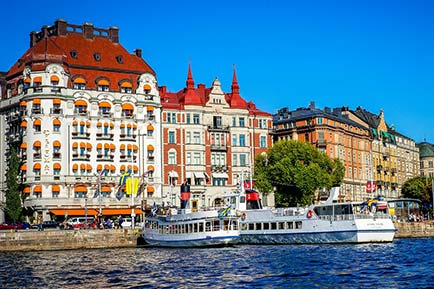 With a population of just 9.3 million, the country has huge unspoilt expanses to delight hikers and trekkers. If you fly low-cost from Nice to Sweden, you'll have the chance to explore the vast landscapes of Lapland, visit the island of Gotland, or admire the country's gigantic forests. Sport is an essential part of the Swedish lifestyle. Mountain biking, canoeing, walking, rafting, windsurfing: there are so many sport and leisure activities for visitors to enjoy.
Fly low-cost from Nice to Sweden to experience an enviable lifestyle
Sweden has much more to offer than just its beautiful and diverse landscapes. It is also a dynamic country with a good standard of living. In Sweden, life is great. To experience it for yourself, book a low-cost flight from Nice to Sweden! Start your road trip by visiting the capital, Stockholm. You're sure to be entranced by the rich cultural heritage of this city, which is a treasure trove of museums, including gems such as the Nordic Museum and the Moderna Museet (Museum of Modern Art). Don't miss Stockholm Palace: it's a real must-see! After flying from Nice to Sweden, you can also continue towards Malmö, Gothenburg and other wonderful cities. Dive deep into Nordic life and Swedish heritage!
2 destination(s) Sweden departing from Nice