Fly away to Lake Mälaren
Scandinavia is a treasure, and a Nice-Stockholm flight undeniably takes you to one of its finest gems. With the natural beauty of its archipelago, its conviviality, its old neighbourhoods and its trendy designers, the Swedish capital shines out as one of the happiest cities in the world. And this happiness is contagious! You will soon feel it yourself, filling you with a refreshing, soothing, reviving energy so beneficial that your Nice-Stockholm plane ticket should be available on prescription!
time difference

+0h

currency

Couronne suedoise

language

Suedois
Ideal For
Family

Couple

Culture

Weekend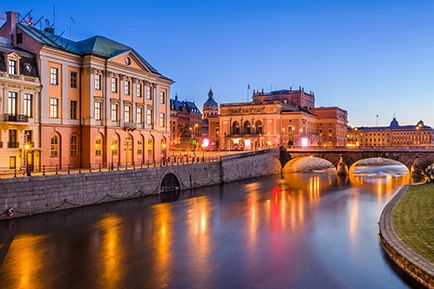 Useful Information for your trip to Stockholm

See more

See less

Want to know how to get the best price for your flight to Stockholm? It's easy: just plan your trip with our partner, Misterfly. You can compare the times and prices of all the Nice-Stockholm flights with Norwegian and SAS. Once you've found the Nice-Stockholm direct flight you're looking for, book it immediately. You will only pay the same price you would pay if you were booking directly with the airline. Found the right date but struggling with a tight budget? With Misterfly, you can pay for your family's Nice-Stockholm flights in four instalments.

The formalities for travelling to Stockholm

Entry requirements: Sweden is a member of the European Union and part of the Schengen Area. That means that to go to Stockholm, you just need a valid passport or identity card.
Before you sink your teeth into your kanelbulle, Sweden's famous cinnamon roll, you will need to pay for it in kroner. There are 11 kroner to one euro. Make sure you leave with enough local currency to cover your first purchases, by visiting Interchange, who are present in both terminals at Nice Côte d'Azur Airport.

Your Nice-Stockholm direct flight

You can't go wrong! All Nice-Stockholm flights with Norwegian and SAS leave from Terminal 1 of Nice Côte d'Azur Airport.

Get into the spirit of Swedish serenity before you even leave the French Riviera! For a stress-free departure, get to the airport at least an hour before your flight leaves, or even an hour and a quarter if you need to go to your airline check-in desk to get your ticket or put bags in the hold.

| | |
| --- | --- |
| Departure airport | Nice Côte d'Azur Airport |
| Departure terminal | Terminal 1 |
| Arrival airport | Stockholm Arlanda Airport |
| Arrival terminal | Terminal 5 |

Arriving in Stockholm

You will land at Stockholm Arlanda Airport, in Sigtuna. It is around 40 kilometres from Stockholm city centre. To make this journey, you can choose between:

The bus: cheapest but slowest, with a 45-minute journey. However, the Flygbussarna buses make several stops in the city and offer Wi-Fi throughout the journey!
The train: from 05:05 in the morning to 01:05, the Arlanda Express leaves the airport every 10 to 15 minutes and takes barely 20 minutes to get to the capital.
A taxi: slower and more expensive than the train. Allow at least half an hour and around 50 euros. However, this option is more convenient, because it will take you right to your accommodation.
A hire car: 5 major companies have desks at the airport.
What to do in
Stockholm ?
Built on 14 different islands, in the heart of an archipelago consisting of tens of thousands of islands, Stockholm is an unusual and captivating city. This green capital on a human scale can be explored on foot, especially in good weather. As you wander, you will discover its countless charms, falling in love with its old neighbourhoods, their little mediaeval streets and their colourful merchants' houses. The city is steeped in modernity and is enviably creative, with designers who expertly combine comfort, beauty and simplicity. A real joy!

A holiday with your partner or family

See more

See less

To make the most of the charms of Stockholm, experience it Swedish style! The subjects of Carl XVI Gustaf base their happiness on tranquillity, simple and healthy pleasures, moderation, and a respectful, courteous, natural approach to life. They call this harmonious philosophy of life "lagom". Why not try it? Start with fika: a coffee break including a sweet treat. Stroll around the old neighbourhoods, fall in love with a simple dress by a young designer, or perhaps find a trinket you just can't resist. Satisfy you thirst for culture in the museums and indulge your love of nature on the surrounding islands: green havens dotted with stugas: the country's typical red cabins. Sweat out your stress in a sauna, or go for a dip in the Baltic. Enjoy some rides at the amusement park on the island of Djurgården, or go ice-skating in Kungsträdgården. Settle down on a bench with a chilling book by Camilla Läckberg, Ake Edwardson or Stieg Larsson, masters of Nordic crime fiction, while your kids enjoy the adventures of Pippi Longstocking. Share an elk kebab at an impromptu barbecue under the midnight sun. Ride a bike or paddle a canoe. Above all, be cool and make the most of every moment…
The top 10 things to do in Stockholm

See more

See less

Discover the worst ship in history, but also one of the most beautiful: the Vasa. This 17th-century warship made it just a few hundred metres before it sank. Salvaged in 1961 and magnificently restored, it is the star of the museum that bears its name.
Amble around the alleys of Gamla Stan, the city's old town, and visit the Nobel Prize Museum and the Royal Palace. Don't miss the changing of the royal guard at around midday.
Get some inspiration for your holiday snaps at Fotografiska, one of the best photography museums in Europe. Hungry? the locals love their weekend brunch, and so will you. Booking recommended.
Dance in a museum dedicated to Sweden's "Fab Four": Abba. You can even sing and film yourself with holograms of Agnetha and Frida!
Go window shopping in SoFo (South of Folkungagatan), where you will find Stockholm's trendiest designers. Fashion, design and temptation…
Plunge naked into the icy water of Hellasgården's lake, after sweating buckets in a steamy sauna.
Raise the anchor and sail away to discover a few of the thousands of islands around the Swedish capital. Explore Sandhamn, Vaxholm, Grinda, Gålö, Oaxen and Landsor
Entertain your kids and your inner child on the rides at Gröna Lund, on the island of Djurgården. This amusement park, which opened in 1883, has roller coasters, a ghost train, drop towers and a chair swing ride.
Eat Swedish. Taste reindeer meat, lingonberry jam, salty liquorice, fish roe spread, princess cake, elderflower cordial and other delicious treats
Have an impromptu barbecue in a park by the sea. All supermarkets in Stockholm sell disposable barbecues. For kebabs, go to Östermalm Market Hall, to shop at the city's best market.
Regular flights Nice - Stockholm ARN
FLIGHTS EUROWINGS
4
Flights per week, From April to September
Flights per day :
Mon

1

Tue

0

Wed

1

Thu

0

Fri

1

Sat

0

Sun

1
FLIGHTS NORWEGIAN AIR SHUTTLE
2
Flights per week, From November to March
Flights per day :
Mon

0

Tue

1

Wed

0

Thu

0

Fri

0

Sat

1

Sun

0
FLIGHTS SAS
2
Flights per week, From November to March
Flights per day :
Mon

0

Tue

0

Wed

0

Thu

0

Fri

1

Sat

1

Sun

0
Frequently asked questions