A flight from Nice to Turkey, to visit exceptional sites
A combination of Oriental and Occidental influence, Turkey is a land rich with ancient remains and natural sites. Flights from Nice to Turkey will take you to the heart of this unusual and surprising destination.

currency

Turkish lira

language

Turkish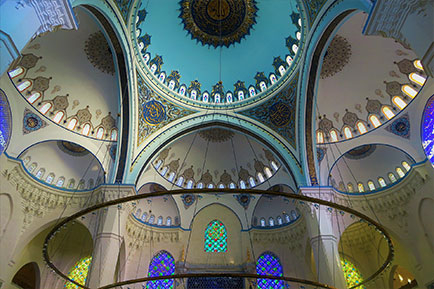 In the Marmara region, Istanbul is filled with historic and religious sites which you mustn't miss on leaving your flight from Nice to Turkey. Visit the monuments recognized as part of UNESCO's World Heritage, such as Saint Sophie's church, the Topkapi palace, Suliman the Magnificent's Süleymaniye Mosque, the Blue mosque with its six minarets or the Church of Christ Pantokrator. In central Anatolia, the Cappadocia region offers an old lunar-like landscape with Byzantine chapels alongside exceptional cave dwellings. Don't miss them during your holiday in Turkey!
Flights from Nice to Turkey: paradisiac beaches and hot springs
On the banks of the Aegean and Mediterranean Seas, seaside tourism is booming. On the Mediterranean coast, Antalya is recognized as the Turkish Riviera. You won't want to miss it during your holiday in Turkey. Surrounded by four seas, Turkey offers many creeks and paradisiac beaches. Near Pamukkale, you will find marvelous hot springs and putrefactive fountains made of limestone. The neighboring city of Hierapolis is a renowned thermal center. If you prefer a gentler climate, try the Black Sea coast. You'll be amazed by the green landscapes and the fields of tea. To discover all its diversity, book your low-cost flight from Nice to Turkey now!
1 destination(s) Turkey departing from Nice