Take off for Istanbul and the crossroads of the world
To properly plan your trip to Istanbul from Nice, head over to MisterFly. Because an easy way to compare prices for your Nice-Istanbul flight isn't the only thing our partner offers. Prices, dates, times: you'll find all the information you need. You can also book your direct Nice-Istanbul flight at the best guaranteed price and without any hidden fees. And if you wish, you can even pay for your tickets over several monthly instalments.
time difference

+1h

currency

Turkish lira

language

Turkish
Ideal For
Couple

With friends

Culture

Weekend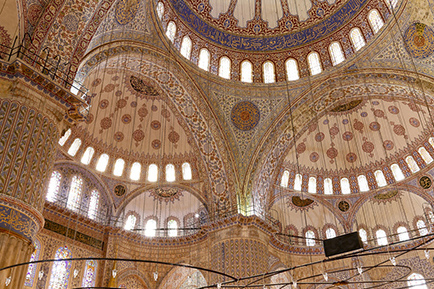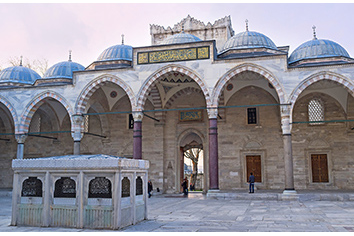 Useful information for your trip to Istanbul

See more

See less

You've done it: you've booked your Nice to Istanbul direct flight. You're headed out to explore this amazing, multi-faceted place. Because your Nice-Istanbul ticket is a bit magical. It doesn't just take you to one continent, but two: Europe and Asia. Not just to one city, but three: in addition to Turkey's largest you get Constantinople (the Ottoman capital) and Byzantium, the Second Rome. A long and beautiful history that will turn your Nice-Istanbul flight into a true time machine!

The formalities for travelling to Istanbul

Entry requirements: good news for French citizens: Turkey doesn't require a visa for a trip of less than 90 days. You must simply present an ID card or passport valid at least 6 months past your date of arrival. Please note that while valid in France, the 5-year ID card validity extension is not recognised in Turkey.
Currency: in Turkey, you'll be paying in Turkish lira. 1 lira is worth around €0.15. Be ready to make your first purchases by visiting Interchange, the currency exchange specialists, with counters in both terminals at Nice Côte d'Azur Airport.

Your Nice-Istanbul direct flight

At Nice Airport, flights to Istanbul always depart from Terminal 1. This is where the Turkish Airlines direct Nice-Istanbul flight departs - the only direct flight to the late Constantinople.

To start your trip to old Byzantium off on the right foot, don't risk arriving late to the airport. Don't forget that before you can go to your gate, you'll need to go through customs - in addition to security screenings. Give yourself at least 1 hour 30 minutes to do so stress-free. Add an additional 15 minutes should you need to go to your airline's counter to collect your ticket or check a bag.

| | |
| --- | --- |
| Departure airport | Nice Côte d'Azur Airport |
| Departure terminal | Terminal 1 |
| Arrival airport | Istanbul Airport |

Arriving in Istanbul

You'll be landing in the new Istanbul Airport, inaugurated in 2019 and located around 40 kilometres from the city centre. An underground line is currently under construction to connect the airport to the city. It will be operational in 2020 at the earliest. Until then, you can:

Take the bus: all day long the Havaist company will take you to the centre in a little over an hour and a half. There are 5 different lines that feed into the city.
Take a taxi: Taxis here accept up to 4 passengers. The trip will cost around €30. It will take at least half an hour.
Hire a car: you're spoilt for choice with nearly 20 agencies present in the Arrivals Hall.
What to do in
Istanbul ?
One number is enough to prove Istanbul's worth: the city has no fewer than 4 major zones listed as World Heritage Sites. Jewels that add to the beauty of the city. But old stones and prestigious monuments aren't the only reason to visit the pearl of the Bosporus. Istanbul bewitches visitors with its ambiguous character fuelled by its unique location on a straight that separates two seas and two continents, and with its ability to absorb the best of both worlds.
Istanbul, a city with double the culture

See more

See less

Your weekend's off to a great start! You're on Galata Bridge, the most famous in Istanbul, with fishermen and small seafood restaurants lining the guardrail. Under your feet is the Golden Horn, Istanbul's natural harbour and cradle of the Byzantium. The sun begins to set, illuminating everything around you. If you look into the distance you can see both Europe and Asia. Perfect!
Which continent to choose? Both, Captain! Either way, Istanbul doesn't give you the choice: it's a melting pot of all of the influences that surround it. This is reflected in its cuisine, at once Mediterranean and Oriental, or else Hagia Sophia, a museum that has gone from basilica to mosque and back again, bringing together the symbols of both Islam and Christianity.
Head for Asia, where you can walk as a family through the streets of Kadikoy, one of the liveliest quarters of the city, or go shopping with friends on Bagdat caddesi - Baghdad Avenue, the local Champs-Elysées, or else lounge on the shores of the Bosporus, or on one of the sunny terraces of Moda, the most laid-back neighbourhood in Istanbul.
Head for Europe, where you can visit Sultanahmet and see the city's iconic monuments, or get lost in the passages of Beyazit Grand Bazar, or even Cevahir - less picturesque but just as big - which is the largest shopping centre in Europe.
The top 10 things to do in Istanbul

See more

See less

Sail the Bosporus. On the Galata Bridge side you'll find numerous boats waiting to take you out into the straight to see the coast, its palaces, or even Princes' Islands.
Find yourself in The Arabian Nights as you visit Topkapi Palace, home to Ottoman sultans for nearly four centuries.
Discover Istanbul's other grand palace: Dolmabahçe Palace. Less than two centuries old but extraordinarily opulent with 285 rooms and a 4.5-ton Bohemian crystal chandelier. A record!
Dive into the depths of Istanbul as you visit the Basilica Cistern, legacy of Byzantium. Held up by more than 300 columns, it originally sheltered the city's drinking water.
Go into the incredible Sultanahmet Camii, also called the Blue Mosque because of the azure tiles that adorn it. As mesmerising as it is refined.
Bargain for souvenirs in the Beyazit Grand Bazar, the world's largest with 200,000 m2 home to 4,000 shops. You may even find Aladdin's lamp!
Relax in the famous Turkish baths. These renowned hammams may not be used for health purposes anymore, but they'll definitely contribute to your well-being. The best is the Kılıç Ali Paşa Hamam.
Check out the Hodjapasha or Silivrikapi Cultural Centres to see their whirling dervishes. A real show!
Change up your diet of Döner Kebabs by trying another Turkish sandwich: the balik ekmek, a fillet of grilled fish in a half-loaf of bread.
Have a Turkish coffee while sampling Turkish delight and baklava, the best of local pastry, and bring the strong and the sweet together on your palate.
Regular flights Nice - Istanbul IST
FLIGHTS TURKISH AIRLINES
14
Flights per week, From April to October
Flights per day :
Mon

2

Tue

2

Wed

2

Thu

2

Fri

2

Sat

2

Sun

2
Frequently asked questions