A flight from France to the USA, a country larger than life
300 million inhabitants, 50 states, 9 629 048 km2 (3 717 796 square miles)… The United States make up one of the largest countries in the world, and also one of the richest. Don't delay! Choose your destination and reserve your flight from Nice to the USA available all year round.

currency

Dollars Américain

language

Anglais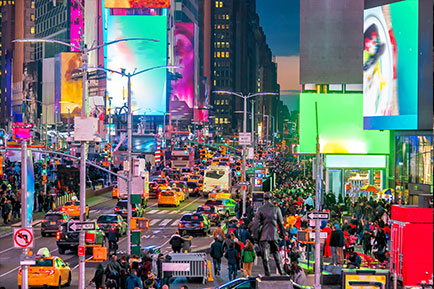 A country built by immigration, the United States of America offer a wide variety of cultures, origins and regions which makes it a valuable tourist destination. The number of flights from Nice to the USA demonstrates the enthusiasm for this country. With the Pacific and Atlantic oceans to the west and the east, and Canada and Mexico north and south, the USA offers a patchwork of different landscapes, from densely populated centers to complete wilderness. Discover the enormity of America, thanks to a flight from Nice to the USA.
Flights from France to the USA, destinations for everyone
Given the variations of this huge country, everyone will find something to interest them in the United States. Hikers and nature lovers will head for the many natural parks scattered around the country, such as the Grand Canyon and Yellowstone National Parks. For a city-based holiday, there are plenty to choose from. New York and Washington are still the most visited cities, but the Californian coast attracts more and more visitors. San Francisco and Los Angeles are what dreams are made of. And how about the mythical city of Las Vegas, at the entrance to the Mojave Desert?
Board a flight from France to the USA, and Uncle Sam will promise you unforgettable memories.
2 destination(s) USA departing from Nice