Atlanta, to discover the USA
Your Nice-Atlanta flight offers you a ticket to the New World. The capital of the state of Georgia is a microcosm of America itself. It bears the scars of past conflicts, from the American Civil War to the fight against segregation and racial discrimination. And it offers you a close-up of some world-famous legends; skyscrapers, Gone with the Wind, CNN and Coca-Cola, to name a few. But your Nice-Atlanta return flight may just be the start of an epic journey. The city's airport is actually the oldest and largest hub in the world. It provides a gateway to Florida and the Caribbean, the West Coast and Latin America.
time difference

+6h

currency

Dollars

language

Américain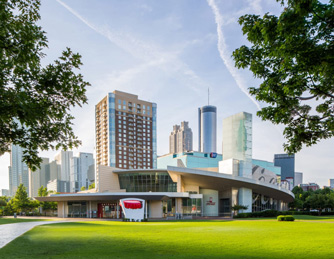 Take off to the Southern USA
When reserving your Nice-Atlanta return flight, you've got access to an expert: MisterFly. A long-standing partner of Nice Côte d'Azur Airport, this specialist provider of online flight tickets pulls out all the stops to make sure that your journey is as smooth as possible. Starting with your booking. They give you the dates, times and prices for all direct Nice-Atlanta flights, so you can plan your journey between Nice and Atlanta in the way that suits you best. And they are just as effective when it comes to paying for your trip. No administrative charges will be applied to your Nice-Atlanta flight tickets, and you can pay for them in four interest-free instalments.
Useful information

See more

See less

The formalities for travelling to Atlanta

Entry requirements : to set foot in America, you need to play by the rules! As well as presenting a valid passport at Customs, you need to apply for electronic travel authorisation (ESTA) beforehand from the US authorities. Submit your application online, at least 72 hours before your departure (allow more time than this to keep stress to a minimum!).
Currency : in Atlanta, you'll pay for your burgers and sodas in US dollars. The dollar is currently worth about the same as the euro. For peace of mind when you arrive, we recommend that you have a few dollars ready in your pocket. You can purchase them from Interchange: each of the terminals at Nice Airport has two Interchange desks, one in the restricted zone and another in the publicly accessible area.

Your Nice-Atlanta journey

The Delta Air Lines Nice-Atlanta direct flight takes off every day from Terminal 2 of Nice Côte d'Azur Airport.

Don't miss your appointment with the States! For the Nice-Atlanta flight, even if you already have your tickets ready, we recommend that you arrive at the airport at least an hour and a half before take-off. And if - as is likely - you have check-in baggage, allow a good two hours. This will make it easier for you to go through security checks and customs formalities.

| | |
| --- | --- |
| Departure airport | Aéroport Nice Côte d'Azur |
| Departure terminal | Terminal 2 |
| Arrival airport | Aéroport Hartsfield-Jackson |

Arriving at Atlanta Airport

Despite being huge, Hartsfield–Jackson Atlanta International Airport is not far from the centre of the Georgian capital, just fifteen or so kilometres away. To make this journey, the following options are available:

Train: similar to the RER service around Paris, MARTA runs a fully secure, all-day service to Atlanta city centre, Five Points or Peachtree Center. The train station is located under the domestic flights terminal. When you land at the international terminal, you need to hop on the internal shuttle bus. It is free of charge, naturally.
Taxi: the journey takes around twenty minutes and costs about thirty dollars.
Hire car: the Atlanta Airport Car Rental Center includes over ten specialist rental companies.
What to do in
Atlanta ?
Things to do in Atlanta

See more

See less

Of the hundred million passengers travelling through Atlanta Airport, the majority have a connecting flight elsewhere. Yet, many of them plan to stay in the city for a day or two to take advantage of its many attractions. And the birthplace of Martin Luther King is not short on things to see and do! It has much to help you think, contemplate, relax and unwind, discover and enjoy. So much so that you soon regret not having anticipated a longer stay! That's something to consider: even if your direct Nice-Atlanta flight is just a stopover, set enough time aside!
The USA on a human scale

See more

See less

Whether you have two, three or four Nice-Atlanta return-flight tickets in your bag, as a couple, family or group of friends, we guarantee that your adventure on the other side of the Atlantic will be packed with discoveries and enjoyment, whatever your aspirations for your trip. Keen to get to the heart of a truly American city? Atlanta will satisfy your thirst for skyscrapers, shopping malls and burgers, especially since this vast city is easy to get around on foot. Looking for cultural experiences? You're in for a treat: the Georgian capital has several treasures waiting to be discovered. First, some poignant historical events: the American Civil War which left it in ruins, and the story of Martin Luther King, the local boy turned hero. Second, it cultivates its bohemian side, in its museums and on its city walls, and through its many street art creations. Keen to share some fun experiences with your little ones? Take them for a ride on the ferris wheel or roller coaster, go and see an American football match or visit a wildlife park. And if you feel in need of nature, take a stroll in the city's parks and gardens, or head out to the countryside, to Stone Mountain Park, nestled in 1,300 hectares of natural beauty, which never fails to surprise and delight its visitors.
The top 10 things to do in Atlanta

See more

See less

Reach for the sky to admire Atlanta and its huge buildings, taking advantage of SkyView Atlanta, a 60-metre high ferris wheel with comfortable, air-conditioned gondolas, conveniently located in the city centre. A great experience, day or night!
Share the dream described by Martin Luther King: that of a better, non-violent world. For the full experience, visit the Martin Luther King national historical park. It includes several emotionally charged sites: the birth home of the Noble Peace Prize winner, his church, his grave and a museum.
Win a gold medal in lazing around, by enjoying a picnic at Centennial Olympic Park. This wonderful green area spanning nine hectares was built for the 1996 summer Olympics. Its live music concerts are just one of its many attractions.
Stroll through the streets of Cabbagetown or Little Five Point s, the city's trendiest neighbourhoods. On the agenda: street art everywhere you look, truly original shopping opportunities, and an impressive choice of hype bars and restaurants.
Get a behind-the-scenes look at a global icon, Atlanta's great source of pride: the Coca-Cola Company. The city is home to the global headquarters of Dr. Pemberton's famous soda. It even has its own museum, the World of Coca-Cola, where you can try twenty or so homemade sodas for free, among other attractions.
Experience the unique atmosphere of American sports: baseball, American football and basketball, with the Atlanta Hawks who regularly take on the biggest NBA teams at their jam-packed home venue: the State Farm Arena.
On roller blades or by bike, walking or running, make your way around the city centre on the BeltLine, a disused railway loop converted into a multi-use trail. Along the way, you'll be treated to art, greenery, panoramic views and delicious food and drink.
Visit one of the planet's three largest aquariums. The Georgia Aquarium hosts over 120,000 marine animals belonging to 500 different species, including the manta ray and the whale shark. Don't forget that the city is also home to a zoo, one of the few in the world where you can see pandas.
And if you're a fan of Gone with the Wind, Margaret Mitchell House is well worth a visit. The writer's former home now houses a museum devoted to her life and work. Visitors are shown around her office, preserved exactly as she left it when she died, and soak up the atmosphere of the film and novel that inspired it.
Make your way to Stone Mountain Park, located around twenty minutes outside of the city. This vast natural park offers a host of attractions: a cable car that takes you to a lookout area with amazing views, a spectacular laser show, a lake, two golf courses and, above all, a gigantic sculpture paying tribute to the Confederate heroes of the American Civil War.
Regular flights Nice - Atlanta ATL
FLIGHTS DELTA
7
Flights per week, From May to September
Flights per day :
Mon

1

Tue

1

Wed

1

Thu

1

Fri

1

Sat

1

Sun

1
Frequently asked questions