A holiday in Morocco, marked by relaxation and spirituality
An age-old spiritual country, Morocco displays many different colors and landscapes. Between the Mediterranean Sea and the Atlantic Ocean, the Atlas Mountains dominate this country with the Sahara desert on the horizon. Set off for a change of scenery thanks to a flight from Nice to Morocco.

currency

Dirham marocain

language

Arabe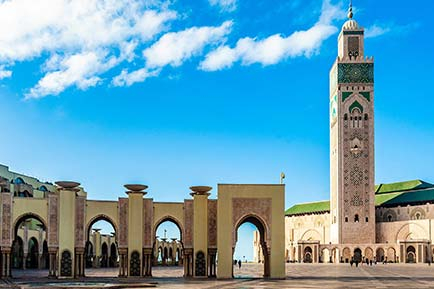 As you leave your flight from Nice to Morocco, the remarkable sounds of the cities of Marrakech, Agadir or Meknes will fill your ears. With 300 days of sunshine each year, Agadir's sandy beaches are the ideal place to laze about, as are Al Hoceima and Saïdia in the North-East of the country. Visit the Souk el Had, a major artisanal market known throughout the Agadir region, where you'll find local treasures. During your holiday in Morocco, head for Meknes, a historic jewel. This city offers a large number of religious sites. The spiritual capital Fez is a thousand-year old religious sanctuary. Many Mosques, palaces and medersas (Islamic schools) are located along the fortified walls and gates.
Flights from France to Morocco, for a ramble in the Atlas Mountains or the Sahara desert!
Marrakech, nicknamed the second Ibiza, offers several discotheques appreciated by the stars. Despite that, this city in the heart of the country has maintained its authenticity with its alleys and riads (traditional houses). It's also the starting point for hikers heading for the Atlas Mountains or the Sahara desert in the south. Ouarzazate also attracts Extreme sportsmen as well as cinema lovers. The Cinematic museum displays the costumes and sets used during filming in the city.
Don't wait to book flights from Nice to Morocco!
3 destination(s) Maroc departing from Nice