A trip to the Netherlands to discover amazing landscapes
The Netherlands, a Member State of the European Union and a constitutional monarchy, has a population of 17 million. To discover this unusual little country, famous for its canals, tulip fields and windmills, the simplest solution is to book a flight from France to the Netherlands!
currency

Euros

language

Dutch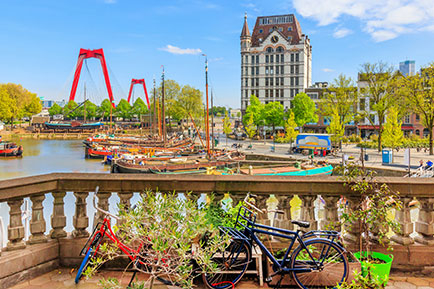 During your holiday in the Netherlands, you'll find that this flat country, which is one of the most low-lying in the world, is high in surprises. With a quarter of its territory sitting below sea level, the Netherlands has created many polders to push back the boundaries of its land. Rotterdam, Amsterdam and The Hague are all built partly thanks to the reclamation of land from the sea or marshy areas. To find scenery with some relief, you'll need to get further from the coast and head for the region of Limburg, where you will discover gently undulating landscapes.
Fly from Nice to see unmissable cities in the Netherlands!
When you get off your Nice - Netherlands flight, a visit to Amsterdam is a must. The capital has an exceptional historical heritage and some extremely important museums. A vibrant, thriving nightlife is also guaranteed. It's worth travelling to some of the other cities in the Netherlands, too! Rotterdam, for example, is perfect if you love modern architecture or want to make some great memories. Maastricht is also a must, with its historical centre boasting beautiful stone houses and an admirable cathedral. Rembrandt fans should visit Leiden, the painter's birth city, which is home to the oldest university in the country. This small country has big appeal, thanks to its rich culture, history and heritage. So escape to the Netherlands on a flight from Nice!
2 destination(s) Netherlands departing from Nice