Fly away to the land of tulips
Nice and Amsterdam are very different cities. One is Latin, the other northern. While Nice is lulled by the rhythm of the waves, life in Amsterdam flows with the smooth waters of the canals. However, there is reciprocal friendship and esteem between the jewel of the Côte d'Azur and the Venice of the Netherlands. This is embodied by the many direct Nice-Amsterdam flights taking off from the Baie des Anges every week. What are their passengers looking for? A tranquil, refined and liberated city, and an unusual atmosphere that makes a break in Amsterdam flying from Nice a unique experience.
currency

Euros

language

Dutch
Ideal For
Couple

With friends

Town/City

Weekend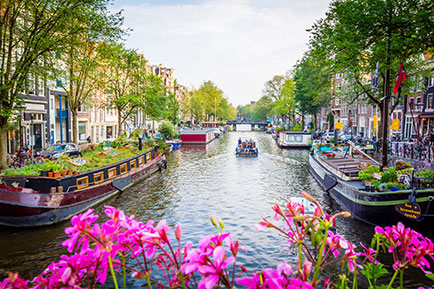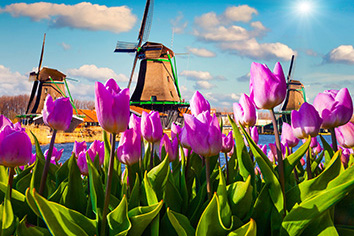 Useful information for your trip to Amsterdam

See more

See less

To find a low-cost Nice-Amsterdam flight, check out the Nice-Amsterdam prices with easyJet, Transavia or KLM, making the most of expert knowledge from our partner Misterfly. Compare prices and timetables for all Nice-Amsterdam return flights and buy your ticket with confidence. You'll soon be admiring Dam Square, the Royal Palace, the De Wallen district and the Van Gogh Museum.

The formalities for travelling to Amsterdam

Formalities: the Netherlands are part of the Schengen Area. This means that a European citizen only needs their valid passport or national identity card to travel to Amsterdam.
Currencies: the euro is used in the Netherlands.

Your Nice-Amsterdam direct flight

With flights by KLM, easyJet and Transavia, Nice-Amsterdam is a very active route. That means you're sure to find a Nice-Amsterdam return flight to suit your budget and your schedule. Flights with Transavia leave from Terminal 1. For KLM and easyJet, go to Terminal 2.

As for all flights within Europe, you are advised to arrive at the airport at least one hour before your departure time if you already have your boarding pass and are travelling with hand luggage only. If you need to check in or put luggage in the hold, allow an extra quarter of an hour.

| | |
| --- | --- |
| Departure airport | Nice Côte d'Azur Airport |
| Departure terminal | Terminal 1 with Transavia |
| | Terminal 2 with easyJet and KLM |
| Arrival airport | Amsterdam Airport Schiphol |

Arriving at Amsterdam airport

You will land at Amsterdam Airport Schiphol. Despite being one of Europe's largest airports, all of its activities are within a single terminal.
Built to the south-west of Amsterdam, Schiphol is less than 20 kilometres from the Dutch capital.

To get to the city centre, you can use:

The train, which is the least expensive option and the fastest way of getting to the city centre (15 to 20 minutes). It runs 24 hours a day.
A public bus. Buses 370 and 197 go to the south and centre of Amsterdam. Between midnight and 05:00, you will need to take night bus 97 or 358.
A taxi. Expensive, but convenient and comfortable. The challenge is finding one that's available! We recommend booking online before you arrive.
A shared car with the car2go service: small, self-service electric cars, which can be hired by the minute, like the "Autos Bleues" in Nice. It works out at half the price of a taxi, and is very eco-friendly. Find one at Schiphol's World Trade Centre car park.
A hire car. The car hire desks are located in Hall 3 in the Arrivals area.
The Schiphol Hotel Shuttle: guests at around a hundred Amsterdam hotels can pay to use this service. Tickets online or on the bus.
What to do in
Amsterdam ?
All the surveys agree: Amsterdam is one of the coolest cities in the world, and one of the safest. Visitors can enjoy the city day and night, without worrying, travelling between its sights and museums by tram, by metro, on foot or by bike. However, despite its tranquillity, the city has its crazy side. Liberal, wild, young and dynamic, the capital of the Kingdom of the Netherlands knows how to party, and is famous for its wild nightclubs.

A city of two sides

See more

See less

Amsterdam is half angel, half demon. Depending on your personality and how you feel, you can choose to succumb to either influence. Or both! Why not? However, you'll need to be fit, because much like New York, the Venice of the North (a name for which Amsterdam competes with Bruges!) never sleeps.
Amsterdam's calmer side is great for a holiday as a couple or family. Live like the locals, exploring by bike to discover picturesque alleyways and canals. Laze around on the grass in the Vondelpark, a 48-hectare park with cafés, restaurants and free concerts. You can also visit famous museums, such as the Rijksmuseum, home to Rembrandt's "The Night Watch" and Vermeer's "The Milkmaid", as well as many more unusual museums: the Museum of Bags and Purses (Tassenmuseum Hendrikje), Micropia with its collection of microbes, the Kattenkabinet (devoted to works depicting cats)…
If you've come for a lively holiday alone or with friends, you're in for a full weekend of partying. Explore De Wallen, Amsterdam's famous red light district, to see the city at its most brazen. Enjoy a beer, a big local speciality, in a brown café at borrel time (Amsterdam's answer to the aperitif). At night, dance at the best clubs in the birth city of Martin Garrix, one of today's top DJs.

The top 10 things to do in Amsterdam:

See more

See less

Get close to "Sunflowers" one of Vincent Van Gogh's masterpieces, and the centrepiece of the museum devoted to this great painter.
Have fun discovering science at the Nemo Science Museum, become a film buff at the EYE Filmmuseum, and indulge your love of photography at the Foam.
Stroll across Dam Square, the city's main square, where you can see the Royal Palace and the Nieuwe Kerk (New Church), which is both a religious building and exhibition space.
Reflect on the past at the Anne Frank House, where the young girl spent years in hiding, to escape Nazi persecution.
Savour a blond beer at a legendary brown café: Café Chris or Café Hoppe. Both are approaching 400 years old.
Pedal on water. The canals of Amsterdam can be explored by pedalo. Or if that sounds too tiring, you can also hire a small electric boat.
Wander among the sweetly scented stalls of the Bloemenmarkt, a floating flower market along the Singel, one of the city's oldest canals.
Find out why the Netherlands are a country of cheese to rival France, by heading to L'Amuse, one of the city's finest and best-stocked cheesemongers, with its 400 different products.
Find the new Van Gogh by visiting the numerous art galleries along Nieuwe Spiegelstraat and the neighbouring streets.
Sip a cocktail at Tales and Spirits, a temple of mixology, which once boasted the title of world's best bar.
Regular flights Nice - Amsterdam AMS
FLIGHTS KLM
28
Flights per week, From April to October
Flights per day :
Mon

4

Tue

4

Wed

4

Thu

4

Fri

4

Sat

4

Sun

4
FLIGHTS TRANSAVIA
6
Flights per week, From April to October
Flights per day :
Mon

1

Tue

1

Wed

0

Thu

1

Fri

1

Sat

1

Sun

1
FLIGHTS EASYJET EUROPE
7
Flights per week, From April to October
Flights per day :
Mon

1

Tue

1

Wed

1

Thu

1

Fri

1

Sat

1

Sun

1
Frequently asked questions