A holiday in Poland to visit extraordinary natural and hitorical sites
Prepare to fall in love with the huge diversity of Poland's landscapes, thanks to our many flights from Nice to Poland. Whatever time of year you visit, Poland and its people will welcome you with open arms to help you discover breath-taking cities and sites.
currency

Złoty

language

Polish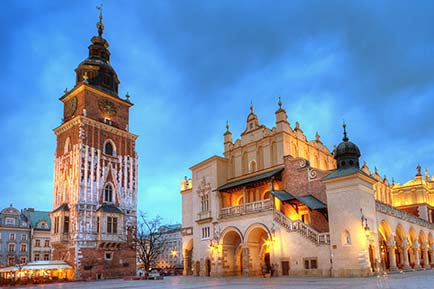 Nature lovers will adore the two vast and unspoiled national parks: Białowieża and Słowiński. In the north of the country, Malbork Castle is fascinating to visit. This UNESCO World Heritage Site is a masterpiece of Gothic architecture and a must-see if you book a low-cost flight from Nice to Poland. If you are looking for a more active holiday, stay in Zakopane, a ski resort in the Tatra Mountains, or if watersports are your thing, choose a resort on the Baltic coast. Everyone should see the famous Wieliczka Salt Mine, which has been operating for 700 years. If you're interested in learning about the horrors of the Holocaust, you can also visit the Auschwitz concentration camp.
Fly low-cost from Nice to Poland to explore Polish towns and cities
Stunning landscapes, historical sites, holiday resorts… Poland is full of surprises. To really make the most of your low-cost flight to Poland from Nice, leave yourself time to discover some of the wonderful cities rebuilt after the war years. Warsaw is a great place to start! The capital is enjoying strong economic growth and has undergone astonishing redevelopment. If you want to see the cultural capital, head to Krakow. With its high density of monuments and religious buildings, Krakow has a magnificent and well-preserved historical centre. Also well worth a visit are Gdańsk, Lublin, Poznań and Wrocław. Simply fly from Nice to Poland then build your own itinerary.
2 destination(s) Poland departing from Nice