Meeting the dragon
Nice to Krakow by plane is a trip to the heart of history, from the Middle Ages to the 20th century, the kings of Poland to Pope Jean Paul II, by way of the horrors of the Holocaust. It's a journey full of stories, of legends full of dragons, knights, and the building of cathedrals. A direct flight from Nice to Krakow is the start of a journey of discovery, of a beautiful city that embodies so well its country that a Nice-Krakow could easily be mistaken for a Nice-Poland!
time difference

+0h

currency

Zlotys

language

Polish
Ideal For
Family

Couple

Culture

Town/City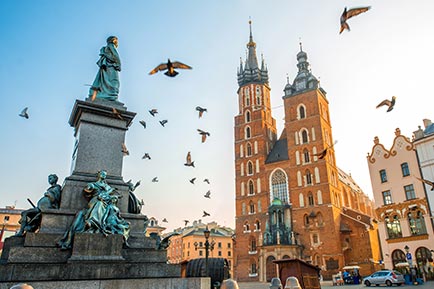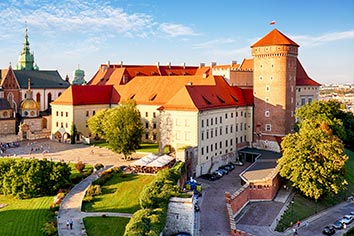 Useful information for your trip to Athens

See more

See less

Like Prince Krakus, go and face the dragon and its fire at the foot of Wawel hill in the historic centre of Krakow. But don't get burned by booking just any flight at any price! Choose MisterFly, our partner, to be sure to get a great price on a direct flight from Nice to Krakow. Found a great flight with a great seat for the date and price you want? Book it now so you don't lose out, and if you like, pay for your Nice-Krakow flight over several monthly instalments. An offer from MisterFly that's good for all flights, even a low-cost Nice-Krakow.

The formalities for travelling to Krakow

Entry requirements: if you are a European citizen, thanks to the Schengen Territories you can enter Poland freely as long as you're carrying a valid passport or ID card.
Currency: you will pay for your pierogi (Poland's delicious filled dumplings) using the złoty. Around 4 are equal to 1 Euro. Be sure you can pay for your first purchases upon arrival by heading to the Interchange kiosks found in both airport terminals at Nice Côte d'Azur to exchange money before take-off.

Your Nice-Krakow direct flight

It's always the same question: T1 or T2, which terminal should I go to? As today there is only one airline that flies from Nice to Krakow, the answer is simple: the Wizzair Nice Krakow always flies out of Terminal 2!

Another crucial question: when should I arrive at the airport? Another easy answer: 1 hour 30 minutes before departure. This will give you time to get through security stress-free, even on busy days. However, should you need to collect your ticket or check a bag at the Wizzair counter, be sure to give yourself an additional 15 minutes.

| | |
| --- | --- |
| Departure airport | Nice Côte d'Azur Airport |
| Departure terminal | Terminal 2 |
| Departure airport | Krakow-Jean Paul II Airport |

Arriving in Krakow

You Nice-Krakow flight will land at the Krakow-Jean Paul II Airport, located in Balice, which is around a dozen kilometres from Krakow city centre. To get to the centre, you have several options:

Take the bus: two lines will take you there from Krakow Airport: the 208 and the 252 (and the 902 at night). There's a bus every 20 minutes at peak times, and every hour during off-peak periods. The journey takes around 40 minutes.
Take the train: there's a station at the airport! You can access it by a walkway from the Arrivals Hall. Perfect for getting to the city quickly (in around 20 minutes with the Balice Ekspres), via Krakow's central station. There are one to two trains per hour, from 5 am to 10:30 pm.
Take a taxi: a 30 minute trip and you'll find yourself at the doors of your hotel or apartment. The price: at least €20.
Hire a car: there are more than 10 car hire companies competing for your business. You're spoilt for choice!
What to do in
Krakow ?
The former capital of the Kingdom of Poland is fantastically preserved, from Wawel Hill to its Main Square (Rynek) - a pure delight for visitors. Its past is wonderfully visible as you watch it go by through the window of a horse-drawn carriage on a romantic tour through its old town. But beautiful Poland also has a roughish side, found in the lively bars and on the sun-bathed terraces of Kazimierz, the historic Jewish quarter, where the Bohemian spirit and good humour now reign. It's a mix that won't fail to add a bit of spice to your trip!

Religion and culture

See more

See less

This is a city of at least four faces. That of Madonna, for starters. The bishop of Krakow was one Karol Wojtyła, also known as Jean Paul II, giving the city a strong Catholic presence. You'll often pass nuns, monks, and clergymen in the streets. This devotion translates into an incredible number of churches, including Wawel Cathedral and the famous Saint Mary's Basilica.
Another of the faces of Krakow is its bourgeoise side! Krakow may have lost its status as capital a few centuries back, but that hasn't stopped it from cultivating a certain refinement. Just look at the Renaissance palaces and mansions in Stare Miasto, the old town, which is at its loveliest when experienced hand in hand with that special someone.
The third face of the dragon city is the most poignant: that of a martyr, of a community of Jews living in peace and harmony until the Nazis arrived. Ghetto Heroes Square (in Podgorze) tells the story of this atrocity, as do Oskar Schindler's factory and the walls of the death camp of Auschwitz.
Krakow's fourth face is a bit more joyful: that of youthful innocence. You can see it in the streets and alleyways of Kazimierz, the old Jewish quarter. Have a bite to eat there for next to nothing. Drink and dance till the early hours of dawn. An experience not to be missed, whether as a couple or with friends.
The top 10 things to do in Krakow

See more

See less

Climb Wawel hill, the heart of power in Poland during the Middle Ages. Visit the cathedral and the castle before heading back down towards the banks of the Vistula via the Dragon's Den of Krakow, at the end of which you'll get to see that famous fire-breathing monster.
Make a stop at the Main Square, Rynek Glowny, Europe's largest medieval square. Everything here is superb: The Cloth Hall with its many areas dedicated to local craftsmanship, the Town Hall Tower, and of course, Saint Mary's Basilica.
Listen out for the Hejnał. This traditional melody is played by a trumpeter from the top of Saint Mary's Basilica every hour on the hour. Afterwards, visit the basilica and admire the altarpiece by Veit Stoss, one of the Middle Age's most important artists.
Reserve your visit to Auschwitz and Birkenau, the Nazi death camps which are a little over an hour from Krakow. Do note that access is highly regulated, so it's important you book passes through a local tour operator.
Celebrate the memory of the country's most famous citizen by visiting the Sanctuary of Jean Paul II. The Pope's cross, mitre, chasuble, and vial of blood: the centre has many relics of the former Bishop of Krakow.
Go down into the mine! The Wieliczka Salt Mine is a World Heritage Site and offers an unforgettable tour nearly one hundred metres under the earth. A lake, a church, salt sculptures and numerous demonstrations and explanations complete your visit.
Linger in the streets of Kazimierz, the old Jewish quarter and realm of Krakow's night owls. On the menu: street art and street food, lively bars (don't miss Café Singer, an institution) and delectable restaurants.
Eat on the go and pick up a grilled zapiekanka on Plac Nowy, where they're made to order in any of the many stalls in the Okrąglak (rotunda). You'll be feasting on a half baguette lavishly garnished and grilled to perfection. Scrumptious, filling, and better than another burger!
Eat Polish-style in a "mleczny" bar, milk bars popularised by the Communists. You won't find any milk in these inexpensive restaurants, but you will find excellent traditional dishes. The best: Grodzki bar in the old town.
Sample the favourite cake of Pope Jean Paul II, which tempted him into the sin of gluttony. What's it called? The kremowka, a kind of Polish mille-feuilles. The Cukiernia pastry shop makes the very best.
Regular flights Nice - Krakow KRK
FLIGHTS WIZZ AIR
2
Flights per week, From April to October
Flights per day :
Mon

0

Tue

1

Wed

0

Thu

0

Fri

0

Sat

1

Sun

0
Frequently asked questions