Discover Warszawa
Your Nice-Warsaw flight is about to land! Fasten your seatbelt, put your tray table up, and look out of the window. You can't miss it! What? The Pałac Kultury i Nauki (Palace of Culture and Science), a Stalinist skyscraper in the heart of the Polish capital. This giant towers over a Phoenix-like city, which rose from its ashes after the Second World War: a great triumph that makes it well worth two hours in a plane from Nice to Warsaw!
time difference

+0h

currency

Zloty

language

Polish
Ideal For
Family

Culture

Town/City

Weekend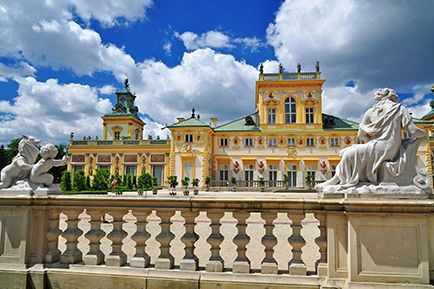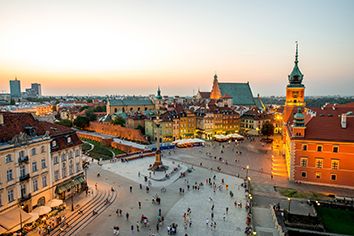 Useful information for your trip to Warsaw

See more

See less

Don't get ahead of yourself! Before you start thinking about climbing to the top of the Pałac and looking out over the city, start by finding your Nice-Warsaw direct flight. Our partner, Misterfly, will make it easy for you. In a few clicks, you can compare the times and prices, book your Nice-Warsaw plane ticket, and pay for it in a single payment or several instalments. Already printed your boarding pass? Perfect! Now you can start planning what to do in the Polish capital…

The formalities for travelling to Warsaw

Entry requirements: as a member of the Schengen area, Poland simply requires European visitors to travel with their valid passport or identity card.
Currencies: you will pay for your pierogi (Poland's delicious filled dumplings) using the złoty. There are about four złote to one euro. For peace of mind, change a few notes at Nice Côte d'Azur Airport, at one of the two Interchange desks.

Your Nice-Warsaw direct flight

You've packed your bags, and you're heading to Nice Airport for your flight to Warsaw. But which terminal should you go to? It depends which airline you're flying with. The Nice-Warsaw flight with Wizz Air leaves from Terminal 2, while the Nice-Warsaw flight with Lot leaves from Terminal 1.

Remember, you should get to your terminal at least an hour before your flight leaves, and allow an extra quarter of an hour if you need to check in or put luggage in the hold.

Departure airport
Nice Côte d'Azur Airport
Departure terminal

Terminal 1 for Lot

Terminal 2 for Wizz Air

Arrival airport
Warsaw Chopin Airport
Arrival terminal
Terminal A

Arriving at Warsaw Airport

Your flight will land at Warsaw Chopin Airport, the Polish capital's main airport. It is located around 10 kilometres from the city centre. There are several easy ways of getting to the centre:

The bus: these run 24 hours a day between the airport and the city centre. Look for bus 175 during the day and 188 at night. Three other lines (148, 331 and N32) go to other parts of the city.
The train: the station is under Terminal A. From 05:30 to after 23:00, two companies provide regular trains to the middle of Warsaw, which take less than half an hour.
A taxi: the airport officially recommends three companies, all of which can be found on the way out of the airport: Elle Taxi, Super Taxi and Sawa Taxi. The fares and journey times are identical (25 minutes).
Car hire: there are around 20 companies to choose from.
What to do in
Warsaw ?
After the Warsaw Uprising in summer 1944 and the terrible Nazi repression following their victory, there was almost nothing left of the city. So where do all these historical buildings come from: the walls, the market square, the Royal Palace? They have been superbly restored, or rather reconstructed! Drawing on photographs, paintings and other evidence, the Polish have rebuilt their capital, stone by stone. Everything is there: from the crenels of its medieval walls to the frescoes decorating the beautiful Gothic houses. Having reconnected with its past, Warsaw is turning resolutely to the future, as shown by its many modern skyscrapers.

Wandering around Warsaw

See more

See less

Warsaw is a wonderful place to explore on foot. Don't expect this Polish beauty to entertain you with amazing museums, legendary works and famous monuments. Your ticket to local culture is not an entry pass, but a strong pair of legs! As a couple or with friends, on foot or by tram, explore the city, an unbelievable patchwork where you can walk from a Renaissance palace to a glass tower in just a few steps. Get lost in Stare Miasto, the city's old town, and mingle with the locals when the cafés and bars are at their busiest. Venture into Praga for its nightlife, or in summer, head for the banks of the Vistula, another favourite haunt for night owls. Wander around the parks and public gardens, where the locals come for romantic strolls or family walks in a tranquil, natural space. Tired? Rest your legs by sitting on one of the 14 musical benches around the city. At the push of a button, you can fill the air with melodies by Warsaw's musical genius: Frédéric Chopin.
The top 10 things to do in Warsaw

See more

See less

Take on a giant! Get up close to the Pałac Kultury i Nauki, to appreciate the full scale of this colossal building. Commissioned by Stalin, it is an astounding 231 m tall, with 42 floors and 3,288 rooms. The building is open to visitors.
Sit outside a café on the Market Square (Rynek), the heart of the old town. Admire its colourful buildings and the statue of a mermaid, the famous symbol of the city.
See the courtyard of the building at 55 Sienna Street. At the back on the right is an old brick wall. This is one of the last remaining fragments of Warsaw's Jewish ghetto. Remember…
Visit the Warsaw Rising Museum, with its rich collections and experiences to help you discover one of the most dramatic and glorious pages in the history of Poland.
Discover the Royal Castle (Zamek Królewski), a symbol of the city's rebirth. Destroyed on the orders of Hitler, it was identically rebuilt, and is just as majestic as it ever was.
Go somewhere green: Łazienki Park is a 76-hectare haven. Spacious, shaded paths, squirrels and ducks, a mini Versailles, boats on a little lake, an ancient theatre, and a monument to Chopin where there are regular concerts.
Explore Powązki Cemetery. An outdoor museum in stone, where the graves of the city's rich families are decorated with impressive sculptures. Beautiful and moving!
Sample some Polish cuisine in a "bar mleczny" (milk bar). Don't let the name fool you: these are actually small, traditional restaurants, serving borscht, pierogi and grilled sausage.
Try some polish beers. Out of the thousand or so different beers, some, such as Artezan Samiec Alfa or Kormoran Imperium Prunum, regularly appear on the lists of the world's best beers.
Get a taste of Warsaw's nightlife, in the bohemian neighbourhood of Praga, the electro-filled beaches of the Vistula, or in the quirky, lively bars of Pawilony on Nowy Świat Street, right in the centre of the city.
Regular flights Nice - Warsaw WAW
FLIGHTS LOT POLISH AIRLINES
7
Flights per week, From April to October
Flights per day :
Mon

1

Tue

1

Wed

1

Thu

1

Fri

1

Sat

1

Sun

1
FLIGHTS WIZZ AIR
3
Flights per week, From April to October
Flights per day :
Mon

0

Tue

1

Wed

0

Thu

1

Fri

0

Sat

1

Sun

0
Frequently asked questions