Fast food, Bars, Coffee
Coffee lovers, your prayers have been answered! Starbucks at Nice airport offers cosy, pleasant, stylish spaces to grab a quick bite in departure lounge B (non-Schengen flights).
In Italy, espresso bars – and the ritual surrounding coffee – have an undeniable charm. After succumbing to this charm, Howard Schultz, CEO of Starbucks, wanted to recreate these emblematic spaces that embody a certain lifestyle in the United States. Now the world's largest coffee-house chain and a seller of selected coffees, Starbucks has become an attractive brand, synonymous with conviviality. Starbucks is a great place to relax at Nice Cote d'Azur Airport before you travel, in Terminal 1, or Terminal 2, lounge B.
Fancy a coffee? Both terminals have a Starbucks
The company's coffee experts travel the world in search of the best beans, its master coffee roasters monitor every batch to make sure the beans can release their full flavour, and its baristas prepare every drink to perfection, for a unique experience: yours! Because every moment spent with a coffee is important.
We look forward to welcoming you at Starbucks in Nice Airport.
At Nice Airport, Starbucks offers passengers from all over the world a very fine selection of coffee, plus delicious sweet and savoury products, all in a warm and welcoming atmosphere.
What does Starbucks serve at Nice Airport?
Get your day off to a great start! In the terminals, on the runway side, give in to the mouthwatering aroma of Starbucks coffee. The coffee shop offers a wide range of drinks in a convivial setting.
Let's start with the essentials: Espresso, Caramel Macchiato, Latte, Hot Chocolate, Frappuccino: delicious drinks prepared right before your eyes! Passengers can also ask for and enjoy innovative drinks, such as the Pumpkin Spice Latte or the Caramel Brulée Latte. Pleasure in every mouthful!
At Starbucks in Nice Airport, you can also get sweet treats to go with your drink. Muffins, cookies, cakes, cheesecakes, donuts, scones, croissants, pains au chocolat… Hot boxes, sandwiches and salads are also available if you want something more substantial. Make sure you leave time to (re)discover the flavours of Starbucks while you're at Nice Côte d'Azur Airport.
Make the most of your CAP benefits
Are you a Club Airport Premier member? You can make the most of your benefits when eating at Starbucks. Treat yourself, and you'll get 10% off. The perfect chance to enjoy your privileged passenger status!
Exercise regularly for your health. For information, visit www.mangerbouger.fr.
Location(s)
After going through security
Niveau 2
Salle B
Towards the gate

B42

Opening according to flights

+33 4 89 88 98 44
After going through security
Niveau 2
Salle B
Towards the gate

B26

From 6:00 am to 11:00 pm

+33 4 83 76 27 33
Good deal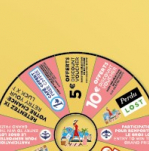 Play and Win! Stop off at the wheel of fortune
From 16 July, find our airside hostesses in boarding area A to spin the WHEEL OF FORTUNE.
Win vouchers to spend in airport stores and free coffees in participating bars and restaurants.
Try your luck by taking part in the random prize draw and win a night in a deluxe double bedroom at the Nice ASTON- LA-SCALA hotel with a buffet breakfast and dinner for two.
Make time to spin the wheel, and have a go at our game before you fly. Other surprises await you.