Fast food, Bars, Coffee
Fresh and tasty recipes from Trib's, on the city side in the check-in area of Nice Airport.
Fast food in arrivals at Terminal 1
Tribs at Nice Airport is a cosy bar and fast food outlet that is accessible to all, on the city side, in arrivals at Terminal 1. Open to all, with or without a plane ticket, on the city side. Accessible from the city of Nice by tram.
What's on the menu at Trib's at Nice Airport?
Fresh, tasty recipes in Terminal 1! Trib's at Nice airport has a range of pastries, hot and cold drinks, salads, various sandwiches and desserts, available alone or as part of a set menu. Trib's at Nice Airport offers passengers a space where they can relax and enjoy some good, simple, fresh food.
Trib's offers several set menus to eat in or take away, as well as hot dishes that change every day. The perfect place for a quick meal, whether you choose a salad, a sandwich, or perhaps a hot dish of the day. Trib's at Nice airport is also the ideal place to just sit with a coffee or get some breakfast while waiting for passengers in arrivals at Terminal 1.
Make the most of your CAP benefits
Are you a Club Airport Premier member? You can make the most of your benefits when eating at Trib's. Treat yourself, and you'll get 10% off. The perfect chance to enjoy your privileged passenger status!
*Alcohol abuse is dangerous for health, consume with moderation. Exercise regularly for your health. For information, visit www.mangerbouger.fr.
*Non-contractual photos and videos – Dishes given as an indication and may vary depending on the season, arrivals and the menu.
Location(s)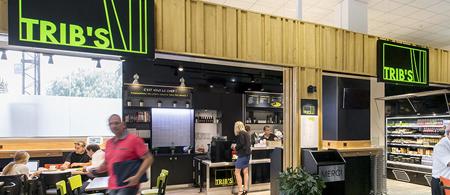 Before going through security
Niveau 0
Towards the gate

A2

From 6:00 am to 9:00 pm

+33 4 89 88 98 46