Fly from Nice to Tunisia to visit unmissable sites
A top tourist destination, the pearl of the Mediterranean is about more than just the beaches of Djerba and ancient sites. Discover Tunisia to enjoy a perfect balance of tradition and modernity, and marvel at the lunar, desert landscapes of the south. For a dazzling holiday, simply step aboard a flight from Nice to Tunisia.
currency

Tunisian dinar

language

Tunisian arabic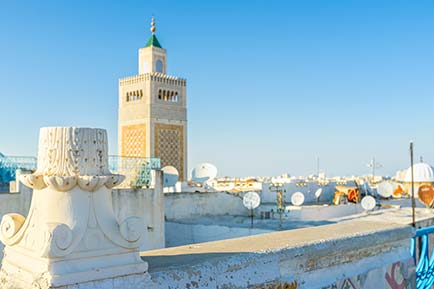 Tunisia is a land of multiple influences (Roman, Arab, Byzantine, Andalusian…) and magnificent sites. When your Nice - Tunisia flight lands in Tunis, you'll quickly get a glimpse of this mixed heritage, with the medina, the Roman ruins in Carthage and the typical village of Sidi Bou Saïd. Not forgetting the Bardo Museum, of course! Several towns and cities around the capital are known for their ancient ruins: Bulla Regia, Dougga, Monastir and El Kef. If you want to visit a magnificent medina, it's worth making a detour to Sousse and Hammamet, while the Great Mosque of Kairouan is an impressive sight that every visitor to Tunisia should see.
Fly from Nice to Tunisia and discover the desert
If you love desert landscapes or fancy an unusual break in Tunisia, move away from its lovely coasts and head further inland to the Tozeur oasis. You could even go adventuring on the back of a camel! Consider spending a night beneath the stars in Ksar Ghilane, lost amidst the dunes. In the southernmost governate, Tataouine, opt for the ksour circuit to discover fortified granaries that bear witness to a fascinating social life. The troglodyte village of Matmata is a must-see, as are the surrounding Berber villages. Book your flight to Tunisia from Nice today!
2 destination(s) Tunisia departing from Nice