Monastir, next stop Sahel
A flight from Nice to Monastir will take you to one of the friendliest regions of the Southern Mediterranean: the Gulf of Hammamet. Millions of visitors flock to this part of the Tunisian coast each year in search of an always-present sun, beautiful sandy beaches, modern resorts where pleasure and entertainment meet, and a deliciously exotic ambiance. A wealth of enjoyment that will transform your Nice-Monastir ticket into the key to paradise.
currency

Tunisian Dinar

language

Arabic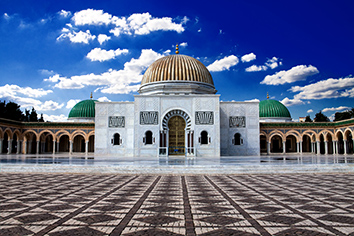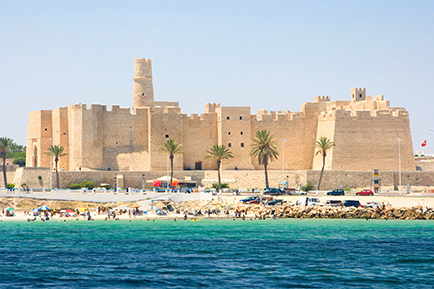 1 Informations utiles pour votre voyage à Monastir

Voir plus

Voir moins

Looking for the best price for your Nice-Monastir ticket? Don't wait any longer! Head to MisterFly, our partner, for quality online booking services. They'll let you compare prices and schedules for all of our Nice-Monastir flights with Nouvelair and Tunisair. What's more, whichever airline you choose, you can book your Nice-Monastir return ticket immediately and without any hidden fees. You can also pay for it over several monthly instalments.

The formalities for travelling to Monastir

Entry requirements: as a European citizen, you'll just need a valid passport to enter Tunisia. Citizens from other countries will need a visa.

Currency: you'll be paying for your fresh mint tea in dinar. 1 Euro is equal to a little more than 3 dinars. Keep in mind that you'll only be able to exchange money once you've arrived in Tunisia, at an exchange service or bank.

| | |
| --- | --- |
| Departure airport | Nice Côte d'Azur Airport |
| Departure terminal | Terminal 1 for Nouvelair, Terminal 2 for Tunisair |
| Arrival airport | Monastir-Habib Bourguiba Airport |

Arriving in Monastir

Once you land at Monastir Airport, it's easy to get to the city centre. The airport is just 8 kilometres from the centre. To get there, you can:

Le bus : vous en trouverez un qui quitte l'aéroport toutes les heures pour joindre le centre-ville. Il faut compter environ 30 minutes de trajet. Le plus économique des moyens de transport.
Take the bus: there's a bus leaving the airport for the city centre every hour. The trip takes about 30 minutes. This is the most affordable way to get there.
Take the train: the Métro du Sahel, the regional train that runs between Sousse and Monastir, stops at the airport every 30 minutes from 8 am to 8:30 pm. The stop is located just 150 metres from the terminal.
Take a taxi: you'll have the choice between a yellow or a white taxi. The latter are more expensive because they are more comfortable. The trip takes 30 minutes. It will cost around 10 dinars during the day.
Hire a car: this is the most flexible way to get to Monastir and visit the surrounding area. There are 2 agencies in the Arrivals Hall at the airport.
What to do in
MONASTIR ?
Built on a peninsula and surrounded by beaches and large cliffs, Monastir is the southern-most city on the Gulf of Hammamet. It's also one of the most prestigious - Caesar himself chose to base himself here as he waged war on Pompeii. Two thousand years have passed since the emperor of Rome stayed here, but this Sahelian city continues to entice. Peaceful, modern, and prosperous, it holds its own among the top tourist destinations in Tunisia.

Monastir: under the palace, the beach

Voir plus

Voir moins

For millions of tourists, the Gulf of Hammamet is paradise on earth, and Monastir is one of its crown jewels. A status that the birthplace of Habib Bourguiba, hero of Tunisian independence, owes as much to its peaceful charm and superb climate as it does to its cultural heritage and 4- and 5-star ultra-modern hotels.

This magical cocktail enthrals the many families who, summer and winter alike, cross the Mediterranean to enjoy the easy living this part of the world offers. Whether they go for a long weekend or an entire week, they all leave relaxed in both body and spirit, with a bronze sheen on their skin and a head full of great memories.

Memories of golden sand and sunscreen, jet skis and Thalasso, visits to museums and mosques; of strolls through the Medina, shopping in the souks of Nabeul and Sousse, and the well-seasoned delight of Fatma Fingers or else the sweetness of Makroudh, sampled in the Kairouan old city.
The top 10 things to do in Monastir

Voir plus

Voir moins

Let go! Dare to do nothing and simply sunbathe, either at the pool of an ultra-modern resort or on one of Monastir's many beaches. Insider's tip: Corniche beach is among the most beautiful in the country.
Take to the sea for a day trip on a boat to the Kuriat archipelago and the two small, preserved and peaceful islands you'll find there. A true taste of paradise.
Visit the two monuments that Harbib Bourguiba, Tunisia's most famous citizen, left to his hometown: the mosque and mausoleum that bear his name. The second houses the tomb of this founding father of the Tunisian Republic.
Storm the Ribat, a superb Monastir fortress that has loomed over the sea for more than 12 centuries. Remarkably well preserved, it offers a wonderful view of the city from the top of its ramparts.
Weave your way through the souks of Monastir or Sousse, its larger neighbour, in search of the best of Tunisian craftsmanship: rugs, pottery, babouches (slippers), chechias and djebbas, jewellery, tableware and copper kitchen utensils.
Admire the fauna in Friguia Park. Located just over an hour from Monastir, you'll find more than 400 different animals and 60 or so different species living here in semi-freedom.
Go green on Monastir's two 18-hole golf courses: the Flamingo and the Palm Links.
Head up to Hammamet, the northern part of the eponymous Gulf. With its boundless beaches, fort, medina, and souk, this large seaside community rivals Monastir for all that is exotic and indulgent.
Sample Monastir's main speciality: couscous cherkaw, a marriage of semolina, grilled vegetables, and grilled and boiled fish.
After a day on one of the natural beaches of Hergla, an authentic, tranquil fishing village, settle down to a plate of royal sea bream, octopus, or freshly caught and perfectly grilled wolffish on a restaurant terrace.
Regular flights Nice - MONASTIR MIR
FLIGHTS TUNISAIR
4
Flights per week, From April to October
Flights per day :
Mon

1

Tue

1

Wed

0

Thu

1

Fri

0

Sat

0

Sun

1
FLIGHTS NOUVELAIR TUNISIE
4
Flights per week, From April to October
Flights per day :
Mon

1

Tue

0

Wed

1

Thu

0

Fri

1

Sat

1

Sun

0
Frequently asked questions