The best way to get to Djerba
A Nice to Djerba flight takes you from one paradise to another, from a coast locals call azure to one so calm and natural it's called the Garden Island. They have the southern sun and the Mediterranean Sea in common. But they're also very different, and a holiday to Djerba from Nice offers more than just a glimpse of the easy life - it offers a total change of scenery. With a flight time from Nice to Djerba of under 2 hours, it's never been more tempting to succumb to the charms you'll find on the other side of the sea.
currency

Dinars

language

Arab
Ideal For
Family

With friends

Beaches

Party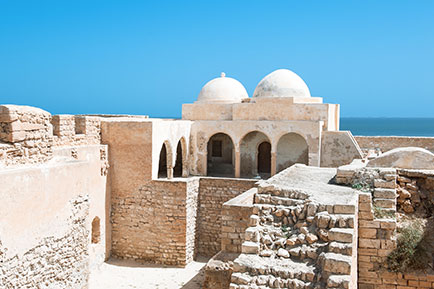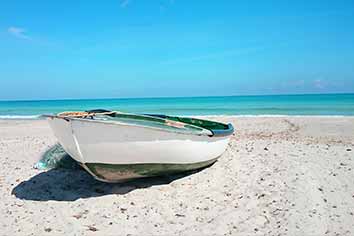 Useful information for your trip to Athens

See more

See less

Whether you're looking for a last minute flight from Nice to Djerba or to plan your trip weeks in advance, to check the best prices for a Nice-Djerba flight or to book your ticket for Nice to Djerba, you need a qualified expert. MisterFly is here for you! Our partner will help you find the best price and schedule for a return flight from Nice to Djerba. And there'll be no nasty surprises: you'll get a Nice-Djerba flight at an all-inclusive price, without surcharges, plus great service! What kind of great service? Paying for your ticket over several monthly instalments, for example.

The formalities for travelling to Djerba

Entry requirements: Tunisia requires all individual travellers to hold a valid passport. French citizens do not need a visa.
Currency: you'll need a few dinars if you hope to go shopping in a Djerba souk. 1 Euro is equal to a little more than 3 dinars. Only banks and exchange services within Tunisia are authorised to provide Tunisian currency.

Your Nice-Djerba direct flight

At Nice Airport, flights to Djerba leave from Terminal 2, home of Tunisair, the only carrier for this route.

Avoid the stress of arriving late to the airport. Give yourself time to go through security screenings and customs. Arrive at the airport 1 hour 30 minutes before departure if you're travelling with cabin baggage only and already have your boarding pass. If this isn't the case, allow at least an extra quarter of an hour.

| | |
| --- | --- |
| Departure airport | Nice Côte d'Azur Airport |
| Departure terminal | Terminal 2 |
| Arrival airport | Djerba-Zarzis Airport |

Arriving in Djerba

The Djerba-Zarzis Airport is located 9 kilometres from Houmt Souk, the main city on the island. Upon arrival of your Tunisair Nice-Djerba flight, you can get to the city centre by:

Taking the bus: with line 15.
Taking a taxi: for a handful of dinars! Getting to your hotel will normally cost less than €10. Be sure to negotiate the price before you get in.
Hiring a car: ideal for seeing all the island and its beaches have to offer, or even visiting the continent. Shop around for the best price, between the 5 car hire companies at the airport.
What to do in
Djerba ?
Djerba didn't wait for invention of the All Inclusive resort to start sharing its joys with visitors. Carthaginian, Roman, and Byzantine people all enjoyed the hospitality, mild weather, and exquisite scenery found there. This pearl of Tunisia is Arabic, Jewish, and Berber all at once, and continues to entice millions of visitors with its unique atmosphere which Gustave Flaubert summed up perfectly: "an island covered with gold dust, verdure, and birds, [...] citrus trees higher than cedars, [...] air so mild it keeps you from dying." Ready to go yet?

Djerba, a festive city

See more

See less

It's wrong to think that Djerba is best experienced in a group or organised tour. It's simply not true! This Tunisian island is perfectly suited to independent travel. No need either for an entire week of family holiday to enjoy it. It's perfect for a long weekend. Should you go with friends or as a couple? It doesn't matter! Whatever you choose, you'll find good times await.

What kind of good times? Sun, for starters! It shines year-round and is never overbearing, as sea breezes compensate for any solar excess, all summer long. Then there's the sunbathing: long, lazy days laid out on the fine, golden sand beaches listening to the waves of a turquoise sea. With 300 kilometres of coastline, you'll have no trouble finding a place to lay your towel. And finally, a feast for your senses. An aroma of spices wafts from a stall as you turn a corner on a narrow street. Flavours dance across your palate as you sample shakshuka, usban or sellou, specialities in Djerba. Colours light up the night as you dance your way across Djerba's trendy night club dance floors.

The top 10 things to do in Djerba

See more

See less

Sunbathe and swim in pure crystal waters. The sandy beaches of Djerba are among the nicest on the Mediterranean. If Homer is to be believed, Ulysses himself spent time here!
Dance the night away in the clubs of Midoun, Sidi Merhez or Houmt Souk. In summer, double your pleasure in the seaside clubs where cresting waves accompany your champagne.
Sample one of the main specialities on the island: fish couscous! It combines the fine, salty taste of grouper, whiting, or pollock with fresh vegetables, chickpeas, cinnamon and harissa.
Take to the sea to observe the waders dancing on flamingo island. There are many slow-sailing boats that offer tours year round.
Gallop on the back of a camel for the fun of it, or better, on horseback, letting your thoroughbred fly full speed across the sand dunes. An incomparable feeling of freedom.
Stop off in the village of Erriadh. There you'll find the over 200 works of different street artists who've turned this village into an outdoor museum.
While you're there, go into the El Ghriba synagogue, home to one of Northern Africa's last Jewish communities. With its blue tiles, white walls and stained glass, it is truly unforgettable.
Stroll through the streets of Houmt Souk, the "capital" of the island. Sip a mint tea on a café terrace or bargain for souvenirs in the island's most beautiful souks.
Hang around the market in Midoun, the second largest city on the island. There you'll find colourful pottery, quality spices, and the delicious dates for which it's renowned.
Mind your fingers in front of the sharp teeth of Djerba Explore Park's 400 crocodiles. Take the time to explore their incredible museum as well, the Lalla Hadria Museum. The more than 1,000 objects spread over 15 galleries tell the story of the rich history of the region.
Frequently asked questions