From the other side of the Mediterranean
Tunis may be the smallest of countries in Maghreb, but that doesn't make any less fascinating. A flight from Nice to Tunis will be enough to convince you by taking you right to the heart of the history of this enticing country. Because Tunis is more than just a capital: through its vestiges, museums, and monuments, it's the collective memory of an entire nation! That makes a Nice-Tunis flight a non-stop flight to the past, where you'll meet Hannibal, Ottoman beys, even Chateaubriand and Paul Klee. An incredible journey...
currency

Tunisian Dinar (TND)

language

Arabic
Ideal For
Couple

Culture

Town/City

Weekend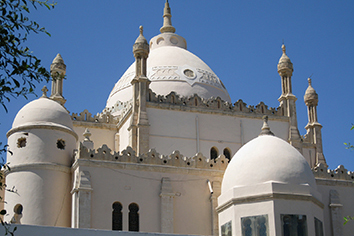 Useful information for your trip to Tunis

See more

See less

For a last-minute flight from Nice to Tunis or to book your seat six months in advance and get the best price on a Nice-Tunis flight, call in a specialist in online flight booking. Their name? MisterFly. It's not for nothing that they're a partner of Nice Côte d'Azur Airport! They offer our passengers a complete service, from finding the best price to paying in instalments. So use their flight comparer for your Nice-Tunis flight, find the best price on a flight from Nice to Tunis, book your Nice-Tunis flight today, and pay for it three months later. It's as good for your budget as it is for your holidays!

The formalities for travelling to Tunis

Entry requirements: from departure to the arrival of your Nice-Tunis non-stop flight, you'll be required to carry a valid passport, at least if you're a French citizen.
Currency: in the souks of Tunis, souvenirs are purchased with dinars. 1 Euro is equal to a little more than 3 dinars. Only banks and exchange services within Tunisia are authorised to provide Tunisian currency.

Your Nice-Tunis direct flight

Don't be late for take-off! Two airlines fly to the Tunisian capital, and they are not based in the same terminal. The Nice-Tunis flight with Tunisair leaves from Terminal 2, while the Nice-Tunis flight with Nouvelair departs from Terminal 1.

Already in the right terminal? All the better! But are you on time? Don't forget that you'll need to go through security and customs screenings before you can go to your gate. As such, you should arrive at the airport 1 hour 30 minutes before departure to be sure to arrive at your gate on time. And should you need to check a bag or collect your boarding pass with your airline, you'll need even more time. At least an additional 15 minutes.

| | |
| --- | --- |
| Departure airport | Nice Côte d'Azur Airport |
| Departure terminal | Terminal 1 for Nouvelair, Terminal 2 for Tunisair |
| Arrival airport | Tunis-Carthage Airport |
| Arrival terminal | Terminal M for Nouvelair and Tunisair |

Arriving in Tunis

About 10 kilometres separate Tunis-Carthage Airport from the city centre. To make this journey, you have the following options:

Take the bus: Transtu lines 35 and 635 will take you to Place du 14 Janvier in the city centre in 20-25 minutes. There's a bus every 30 minutes from 6 am.
Take a taxi: a stand can be found near the Arrivals Hall. The price is a flat rate, and costs around €10 during the day and double that in the evening.
Hire a car: 3 agencies have counters in the airport.
What to do in
Tunis ?
To each its own! Where Hammamet and Djerba play the beach holiday card, Tunis plays culture and 'art de vivre'. The Tunisian capital and surrounding region are of course bordered by the Mediterranean. But the best sandy beaches in the area are no match for the city walls and warm atmosphere that reigns within them. At once charming and modern, with part of it listed as a World Heritage Site, the ancient city of beys, the last kings of the country, is truly bewitching.

More than a city, a capital

See more

See less

Tunis and Tunisia: their names are similar. And that's no mistake, because the capital is a true reflection of the country. It tells its history, from Carthage to Independence. A concentration of Tunisian culture, it brings traditions to life in its souks, hammams, and the delicious restaurants of its medina. Dynamic, modern and joyful, it's crafting the future. All of this contributes to making it a fascinating destination for a long weekend on an exotic city break.
An experience best shared. There's no doubt that a trip as a couple is the best way to enjoy your strolls through the streets of the old city and long walks along the beach on the Marsa Cornice. It's also the best way to breathe in the strong fragrances of El Attarine souk and its perfume makers, enjoy the white houses and shady terraces of Sidi Bou Saïd. Wonderful moments that can be prolonged by heading for the waves of Goulette or Gammarth, or else in the dunes of the Tunisian desert.
The top 10 things to do in Tunis

See more

See less

Get lost in the old city, one of the most enchanting medinas of the Arab world. UNESCO confirmed this by making it a World Heritage Site.
Roam the courtyard or roof of the Zitouna Mosque, or 'Mosque of the Olive Tree'. While only Muslims can enter the prayer rooms, the exterior areas of this thousand year old marvel are well worth the trip.
Visit the different souks around Tunis. There are more than a dozen. And each has its own speciality: chechias in Ech-Chaouachine, leather in Edabaghine, antiques in El Asr, jewellery in El Berka...but be ready to bargain! Here, it's expected.
Discover Africa's second largest museum after the one in Cairo: the Bardo National Museum. Within its collections you'll find Carthaginian masks and statues and Roman mosaics that are among the best in existence, as well as Islamic ceramics and more. A wonder to behold!
From Bab el Bahr, the medina port, head down Habib Bourguiba avenue, in the shade of palm and eucalyptus trees, to see the New Town, the colonial-style district that opposed French rule before 1956 and Independence.
Go into the Cathedral of St. Vincent de Paul. Built at the end of the 19th century, this immense Roman-Byzantine style church is a symbol of the French colonisation of the country.
Walk through the ruins of ancient Carthage, the last vestiges of a civilisation which, in Antiquity, rivalled Rome. Hannibal and his elephants, those legendary terrors, departed from here. Don't miss the Carthage National Museum for its jewels, mosaics, and marble sarcophaguses.
Have a mint tea at Café des Délices, the famous bar in Sidi Bou Saïd, the fanciest of Tunisian villages, a small wonder that was opened to the world by Chateaubriand and Flaubert, and Klee's palette.
Lay out your towel on the small beach of Goulette, a lively area around one of the ports of Tunis. Cool down with a walk along Franklin Roosevelt Avenue, which borders the sea. Lay siege to the Spanish and Ottoman forts.
Sample any of the thousands of specialities of Tunisia's famous cuisine. Try chorba, the famous meaty soup, slata mechouia, briks or keftas, a tajine, makrout with dates and zlabias with honey and cardamom.
Regular flights Nice - Tunis TUN
FLIGHTS TUNISAIR
14
Flights per week, From April to October
Flights per day :
Mon

2

Tue

2

Wed

2

Thu

2

Fri

2

Sat

2

Sun

2
FLIGHTS NOUVELAIR TUNISIE
4
Flights per week, From April to October
Flights per day :
Mon

1

Tue

0

Wed

1

Thu

0

Fri

1

Sat

0

Sun

1
FLIGHTS TRANSAVIA FRANCE
2
Flights per week, From April to October
Flights per day :
Mon

0

Tue

0

Wed

1

Thu

0

Fri

0

Sat

1

Sun

0
FLIGHTS AIR FRANCE
1
Flights per week, From July to August
Flights per day :
Mon

1

Tue

0

Wed

0

Thu

0

Fri

0

Sat

0

Sun

0
Frequently asked questions