Jet off to lands of History
A flight from Nice to Metz Nancy doesn't just take you to one or the other of these two cities. It opens the door to one of the most beautiful regions in the east of France: Lorraine. With its long, eventful history, Lorraine has both a remarkable heritage and charming traditions. This capital was wise enough to let itself evolve over past years by developing new cultural and recreational infrastructure. Your Nice-Metz Nancy ticket will also allow you to see a mini-Versailles, the Centre Pompidou, sharks, tigers, and one of the world's most beautiful plazas.
currency

Euro

language

French
Ideal For
Family

Alone

Nature

Town/City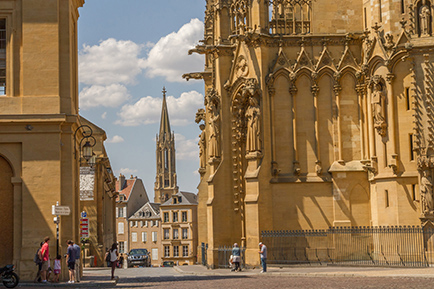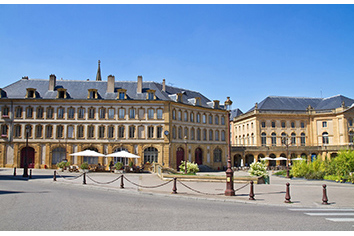 Useful information for your trip to Metz and Nancy

See more

See less

No need to complicate things. Want to explore Lorraine? Then leave your car in the garage and fly from Nice to Metz. It's much faster, less tiring, and, thanks to our partner MisterFly, it's easy! Check flight times for direct Nice-Metz Nancy flights, find the best price, book your Nice-Metz Nancy flight without hidden fees and take off for Lorraine! What's more, you can pay for your Nice-Metz Nancy flight operated by Hop! or Air France over several monthly instalments.

Your Nice-Metz Nancy direct flight

Flying under the banner of Air France, your Nice-Metz flight will take off from Terminal 2 of Nice Côte d'Azur Airport.
And while you'll be travelling within France, you'll still need to go through security screenings before your flight. Arrive at the airport at least 1 hour before departure to do so stress-free. And should you need to go to the airline counter to check bags or collect your ticket, be sure to give yourself an additional 15 minutes.


| | |
| --- | --- |
| Departure airport | Nice Côte d'Azur Airport |
| Departure terminal | Terminal 2 |
| Arrival airport | Lorraine Airport |

Arriving at Metz Nancy

Lorraine Airport is located halfway between Nancy and Metz, the two largest cities in the region. You'll need 30 to 40 minutes to get to the centre of either.

By bus: two direct shuttles offer regular service to the respective bus stations of the two cities. Note that seat reservations are required at certain times of the day. All information is available at lorraineairport.com ("access" section).
By taxi: you can find one just outside the terminal.
Hiring a car: this is a good option if you intend to visit the entire region. There are 3 agencies at the airport.
What to do in
Metz-Nancy ?
Everyone knows it: France is beautiful! And Lorraine is a shining example of this reputation. Though it must be said that it's not the first place one thinks of when planning a holiday. Big mistake! This region has it all, offering holidaymakers exceptional sightseeing, monuments and places of remembrance, verdant natural landscapes, delectable regional cuisine, not to mention relaxation and opportunities to explore and make lasting memories.

Take a family holiday to Metz and Nancy

See more

See less

The Lorraine region isn't very big: it takes less than two hours to cross it from north to south. But that's enough time for an amazing holiday you can fill with a variety of experiences that will please both young and old: sometimes simple, sometimes unique, but always beautiful and intense, happy and unforgettable.
Whether you prefer the city or the countryside, this part of France will enchant and delight. From Nancy to Metz, Lunéville to Epinal and Bar-le-Duc, these cities shine with the wealth of their culture, their unparalleled craftsmanship, and the captivating power of their history. From Verdun to Domremy-la-Pucelle (the birthplace of Joan of Arc) and the Montsec American Monument, history truly comes alive here. And with its lakes and springs, mountains and forests, this region will captivate you with its beautiful landscapes and bewitch you with the healing properties of its thermal waters.
The top 10 things to do in Lorraine

See more

See less

Stop time on the terrace of a café on Place Stanislas in Nancy. With façades dating back to the 17th century and beautiful adornments and gildings, this 300 year old square is considered one of the most beautiful in the world.
Visit the museum dedicated to the artists of the Ecole de Nancy, pioneers of design. Furnishings and luminaires, stained glass, glassware and ceramics, sculptures and paintings: it's Art Nouveau at its peak.
Indulge in Nancy's two famous pastries: the Saint-Epvre, a marriage of meringue and butter cream, main speciality of the Adam pastry shop; and Nancy macaroons, the recipe for which is jealously guarded by the 400 year old Maison des Sœurs Macaron.
Brighten up your holiday by the glow of "God's Lantern", a nickname given to the Saint-Etienne Cathedral in Metz for its countless stained glass windows, one of a kind in France. Visit it at sundown to appreciate it in all its glory.
Wander the streets of Metz in search of its little architectural wonders: its ramparts, including famous Porte des Allemands; its train station, which is one of France's most beautiful; and the large buildings and beautiful mansions of Avenue Foch, Place de la Comédie and Temple Neuf.
Visit Centre Pompidou-Metz, one of the most visited museums in France. Sibling to the famous Parisian "Beaubourg", it is likewise dedicated to the best of modern and contemporary art.
Linger in the alleyways of the Metz covered market where, behind its lovely 18th century façade, lies the best of local fare: quiche Lorraine, mirabelles, brie from Meaux, artisanal beers, and more. You can even dine on-site.
Visit the Versailles of Lorraine: the Château de Lunéville, last residence of the Duke of Lorraine, and joint venture of Le Vau (architect of Vaux-le-Vicomte), Hardouin-Mansart (creator of the Hall of Mirrors and Grand Trianon), and Le Nôtre (the landscaper of Versailles).
Take the whole family to Amnéville and enjoy the thermal pools of Thermapolis, indoor skiing at Snowhall, tactile sharks and rays at the Aquarium, and shows featuring big animals and birds of prey at the Zoo.
At the centre of Lorraine Regional Park, raise your sails on Madine Lake, sunbathe on the sandy beaches, or go horseback or mountain bike riding over the 42 kilometres of shoreline.
Frequently asked questions