Take off for Bahrain
Do you think the Persian Gulf lacks soul? A Nice-Bahrain flight will prove you wrong! It will take you to discover the smallest state of this part of the world, as this archipelago of around thirty islands has a long and beautiful history and ancestral traditions, which are perfectly combined with the attributes of a prosperous and modern economy. Thus, after your non-stop flight from Nice to Bahrain, the kingdom of Al Khalifa will amaze you just as much with its ancient ruins and forts, which are a hundred years old, as it will with its tall glass buildings. And then there's the sea, with its turquoise waters and large beaches with fine sand, the souks, minarets and pearl fishermen that add an exotic scent, enchanting colours and a magical feel to your Nice-Bahrain direct flight.
currency

Dinar bahreïni

language

Arabe
Ideal For
Family

Couple

Beaches

Town/City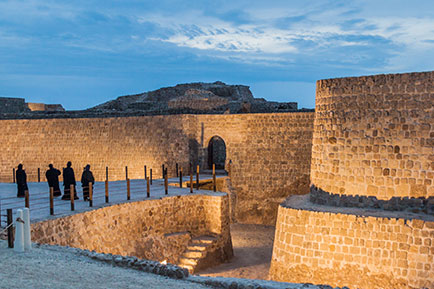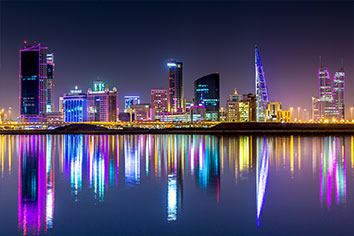 Informations utiles pour votre voyage au Bahreïn

See more

See less

Looking for a Nice-Bahrain return flight? Entrust your search to a specialist, such as MisterFly. Partner of Nice Cote d'Azur Airport, it is one of the best French websites for online flight bookings. It provides real-time information on the prices, times and availability of all flights between Nice and Bahrain. Choose your flight easily and book it at no extra cost, and on the same conditions as if you bought it directly from the airline. There's just one difference, however, and it sometimes proves invaluable. You have the option to easily pay for your Nice-Bahrain flight ticket over several instalments.

Formalities for travelling to Bahrain

Entry requirements: customs will ask you to provide a passport that is valid for more than six months at the time of entry into the country. You also need a visa (paid for by credit card), which you can obtain either via the Internet, on the Kingdom's Ministry of the Interior website, or directly upon arrival.
Currency: to pay for any purchases, taxis or bills, you'll need to change your euros into Bahraini dinars. It is around 2.5 euros to one dinar. If you want to get some cash before take-off, in order to pay for your initial purchases, make the most of Interchange, which can be found in each terminal.

Your Nice-Bahrain direct flight

Gulf Air offers direct flights from the Promenade des Anglais to the Bahraini archipelago. They depart twice a week from Terminal 1. It should be noted that the flight includes a short technical stop in Milan, during which passengers are not allowed to leave the aircraft.

Don't start your holiday in the Persian Gulf with heat stroke… start your holiday at Nice Cote d'Azur Airport! Avoid all stress by arriving at Terminal 1 at least one hour before your flight departs in order to go through security and customs easily. You can increase this time frame by quarter of an hour or more if you need to go to the Gulf Air check-in desk to collect a ticket or drop off any hold baggage.

| | |
| --- | --- |
| Departure airport | Nice Côte d'Azur Airport |
| Departure terminal | Terminal 1 |
| Arrival airport | Bahrain-Muharraq Airport |
| Arrival terminal | - |

Arriving in Bahrain

The Nice-Bahrain flight, operated by Gulf Air, lands at Bahrain International Airport, on the island of Muharraq. The airport is seven kilometres from Manama, the Kingdom's capital and main city. To get to the city centre of Manama, you can choose from the following options:

Bus: four of the Bahrain Public Transport Company buses, taking different routes, connect the airport to Manama bus station. It's as economical as it is comfortable and there's even Wi-Fi on board!
Taxi: several official companies await you at the exit of Gate B in the terminal. Prices are fairly affordable and are strictly supervised by the State. It takes fifteen minutes to get to your hotel in Manama.
A rental car: grouped together in the Arrivals hall on the ground floor of the terminal, on the side of gates 1 and 2, more than a dozen brands offer a wide choice of vehicles, from the most economical to the most luxurious.
What to do in
Bahreïn ?
Unlike some of its neighbours, which rely on spectacular avant-garde to attract tourists, Bahrain remains relatively faithful to the traditions and heritage that its history has left behind. Sure, its rich underground, filled with oil and gas, has enabled it to build around 50 artificial islands, luxury hotels, flashy marinas, malls with attractive windows, and even a Formula 1 circuit. But, while all of this obviously contributes to a successful trip to the archipelago, it undoubtedly holds its magic in charms of the past, whether embodied in the remains of Dilmun, one of the oldest Mesopotamian civilisations, or in the kingdom's most famous activity of pearl fishing.

Enjoy a taste of nature

See more

See less

Whether you visit as a couple or a family, Bahrain is primarily a relaxing destination. Warm summer temperatures are great for lazy days spent in the air-conditioned shopping centres or by the oasis-style pool on Amwaj Island. You'll need your sun cream and parasol! But, when the sun gets milder, the air gets cooler, and the country reveals a whole different side. You can then take the opportunity to sit on its heavenly beaches where the sand is as fine as the waters bordering it are translucent. With a mask and snorkel on your head and fins on your feet, you can then set off to discover spectacular nature underwater, with the likes of turtles, multicoloured fish, dolphins and pearl oysters. Return to dry land ready to take another plunge. This time, it's a dive back in time to discover some real cultural pearls, treasures, such as the monuments and the old districts of the archipelago.
The top 10 things to do in Bahrain

See more

See less

Feast your eyes on some stunning sights! Bahrain is beautiful and viewed with envy. During the day, take a walk to see the perfectly restored and rich houses of former pearl merchants. In the evening, admire the World Trade Centre's beautifully illuminated twin towers. They resemble two rockets ready to conquer the sky.
Discover Dilmun, ancestor of Bahrain and one of the oldest civilisations in this part of the world, by visiting the ruins of Qal'at al-Bahrain, Bahrain Fort, whose walls still defy the ages more than two millennia after they were built.
Continue your journey back in time at the Bahrain National Museum. This modern and refined setting is home to a collection of thousands of artefacts that reveal six thousand years of history.
Feel the hot air of the timeless East throughout the narrow streets of Muharraq, which are lined with modest houses and majestic palaces with solid and finely carved doors and climb to the top of the four-century-old ochre towers of Fort Arad.
Get lost in the maze of the souk in Manama, the quaint capital. Gold flows from the ceilings and the streets smell of spices. The coffee tastes of cardamom and the ice cream from the restaurant Naseef has been tantalising the finest of taste buds with its intense flavours for over a century.
Catch a pearl! Some fishermen will take you on board their boat and give you a mask and snorkel to dive in search of treasure. Did you come back empty-handed? Rest assured the jewellers' shops are full of these mother-of-pearl wonders that are said to be among the most beautiful pearls in the world.
Dream of being exactly like Hamilton or Verstappen by driving, not quite a Formula one car, but a go-kart. The Bahrain International Karting Centre, next to the Sakhir circuit, is one of the best tracks on the planet with its winding path that is one and a half kilometres long.
Salute the Tree of Life, a lonely Carob tree that has defied the desert for 400 years. According to a local legend, it is the last specimen from the Garden of Eden.
Cool down and go shopping in the numerous malls the country has to offer. For style and glamour, head to Bahrain Mall or the brand new and spectacular mall known as The Avenues. For great prices, head to the exotic Dragon City. If it's "Made in China" items you're after, you'll find them here!
Try some local specialities with such delicious oriental flavours, such as hamur, local grouper fish served grilled on a bed of spicy rice, makbous, a mix of basmati, meat and spices, or khabees, a pastry fragrant with rose and saffron.
Regular flights Nice - Bahreïn BAH
FLIGHTS GULF AIR
2
Flights per week, From June to September
Flights per day :
Mon

0

Tue

0

Wed

0

Thu

1

Fri

0

Sat

0

Sun

1
Frequently asked questions