A holiday in norway with mother nature !
Located on the western part of the Scandinavian Peninsula, Norway is one of the least densely populated countries in Europe. Fly from Nice to Norway, to land in the heart of this extraordinary country.
currency

Norwegian krone

language

Norwegian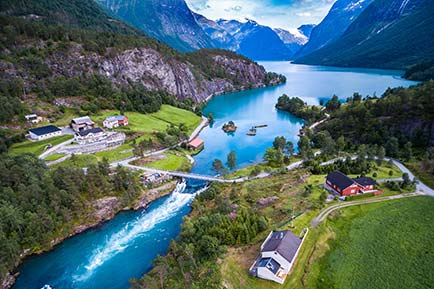 With the Barents Sea to the north, Norway has an extensive coastline. From the majestic fjords to the islands of Lofoten, water exerts a strong influence on the lives of the population. The country also boasts exceptionally untouched nature: just one good reason to book a flight from Nice to Norway! Huge forests, massive lakes, endless steppes and majestic mountains… Norway is a paradise for hikers and adventurers. Fill your lungs with fresh, invigorating air, thanks to a low-cost flight from Nice to Norway! You might even get the chance to see the northern lights, which are often visible at the end of autumn and in early spring.
Fly low-cost from Nice to Norway and see Oslo, the capital
To experience the Norwegian way of life, it's best to go to one of the cities, generally found along the coasts where the winters are milder. Book yourself a Nice to Norway flight for a taste of the excellent quality of life in this Scandinavian country. Oslo, Bergen and Trondheim are Norway's largest cities. They all share a respect for nature and the environment. Start your road trip in Oslo, making sure you see the capital's key monuments: Oslo City Hall, Oslo Cathedral, the Nobel Peace Centre, Akershus Fortress, Frogner Park and of course Oslo Opera House. If it's culture you're looking for, pay a visit to the Museum of Modern Art or the Munch Museum (Munch-museet). Discover Norwegian culture and heritage, thanks to our low-cost flights to Norway from Nice!
5 destination(s) Norway departing from Nice