Explore the fjords
Fly from Nice to Bergen: now there's a trip that proves nature rhymes with adventure! Don't believe everything you hear about the calm charm of this thousand year old city. The former capital of Norway has many tricks up its sleeve to surprise and mesmerise. A train running through wild mountains, an electric catamaran gliding across the peaceful waters of a fjord, a cable car that ends in a breath-taking view: these are just some of the wonders that await you upon arrival of your Nice-Bergen direct flight.
time difference

+0h

currency

Norwegian Krone

language

Norwegian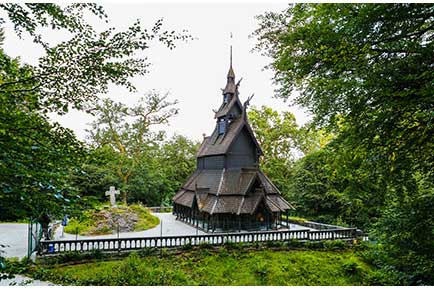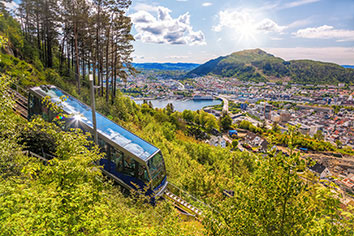 Useful information for your trip to Bergen

See more

See less

Need a flight comparer for Nice-Bergen flights? Check out MisterFly! Our partner offers every possible solution - with or without stopovers - for getting to Norway's second largest city. But you'll see for yourself, there's nothing better than a Nice-Bergen direct! It's the fastest way to get from Nice to Bergen with a flight time of under 3 hours. And thanks to Norwegian, the low-cost Scandinavian airline, it's also often the least expensive. Especially because when you book your Nice-Bergen return flight with MisterFly, you can pay for it over several monthly instalments.

The formalities for travelling to Bergen

Entry requirements: Norway shook things up by saying no to the EU, but yes to the Schengen Territories. As a European citizen, you just need a valid passport or identity card to enter the Scandinavian kingdom.
Currency: Harald V and his subjects pay in krone. One Norwegian krone is worth around ten Euro cents. Remember: there are Interchange counters in both of the airport's terminals, where you can find out the exchange rate and buy your kroner.

Your Nice-Bergen direct flight

You'll be flying Norwegian on your trip from Nice to Bergen. This low-cost airline operates all flights from Nice out of Terminal 1.

Remember that arriving at the airport an hour and a half before departure will allow you to go through security screenings stress-free if you already have your boarding pass and are travelling with hand luggage only. Add at least 15 minutes should you need to check in or check your bags.

| | |
| --- | --- |
| Departure airport | Nice Côte d'Azur Airport |
| Departure terminal | Terminal 1 |
| Arrival airport | Bergen-Flesland Airport |

Arriving in Bergen

Your Nice-Bergen flight will land at Bergen-Flesland Airport, around 15 kilometres from the city centre. To get to the centre, you have several options:

Take the bus: they run every 10 minutes during peak hours, and every 30 minutes at weekends. It will take around 30 minutes to get to the bus station. There are stops near the city's most popular hotels.
Take a taxi: you'll be at the doors of your accommodation in just 20 or so minutes. This will cost around €40 minimum during the day.
Hire a car: 5 major agencies have counters in the airport This is a practical solution if you wish to visit the surrounding region.
What to do in
Bergen ?
While Bergen is among Norway's major cities, it's kept its intimate size and cosy atmosphere. Its multicolour wooden houses, impeccably aligned along the port, pay testament to the attachment people here have to their history and traditions. But charming as it is, this Scandinavian city won't be able to keep you for your entire trip. Because nature is calling! And what incredible nature it is! The region has some of the most beautiful landscapes one can find in the land of the Vikings.

Bergen, at the heart of a region full of colour

See more

See less

How beautiful Bergen is! A beauty of old, perfectly preserved, that will fill your eyes with the vivid colours of hundred year old wooden houses with steep, flower-filled cobblestone streets that thread through their brightly coloured façades. It's like a dollhouse that you can walk through as a couple, hand in hand, the mood as tender and calm as this ancient city.
And more wonderful tours await just outside the city. Tours that will let you discover the beauty of the mountains and fjords that make this part of the world so magical, whether you see them by land, by sea, or by air (in a large cable car!). Pristine nature that's perfect to share with your family, allowing you to pass on a sense of beauty and authenticity on to the younger generation, in hopes of preserving both.
The top 10 things to do in Bergen

See more

See less

Cross the Bryggen (quay in Norwegian) step by step and take in the elegant façades of the large wooden houses formerly belonging to the merchants of the Hanseatic League, the union of merchant cities of Northern Europe which had incredible power in the Middle-Ages.
Visit Fantoft, one of 28 stave churches that have survived the centuries. In French, they call them "standing wooden churches". These Scandinavian cathedrals are extraordinary wooden structures.
Linger in Fjellsiden or Nordnes, two of the most characteristic districts in the city with their wooden houses, flowery balconies during summer, and their steep cobblestone streets.
Visit Bergen Aquarium, located in Nordnes. It blends warm and cold, the animals of the Great North - such as seals and penguins - with those from the savannah, like crocodiles and snakes.
Lay siege to Bergen's fortresses: Bergenhus Fortress and Rosenkrantz Tower offer breath-taking panoramic views of the city.
Climb Mount Fløyen which, at 320 metres, dominates the city. Don't have the will? Don't worry! The Floibanen funicular will take you to the top. From there, you can set off to hike the beautiful trails of the mountain.
Climb the highest of the 7 mountains that surround Bergen: Mount Ulriken. Don't have the will for that either? A cable car will drop you at the summit in 3 minutes, where you can enjoy the hospitality of a charming restaurant.
Hoist your anchor in the Bergen Port for a tour of a few hours in the Mostraumen fjord or on Fedje, the most exquisite island in the Bergen archipelago.
Mix train and boat for an incredible day out. It starts on the rails, along Sognefjord, Norway's largest fjord, until you arrive in the village of Flåm. Continue on the peaceful waters of Naerøyfjord, one of the most beautiful in the country.
If you have accommodation with a kitchen, head for the Torget fish market. Since the Middle-Ages, it has delighted the people of Bergen with fresh salmon, shellfish, herring, and cod.
Regular flights Nice - Bergen BGO
FLIGHTS SAS
1
Flights per week, From July to August
Flights per day :
Mon

0

Tue

0

Wed

0

Thu

0

Fri

0

Sat

1

Sun

0
FLIGHTS NORWEGIAN AIR SHUTTLE
3
Flights per week, From April to October
Flights per day :
Mon

1

Tue

0

Wed

1

Thu

0

Fri

0

Sat

1

Sun

0
FLIGHTS WIDEROE
4
Flights per week, From June to August
Flights per day :
Mon

1

Tue

0

Wed

1

Thu

0

Fri

1

Sat

1

Sun

0
Frequently asked questions