Stavanger, where the fjords await
A flight from Nice to Stavanger takes you far. And high! How far? All the way to Rogaland, in the south-west of Norway. How high? To more than 600 metres up, to the edge of the famous Preikestolen, aka Pulpit Rock, which offers one of the most incredible views in all of Europe. A breathtaking panorama high over the natural wonders of realm of King Harald V. It alone it worth the trip. That said, as you'll quickly see upon the arrival of your Nice-Stavanger direct flight, that the region has much, much more to offer.
time difference

+0h

currency

Norwegian krone (NKR)

language

Norwegian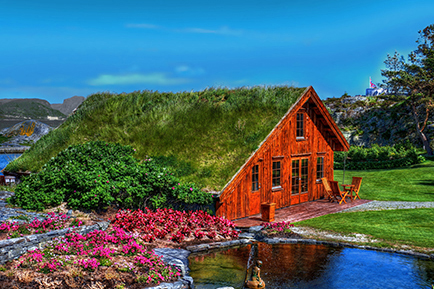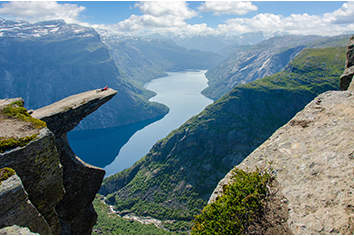 Useful information for your trip to Stavanger

See more

See less

Get out your hiking boots and get ready to get your fill of nature when you fly from Nice to Stavanger. A wonderful journey that starts with a click: one that takes you to MisterFly. Our partner's database gives you real-time information that lets you find your non-stop Nice-Stavanger flight at the best possible price. Found a great price on a Nice-Stavanger flight that coincides with your holidays? Book it without any hidden fees, pay for it over several instalments if you like, and when the day comes, take off to Scandinavia stress-free.

The formalities for travelling to Stavanger

Entry requirements: Norway is not a member of the European Union, but it is part of the Schengen Area. European citizens need nothing more than a valid passport or identity card to enter the country.
Currencies: the Norwegians use the krone. One Norwegian krone is worth around ten Euro cents. Need a bit of cash for your first purchases? The Interchange kiosk at the airport is there to help!

Your Nice-Stavanger direct flight

Two airlines fly to Stavanger from Nice, and both from the same terminal: both the Nice to Stavanger flight with Norwegian and with its counterpart SAS Scandinavian Airlines depart from airport Terminal 1.

Remember that arriving at the airport an hour before departure will allow you to go through security screenings stress-free if you already have your boarding pass and are travelling with hand luggage only. This will give you time to get through security without stress, even on busy days. Don't hesitate to add at least 15 minutes should you need to check in or check your bags with your airline.

| | |
| --- | --- |
| Departure airport | Nice Côte d'Azur Airport |
| Departure terminal | Terminal 1 |
| Arrival airport | Stavanger Airport |

Arriving in Stavanger

Just 14 kilometres separate Stavanger Airport from the city centre. To get there, you have the following options:

Take the bus. Flybussen will take you to the city centre in under 30 minutes. There are up to 3 buses an hour, from early morning to early evening.
Take a taxi: the journey takes around 20 minutes. It will cost around €50 during the day.
Hire a car: 5 major agencies have counters in the airport They can all be found in the green building opposite the terminal.
What to do in
Stavanger ?
Stavanger is not just the birthplace of the Norwegian nation; it also plays a major role in its economy. Just off the coast here is where they tap into the vast oil reserves of the North Sea. But while the black gold has helped the region to thrive, it hasn't spoiled it. Stavanger and its 130,000 inhabitants have conserved the identity of their city, the charm of its small wooden houses and cobblestone streets. Nature here is left wild and unforgettable - Lysebotn, one of the country's most beautiful fjords, is a perfect example.

A weekend in another world

See more

See less

Not a big fan of summer heat? Wish death to all mosquitoes? Crowded beaches your worst nightmare? This summer, treat yourself to a long weekend or more in the pure air and natural setting of Stavanger. Norway may be nothing like Ibiza in style, but it's just as lively and friendly. On that note, if you go as a couple, treat yourselves to a relaxing moment on a café terrace and simply bathe in this delightful atmosphere. Don't hesitate to move your little break to the beach towards the end of the day and bask in an endless sunset. Romantic as!
A holiday in Stavanger is an experience you can also share with the whole family. Leave the video games and phones at home: here, it's all about nature and discovery. With a wealth of incredible hikes, enthralling museums, and unique meals, a family getaway here will open up a whole new world to your children. Travelling shapes young minds, and a trip here is no exception!
The top 10 things to do in Stavanger

See more

See less

Wander around the old city, through the tiny, narrow cobblestone streets, lit by the streetlights of old and lined with the white wooden houses that have existed here for over three centuries. There are 173 in all. A record in Norway!
Visit Norway's oldest cathedral. It might seem modest when compared with the large Gothic cathedrals found elsewhere in Europe, but this Roman church wears its 900 years wonderfully. One can't help but be moved by the choir there.
Unlock the secrets of black gold in the Norwegian Petroleum Museum, anchored in the heart of Stavanger's port. Many interactive exhibitions will give you insight into the working conditions on an off-shore platform.
Take your kids to see the most famous cans in Stavanger...at the Canning Museum of course! The sardine trade has long been the city's main activity. The establishment is housed in an old factory that opened in the mid-19th century.
Hoist anchor and take a cruise on the Lysefjord. It weaves its way over 40 or so kilometres through sheer cliffs that rise up to 900 metres high. A true wonder of nature.
Hike to the top of Preikestolen (4 hours round-trip, and fully accessible). At the top you'll find a flat rock (thus the name "Pulpit Rock") that juts out over Lysefjord from 600 metres up. A breathtaking view!
Get your photo taken on Kjerag, a small rock wedged between two sheer cliffs and suspended over a 984 metre abyss. Unforgettable! Take note: the hiking trail that leads to it is not accessible to everyone.
See if you measure up at Sverd i fjell, a monument of three enormous swords on one of the banks of the Hafrsfjord, near Stavanger. At 10 metres high, they commemorate a naval battle that lead to the unification of the people of Norway. A great place for a selfie!
Try the local cuisine. Get a taste of reindeer and caribou. Savour some king crab. Indulge in freshly picked blueberries and wild strawberries. Try out brunøst, a lightly caramelised goat cheese. It's a favourite of Norwegians, and a must at breakfast.
Adopt the koselig way of life - it's Norway's version of Denmark's famous hygge. A lifestyle that combines cosiness and comfort with wellness and conviviality. Master it in Norway and bring it back with you to France for a mild and peaceful winter.
Regular flights Nice - Stavanger SVG
FLIGHTS NORWEGIAN AIR SHUTTLE
2
Flights per week, From June to August
Flights per day :
Mon

1

Tue

0

Wed

0

Thu

0

Fri

1

Sat

0

Sun

0
FLIGHTS SAS
1
Flights per week, From July to August
Flights per day :
Mon

0

Tue

0

Wed

0

Thu

0

Fri

0

Sat

1

Sun

0
Frequently asked questions