A stone's throw from the North Pole
Today, Nice-Trondheim is the non-stop flight from the French Riviera that gets you closest to the Great North. Which doesn't mean you'll get to stroll over sea ice, climb an iceberg, or see polar bears. No, Norway's third largest city has been in the centre of the country for a thousand years, and is more than civilised. Here you'll find a tramway, fashion boutiques, incredible espresso... But this Viking beauty has something else that none of its rivals in the south can offer: wide open spaces! So flying from Nice to Trondheim may not be conquering the North Pole, but it is the start of a beautiful adventure: one in Nature with a capital N!
time difference

+0h

currency

Norwegian krone (NKR)

language

Norwegian
Ideal For
Couple

With friends

Nature

Weekend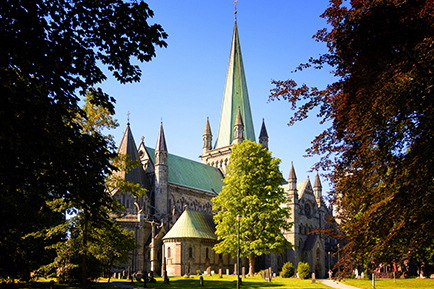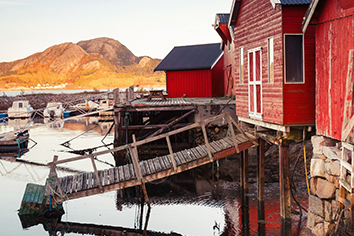 Useful information for your trip to Trondheim

See more

See less

Can you hear it? What? The call of the wild! Answer it! Get out your backpack and hiking boots because you're heading for the land of fjords where you'll find eternal snow, glaciers, and nature reserves full of beavers and reindeer. Wait wait wait, not so fast! First you'll need to take a quick detour to MisterFly. Our partner will help you find a direct flight at a great price from Nice to Trondheim. Compare offers, choose your departure date, book your Nice-Trondheim return ticket with no additional fees and if you wish, pay for it over several instalments. Done? Right, now you're ready...

The formalities for travelling to Trondheim

Entry requirements: Norway said no to the EU, but yes to the Schengen Territories. So European citizens will only need a valid passport or ID card to enter the country.
Currency: In Trondheim, you'll pay for your reindeer steak in Norwegian Crowns. Around 10 are equal to 1 Euro. Should you need a bit of cash to pay for your first purchases, head to InterChange. This currency exchange specialist can be found in both terminals at Nice Côte d'Azur Airport.

Your Nice-Trondheim direct flight

Head to Terminal 1 for your Nice-Trondheim flight with Norwegian, the only airline to fly to the centre of Norway non-stop.

To get through security screenings stress-free and, why not, take advantage of the great offers you'll find at the Boutiques of Nice Côte d'Azur Airport, be sure to arrive at the terminal at least 1 hour before take-off. Please note: should you need to collect your ticket or check a bag at the airline counter, give yourself at least an additional 15 minutes.

| | |
| --- | --- |
| Departure airport | Nice Côte d'Azur Airport |
| Departure terminal | Terminal 1 |
| Arrival airport | Trondheim Værnes Airport |
| Arrival terminal | Terminal B |

Arriving in Trondheim

The Trondheim Værnes Airport is located 35 kilometres from the city centre. To get there, you have several options:

Take the bus: Lines 38 and 310 can be found a few steps from the terminal exit, and will take you to the city centre in 30 to 50 minutes. As is usually the case, this is the most affordable option. The airport also offers a shuttle service operated by Flybussen, with departures every 10 minutes, which will take you near the city's main hotels.
Take the train: the airport has its own train station which is accessible via walkway as you exit the Arrivals Terminals. There's a train every hour to the Trondheim train station. The trip takes 35 minutes.
Take a taxi: you'll find many drivers waiting for you at the airport exit. Given the distance, the price is high: around €60 during the day.
Hire a car: six agencies have counters at the exit of the Terminal B Arrivals Hall.
What to do in
Trondheim ?
Nestled in the fjord that bears its name, bathed by the Nidevla, Trondheim is a calm but vibrant city. It's made even livelier - day and night - by the 30,000 students that reside there. Good humour and infectious energy! Locals here are much more welcoming than their climate and practise a way of life based in simplicity, relaxation, and indulgence. You won't go hungry or thirsty here! In short, this ancient capital of the Vikings is the jump off point to discover the natural wonders of the realm of Norway.

A natural city

See more

See less

Trondheim isn't one of those big cities where everything goes a mile a minute! What people come here for, whether for a long weekend or a whole week, isn't the craziness of our modern times, but a different sort of lifestyle, one full of breathtakingly peaceful scenery, the calm and authenticity of a natural space we hope will never change. You won't find the big names in fashion here, or skyscrapers and famous DJs. But this corner of the world, with a thousand years of history to its name, hides many treasures that help you remember what's important. Like what? Silence, for example. Walk along a trail on the outskirts of town and, after just a few minutes, it will come to you, calm and relaxing, in a way you've perhaps never experienced before. That's what Trondheim is: a breath of fresh air to rejuvenate you, a world of green to get lost in, a little corner of happiness to share as a couple or with friends, so long as they're like you and love hiking, mesmerising scenery, and delicious food.

The top 10 things to do in Trondheim

See more

See less

Wander the centre of Trondheim, weaving through large timber houses with their colourful façades.
Follow in the footsteps of Norwegian kings by visiting the Nidaros Cathedral, one of the most beautiful in Scandinavia. It was in this thousand year old Gothic cathedral that the predecessors of Harald V were crowned.
Discover the "country" side Norway at the Sverresborg Folk Museum with its 80 traditional houses, and the "city" side at Rockheim, an ultra-modern, fully interactive museum of pop and rock.
Reign over the region of Trondheim from the top of Tyholt Tower. This radio tower built on top of a hill is 120 metres high, and has a terrace and rotating restaurant (the Egon) perched 70 metres up.
Jump in a kayak and paddle along the Nidelva, the river that runs through Trondheim, between the quays of the old city and its colourful storehouses. A different view of this ancient Viking city.
Head for Monk's Island. This tiny island was home to a monastery for years. It was transformed into a fortress. Locals made it a prison, and to finish, the Nazis installed their canons here. Today, it's just a nice place for a walk.
Go on a safari Norwegian-style by visiting the Dovrefjell-Sunndalsfjella National Park, one of the rare places in the world where you can see muskoxen, distant cousins of goats that look strangely similar to bison!
Hit the road, but not just any: Den Gyldne Omvei, The Golden Road. Towards Inderøy, a small village to the north of the Trondheim fjord, this itinerary proposes 22 stops that will let you discover local craftsmanship, specialities, and the culture and heritage of the area.
Visit Røros, the coldest village in Norway. In winter, temperatures can drop down to -50°C. In summer, this old mining town is much more welcoming. It's centre is made up entirely of century-old wooden houses and is a UNESCO World Heritage Site.
Sample the best of Norwegian cuisine. Nestled between land and sea, Trondheim enjoys a particularly varied cuisine, which is made even better by its many chefs. Try the city's two Michelin-starred restaurants: The Fagn and The Credo.
Regular flights Nice - Trondheim TRD
FLIGHTS NORWEGIAN AIR SHUTTLE
2
Flights per week, From July to August
Flights per day :
Mon

0

Tue

1

Wed

0

Thu

0

Fri

0

Sat

0

Sun

1
Frequently asked questions