Fast food, Bars, Coffee
For an aperitif with a fantastic view of the runways in lounge B, runway side, non-Schengen zone
THE Bar in Nice Airport Terminal 2
Feeling peckish? Need a break?
Le Bar will delight passengers waiting in the boarding lounge in Terminal 2.
This completely new space with its trendy decor now stands in Hall B to be exact. With its black slate walls, string lights and modern design, you can't miss it. Le Bar will be your hideout from dawn to dusk.
Welcoming passengers to Nice Airport Terminal 2 for breakfast with pastries and indulgent cakes that go hand in hand with a wide selection of hot and cold drinks. Delicious sandwiches for you to enjoy throughout the day from great classics such as ham and butter or salmon to gourmet with speck and goat or curried chicken.
No need to panic if sandwiches aren't your thing. Le Bar in Terminal 2 Nice Côte d'Azur Airport also offers a selection of large gourmet salads. The drinks menu for a small aperitif overlooking the runways is worth a glimpse too with beers and Côtes de Provence rosé to string out the holidays.
Make the most of your CAP benefits
Are you a Club Airport Premier member? You can make the most of your benefits when eating at Bar Horizon. Treat yourself, and you'll get 10% off. The perfect chance to enjoy your privileged passenger status!
*Alcohol abuse is dangerous for health, consume with moderation. Exercise regularly for your health. For information, visit www.mangerbouger.fr.
Non-contractual photos and videos – Dishes given as an indication and may vary depending on the season, arrivals and the menu.
Location(s)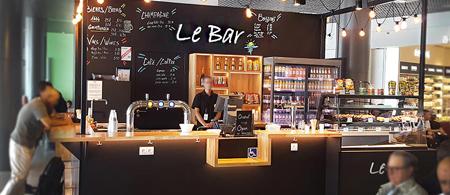 After going through security
Niveau 2
Salle B
Towards the gate

B26

from 7:30 a.m. to 10 p.m.