Fast food, Bars, Coffee
A beach bar at Nice Airport, to extend your experience of the French Riviera. Make time to share one last cocktail before your flight, or be tempted by a stylish snack from the imagination of chef Thierry Marx.
A handy spot in terminal 2
Passengers from Nice Airport Terminal 2 will appreciate the Michelin-starred chef's new address where everything, from the decor to the menu, has been designed to "recreate that cheerful, festive atmosphere and prolong the unforgettable experience of a Côte d'Azur holiday, all the way to the boarding gates," according to Thierry Marx. A "beach bar" design in shades of azure blue where you can enjoy a glass of champagne, a delicious cocktail or any other aperitif that takes your fancy.
Last memories of the Riviera
With Italy close by, hey presto and your stop turns into aperitivo with a choice of locally accented finger foods available. Chic snacking with Mediterranean flavours, sublimated here by the Michelin-starred chef to delight the gourmets in Nice Côte d'Azur Terminal 2.
All the ingredients right in the heart of the Nice Côte d'Azur Airport Terminal 2 departure lounge, so that passengers always feel they're on holiday!
Plenty of reason to take the time to show up at the airport early and make the most of Thierry Marx's new bar, "La Plage".
Make the most of your CAP benefits
Are you a Club Airport Premier member? You can make the most of your benefits when eating at Bar La Plage. Treat yourself, and you'll get 10% off. The perfect chance to enjoy your privileged passenger status!
*Alcohol abuse is dangerous for health, consume with moderation. Exercise regularly for your health. For information, visit www.mangerbouger.fr.
Location(s)
After going through security
Niveau 1st Floor
Salle A
Towards the gate

A16

From the first to the last flight

04.89.88.98.64
Good deal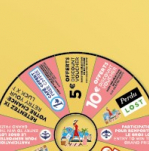 Play and Win! Stop off at the wheel of fortune
From 16 July, find our airside hostesses in boarding area A to spin the WHEEL OF FORTUNE.
Win vouchers to spend in airport stores and free coffees in participating bars and restaurants.
Try your luck by taking part in the random prize draw and win a night in a deluxe double bedroom at the Nice ASTON- LA-SCALA hotel with a buffet breakfast and dinner for two.
Make time to spin the wheel, and have a go at our game before you fly. Other surprises await you.