Fast food, Bars, Coffee, Memories & Gastronomy
The only outdoor terrace at Terminal 2, perfect if you're waiting for passengers on the city side, in the check-in hall at Nice Airport.
Chez Jean in Terminal 2 Nice
With its pop colours and sweet and savoury treats, Chez Jean, a café and convenience store, is opening in Terminal 2 Nice Côte d'Azur Airport. The perfect place for a quick gourmet stop.
Perfect for pastries served with a soothing hot drink or freshly squeezed orange juice, Chez Jean is also great for meal breaks. Sandwiches and homemade salads, hot dishes too, will brighten up the taste buds of Terminal 2 Nice Côte d'Azur Airport passengers. This café-convenience store has cheekily thought of everything: last-minute food shopping, fresh bread cooked on site, ready meals, wine…
To enjoy on the spot or to take away
Everything you need to prepare a good meal when you get home after your flight. Special mention for the warm, pop setting and its cosy atmosphere, not to mention the outdoor terrace, a Garden of Eden to soak up some sun!
Make the most of your CAP benefits
Are you a Club Airport Premier member? You can make the most of your benefits when eating at Chez Jean. Treat yourself, and you'll get 10% off. The perfect chance to enjoy your privileged passenger status!
*Alcohol abuse is dangerous for health, consume with moderation. Exercise regularly for your health. For information, visit www.mangerbouger.fr.
Non-contractual photos and videos – Dishes given as an indication and may vary depending on the season, arrivals and the menu.
Location(s)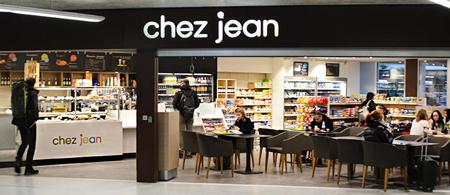 Before going through security
Niveau 0
Towards the gate

A03

from 7:30 am to 10:30 pm

+33 4 89 88 98 88